'Sense8' Is Getting A Proper Send-Off After All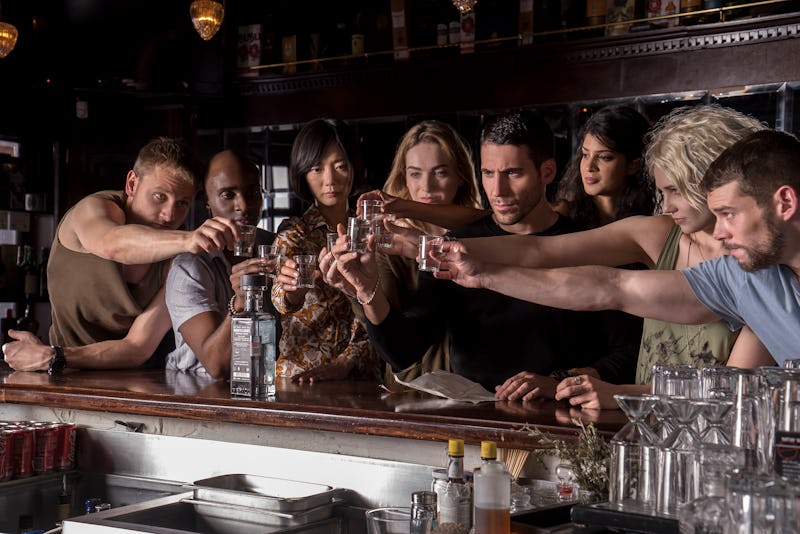 Murray Close/Netflix
Earlier this month, fans were heartbroken to learn that Netflix had canceled Sense8, an expansive and wildly imaginative sci-fi effort from Matrix veterans the Wachowskis. The show had only debuted its second season in May, leaving the Sensates' ongoing battle with archvillain Whispers open-ended. Despite an onslaught of petitions to bring back the series, Netflix stood by its decision to axe the project, but now it seems like fans will be getting a proper send-off after all, as Sense8 is getting a two-hour finale special, which the streaming service announced on Thursday.
Lana Wachowski, who helmed the second season while sister Lilly took a step back, detailed the news in a lengthy Facebook note. She explained that while she was deeply disappointed by the cancellation, she felt emboldened by the outpouring of support from viewers, and it was them who helped make a continuation of the story possible — even if it's for just one more episode. She wrote:
Just as the characters in our show discover they are not alone, I too have learned that I am not just a me. I am also a we .... In this world it is easy to believe that you cannot make a difference; that when a government or an institution or corporation makes a decision, there is something irrevocable about the decision; that love is always less important than the bottom line. But here is a gift from the fans of this show that I will carry forever in my heart: while it is often true those decisions are irreversible, it is not always true.
Wachowski also notes that Netflix was just as invested in Sense8 as everyone who was a part of it, but that the "numbers have always been challenging." And it is an elaborate production: The second season filmed in 16 cities and 11 countries, and took roughly two years to make it to screen. Plus, Netflix has been vocal that it's looking to pare down its TV slate, and has also recently cut Baz Luhrmann's musical drama The Get Down and fem-powered comedy Girlboss (though many have been quick to note that some of the first to go have also been the most diverse).
Sense8, in particular, was praised for its elaborative storytelling and inclusive cast, which featured a wide array of characters with different ethnicities, gender identities, and sexual orientations. Sense8 may deserve much more than a two-hour addendum, but sometimes even the smallest victories are the sweetest.