Colton Doesn't Regret Discussing His Virginity On 'The Bachelorette' & There's No Reason To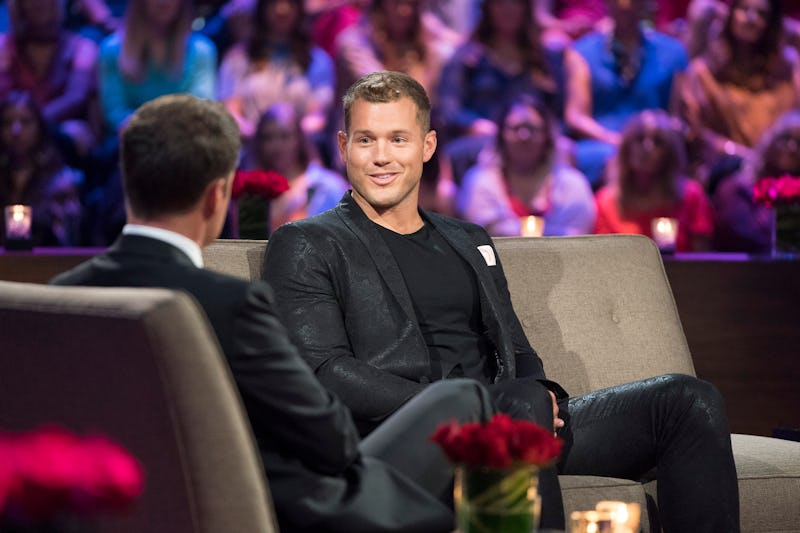 ABC/Paul Hebert
The Bachelorette contestant Colton Underwood is a former NFL player, he started a charity, he "dated" Becca Kufrin's friend Tia Booth before filming began, and he's a virgin. Pretty much everything he says and does garners lots of attention from viewers, but Colton doesn't regret discussing his virginity on The Bachelorette nor should he.
In a July 26 interview with People, the former athlete confessed,
"I was so happy that I was able to talk about something I never wanted to share with anybody."
During the July 9 episode of The Bachelorette, Colton had a one-on-one date with Becca in the Bahamas. When she narrated the day portion of their date, she kept dropping sexual innuendo after sexual innuendo when they went diving for conch, but the tone of the date starkly changed as day turned into night. At dinner, he confessed to Becca that he was a virgin.
From what was shown, Becca's only reaction was "Really!?" Of course, there was probably a lot of editing at play there, but as far as the viewers know that's what was said. This is what Colton told Becca during their solo date:
"Yeah. It was tough... I'm not even sure to be honest with you if my dad knows. Because it's something that I haven't, you know, shared openly to a lot of people. There's only a handful of people that know. It is something now that I'm proud of, and it is something now that I think that everybody who I see a future with should know. So it is something that I think you should know."
He ended up getting the rose on that date and Colton took Becca to his hometown to meet the family before he got eliminated during the following episode. Now that he's been off the show for a whole episode, he's doing a lot of press and his virginity is a hot topic. He's not mad about it though. He told People, "The show allowed me to be true to who I am and it allowed me to grow as a person. I couldn't be more appreciative of that."
In that same People interview, he emphasized, "Being a virgin doesn't mean you can't have a good time." He also said, "It doesn't mean you can't be passionate and romantic and sexual still in your relationship."
That interview wasn't the first time that he has discussed his virginity outside of the show. He's used his increased social media following to express his emotions and even to poke a little fun at himself.
On the June 25 episode, Colton and Becca had a solo date in Las Vegas. Of course, they ended up riding camels with plenty of "hump" puns included in Becca's narration. Not only that, but the camera men trolled him by zooming in on the "Virgin River" sign. Thankfully, Colton has a sense of humor. He took a photo with the sign and tweeted, "Well played ABC, well played."
On the next episode, the cast traveled to Virginia, which ended up inciting some trolls. A fan asked on Twitter, "How did it feel being a Virgin in Virginia?" He quoted the tweet and added "The same as every other state." Good for you, Colton. You tell them.
One viewer — who did not seem to be paying attention — tweeted Colton, "Well let's see just maybe you get a fantasy suite key & Becca will get the best ride of all" complete with a winking face emoji. Colton responded with, "Well this is awkward.... does someone wanna tell her?"
Colton has done more than clap back at The Bachelorette viewers. He even came for seasoned talk show host Wendy Williams after she referred to his virginity as "baggage." Colton tweeted back, "Wait... what is my baggage?"
It's great that Colton is able to have a sense of humor in response to haters, but he has also gone much deeper with his social media posts. In a July 11 Instagram post, the Bachelorette contestant admitted,
"I know I'm not the first one to make a joke or make light of a heavy situation... it's my way to handle certain situations. I love to resort to comedy to cover up topics that I don't like to get serious about."
In that same post, he explained his change of perspective on the topic: "It's something that I don't talk about very often and something that only a handful of people know. I considered it a gift and a curse for many years, but finally have come to terms about standing up for who I am and the details that make me, me."
He appealed to others in similar circumstances: "Anyone who feels like they are hiding their truth out of embarrassment or fear of being judged... I HAVE BEEN THERE. You are not alone, I have covered up my truth with lies and tried to 'fit in' — while I thought fitting in was what I wanted, I've recently learned that being different is what I need."
There is absolutely nothing with being "different," especially when being different means that Colton is comfortable being open about who he is. Just like keeping his virginity, sharing his virginity is a personal choice of Colton's. No one should attack Colton for being proud of his personal choices. Hopefully his willingness to be vulnerable will help others in similar circumstances.