Jackie Cruz Isn't Giving In To Complacency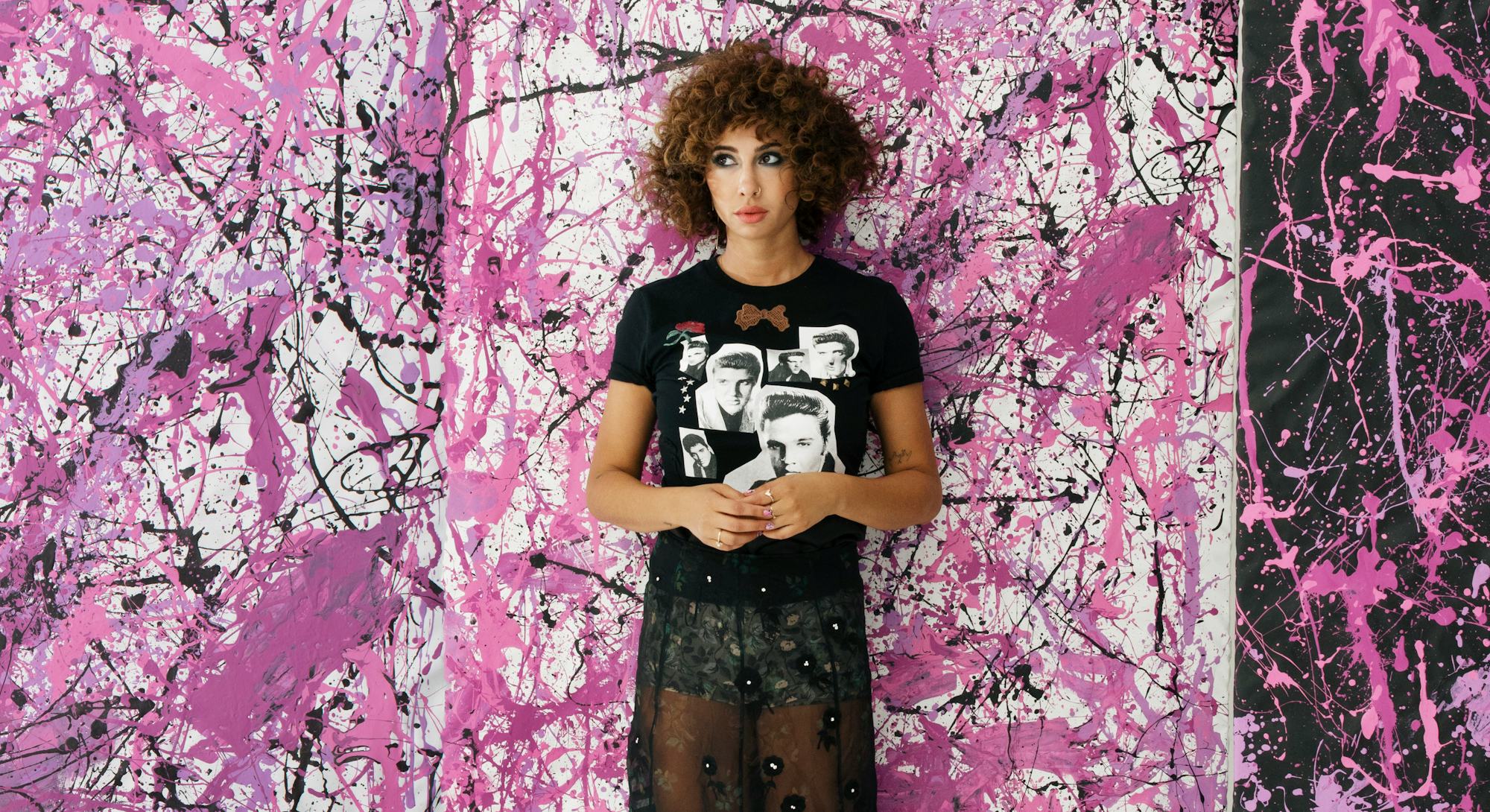 Photography: Ashley Batz/Bustle; Jewelry: Sarah Appleton Jewelry; All Clothing and Boots; Coach
"The world is very scary right now," Jackie Cruz says sitting across from me at Milk Studios in New York City. The actor has just finished the photoshoot you see here, which means it was a morning of hair, makeup, a very cool Jackson Pollock-inspired manicure, catered lunch, and pop music that would normally be too much to handle at 10 a.m. But the mood in the conference room where we chat is much more somber; all of the flashiness has been stripped away. I almost feel like I should apologize for taking her away from it all and asking her to talk about politics. Ten minutes ago she was posing in a series of what can be best described as punk rock-meets-athleisure looks while Beyoncé played in the background. Now, we're talking about how sh*tty the real world is.
But that's how it goes these days. We're all walking between these two rooms, deciding how long to stay in each one. On one side, we have the fun, relaxing room where we allow ourselves to be ignorant and on the other, we tune into politics, see the horrors of the world, and decide whether we should fight back.
Cruz is fighting back, and definitely more than the character fans know her as best. On Orange Is The New Black Cruz is Flaca, an inmate with stick straight hair, heavy bangs, and even heavier liquid eyeliner. Today, with a head full of giant curls and shimmery makeup, she doesn't look at all like her character. Which is good, because aside from a few things — a love of music, distinct style, and, in a sense, the same best friend ("We have that in common, our love for Diane [Guerrero, who plays Flaca's best friend, Maritza]" — Cruz isn't much like Flaca.
If you've already watched the beginning of Orange Is The New Black Season 5, which premiered Friday on Netflix, you know that Flaca doesn't exactly care about politics, unlike the woman who plays her. Flaca isn't taking charge in the prison riot nor is she speaking out against the disturbing tactics the prisoners use on the guards they've taken hostage. "I feel like she doesn't care," Cruz says of her character with a laugh. "I feel like there's some satisfaction, but she doesn't want to get involved."
Basically, Flaca would be fine staying in the bright, swanky photoshoot room, only popping out briefly to show the world the sexy redesign she gave her prison uniform.
The actor relates more to another beloved OITNB inmate, who becomes very involved with the politics of the riot. "I'd almost be like Taystee in a way because I feel like I know we're not doing our girl justice," Cruz says in reference to Poussey's death at the hands of a guard at the end of Season 4. "So I would be very upset at the system and really upset at what's going on and takeover and try to make a change and start a revolution."
Once Cruz gets her bearings on a topic, the speed with which she speaks ramps up. She starts shifting around in her seat and talking in long run-on sentences. Cruz speaks often about her "voice" and the "voices" of others, and she seems to be realizing more and more the power behind them, which, in turn, is making her speak out more and more in her everyday life. In a time where it's easy to be riled up one minute and lulled back into complacency the next — either because it's too hard, too time consuming, or too depressing to fight — Cruz seems determined to keep up the momentum and her realization that people are listening to her seems to play a role.
"Our president — or number 45 — was a reality star, why's his opinion more important than mine?" Cruz asks. "And I was scared to tell you who I voted for, or what I believed in [before the election], and not anymore because I learned how important my voice is and we need to share it. And each one of our voices are important. It doesn't matter how many followers you have, you can make a difference."
The way the 30-year-old is making a difference comes in two forms — through OITNB and through her work outside of the show. In her situation, being an actor and doing things that actors do, like photoshoots, aren't complacent actions because they're a way of getting herself and her ideas into the world. "I didn't know how important my voice was until Orange Is The New Black gave me this platform," she says. "I want to use my voice for everything I can, everything I believe in."
If you've seen Season 5, you know the themes of resisting authority and fighting back during a time that feels hopeless are strong. "Our show is popular right now ... because we're talking about exactly what is going on in the world," Cruz says. "And this season in particular, when we were filming this [riot], I was like, 'That would never happen,' and then something just like that happened in real life."
Photography: Ashley Batz/Bustle; Jewelry: Sarah Appleton Jewelry; White Top: DKNY; Shorts Are You Am I
It's hard to hear this and not think of another recent national event that many Americans thought would never happen, but Cruz is talking about one of the several actual prison riots that she says a costar texted her about before filming for Season 5 began. "I've learned so much about what's going on in prison and how messed up it is, and it's so real and we're bringing awareness to that," she says.
If you've watched, well, anything recently, you know it's harder than ever to not make comparisons to real life, but with OITNB, the entire purpose is to mirror the real world. Everything from the way the cliques are separated to the prisoners fighting against authority to white privilege to discrimination against someone for being transgender is a parallel for the real world.
"Even the racism in prison, our groups — it's crazy how it's happening in real life, as well," Cruz says. "Racism is kind of, not OK, but kind of awake in our environment right now. Maybe it was hidden, but now people think it's OK to be racist and it's not, and in prison everyone's racist and it's normal in there. And it's starting to feel normal in our real world. I don't know if I'm saying this right. I've never even talked about this, but I'm realizing it right now and it's kind of scary. It's really scary."
Even though she's figuring out things as she goes along — much like many of us are — Cruz is all about taking that fear that exists in the world and doing something about it. She has become active in prison reform in the time since joining the show. For the past three years she has worked with the Women's Prison Association, which offers support to women while they are in prison and helps them find jobs and housing after their release. Cruz often sings at their events, because, oh yeah, she's a singer, too. She also participated in the the Women's March in D.C. in January and continues to tweet the organization's calls to action to her 84K Twitter followers, as well as posts in support of Planned Parenthood.
She recently started her own production company, Unspoken Film, which she sees as another form of resistance, and she just got funding for her first short. "I'm telling stories that we're afraid to talk about," she says. "And I want diverse women on screen, and writers, producers, directors."
Outside of the films she's producing herself, Cruz adds, "I've been auditioning for some great movies that have something to say and are important ... People like to see themselves on TV. They like to be represented. And that's what we need. Shows that represent our community, our world."
Through her role on OITNB and the platform the show gave her, Cruz learned both that she herself can bring about change and that the show can make other people feel the same way.
"I feel like right now our art is more important than ever because people are watching, people are listening, and we have to show them what's happening so they can help somehow," she says. "That's what I feel like I'm doing, making a difference by telling a story that is important."
By speaking out — both as Flaca and as Jackie — she can be in both rooms at the same time.
Hair: David Cruz using Kevin Murphy at Art Department
Makeup: Kim Bower for Laura Mercier at TraceyMattingly.com
Manicure: Elizabeth Garcia for Marc Jacobs Beauty
Styling: Gabrielle Prescod/Bustle
Design: Bry Crasch, Brit Phillips/Bustle
Set Design: Pakayla Biehn
Jewelry: Sarah Appleton Jewelry