This Teacher Of The Year's Closer To Becoming Connecticut's First Black Democratic Rep.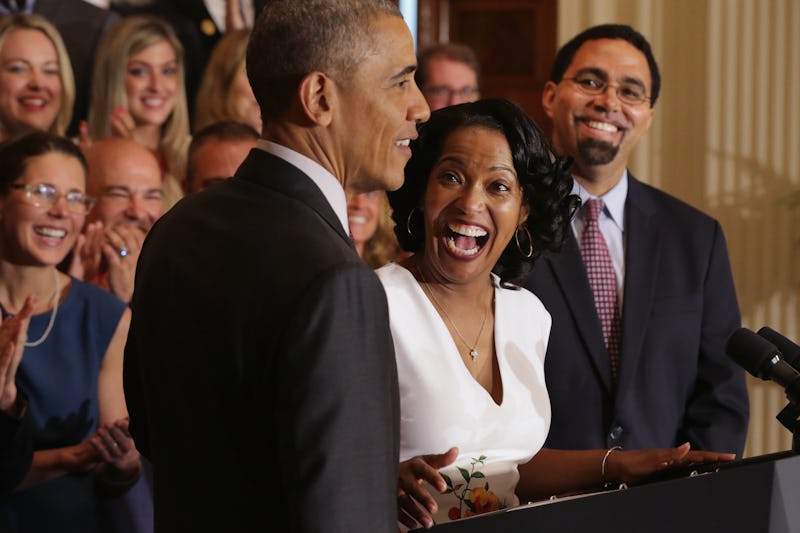 Chip Somodevilla/Getty Images News/Getty Images
President Barack Obama's pick for the "National Teacher of the Year" in 2016 has won the primary for the seat in Connecticut's Fifth Congressional District, the Washington Post reported. 46-year-old former social studies teacher Jahana Hayes might become Connecticut's first black Democrat in Congress in November, leaving her mark in the history books. The seat was left open by Elizabeth Esty.
Now, Hayes is looking ahead to the general election race against Republican Manny Santos, who also won his primary Tuesday night, according to NBC Connecticut. Her progress thus far — as a relative unknown and someone who has never run for office before — comes after Hayes' victory over her Democratic opponent, Mary Glassman, an established elected official in the area who boasted a 30-year public service record, the Hartford Courant wrote. According to the New York Times, political observers had deemed Glassman to be the frontrunner in the primary, but Hayes' win may reflect a more widespread public connection with her background and identity, one that's given her unique insight that typical political experience can't easily deliver.
"I know what it's like to go to bed to gunshots outside. I know what it's like to wake up in the morning to a dead body in the hallway,'' she said at a candidates' forum in Washington, Connecticut in July, according to The Huffington Post. "No job gives you that kind of experience. Life gives you that kind of experience."
Hayes characterized her journey through life as an "underdog story," one that included a period of "homelessness, teen pregnancy and economic hardship" during her childhood in Waterbury, Connecticut, in an interview with the New York Times. Her family leaned on public assistance programs as she was growing up, and she spent her formative years in a housing project. But those hardships didn't stop her from pursing her education; Hayes eventually earned a degree at a four-year university and went after a post-graduate education, according to The Huffington Post.
Hayes has the support of several progressive organizations that have thrown their weight behind other Democratic candidates who made headlines for their own campaigns, like Alexandria Ocasio-Cortez in New York City and Michigan's Abdul El-Sayed in Michigan. According to the Hartford Courant, if Hayes were to win the Fifth District come November, she would be among a handful of minority legislators to represent a mostly white district.
Hayes' platform is progressive and goes along with general Democratic stances in espousing stronger gun control and a single-payer healthcare system. The former teacher, who currently serves as a supervisor in Waterbury public schools system, is not particularly active on social media. She's tweeted only twice in the month of August, with her last one calling for more diversity in Congress' ranks.
Hayes' could go down in the history books — it's one of the reasons she's making headlines with this primary win — but she doesn't want it to be all that she's known for.
"I'm a black woman," Hayes said to The New York Times. "I am unapologetically proud of who I am and where I come from. And I'm helping people understand that that, too, can be part of the narrative. But that's not all I am. You know, I'm so many other things. So let's talk about it."