Connie Britton's New Show Is Based On A Horrifying True Story About Online Dating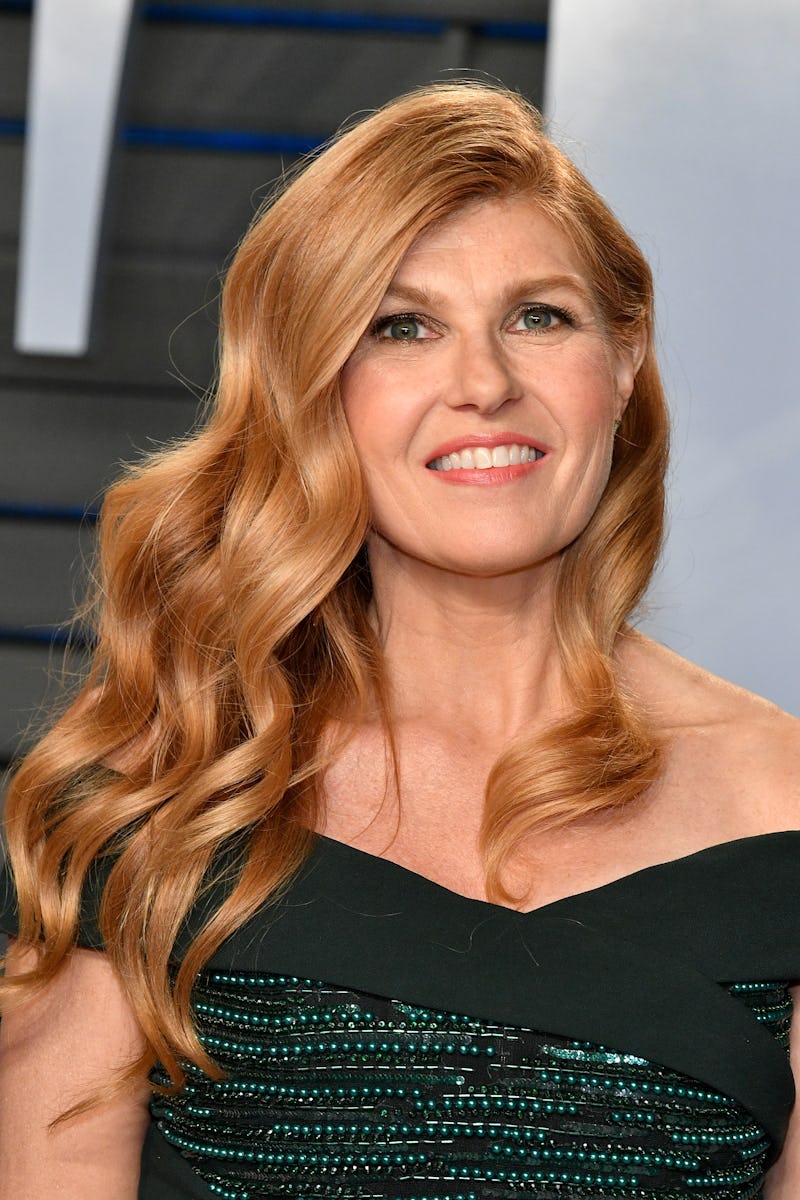 Dia Dipasupil/Getty Images Entertainment/Getty Images
If you can even believe it, Connie Britton's new TV gig is scarier than anything she did on American Horror Story. Oh, and it's reportedly all true. According to The Hollywood Reporter, Britton will star in the new anthology series Dirty John, which is based on the true story of a dangerous con man named John Meehan, better known as "Dirty John." Britton — who will also produce the series airing on Bravo — will star as Meehan's last wife, Debra Newell, an interior designer who gets caught up in Dirty John's lies. It's safe to say you're going to have to see this story to believe it.
The first season of the two-part drama, based on a Los Angeles Times story by Christopher Goffard, looks at Meehan's relationship with Newell and the serious consequences it had for her family. For those who've read the veteran journalist's six-part series or heard the Dirty John podcast based on his reporting, you know that this story is bizarre, dangerous, and hard to turn away from.
Newell reportedly met Meehan on a dating app for those who are over 50 years old. She fell in love pretty easily with the man who said he was a doctor, even showing up in scrubs to their second date, according to the LA Times. But it was soon clear he was anything but. Newell's children were quick to suspect Meehan was a liar, and because of this he condemned them, eventually allegedly turning violent against Newell's youngest daughter Terra, who has said watching the Walking Dead ultimately saved her life.
Britton's latest role, which comes after her starring turn in Ryan Murphy's Fox series 9-1-1, might encourage people to think twice before they swipe right. The New Yorker said that the reason Dirty John is so engaging is because the true-crime podcast is a frightening look at dating gone terribly wrong. Buta it also shows how far a person may go to find a romantic connection.
Throughout, Dirty John, Newell — who was married an divorced four times before meeting Meehan — talks about how head over heels she fell for this guy and how much she wanted to be in love. On Today, she said she was attracted to Meehan because he was the "total package. A doctor, intelligent, a family man." She was willing to overlook some of the stranger aspects of Meehan's life, the red flags that later she said she should have realized. It's safe to say the show show won't, though. Spoilers ahead.
Dirty John comes to an end with a violent brawl between Terra and Meehan, eventually resulting in his death. The podcast actually starts at the very end with Meehan's autopsy report, which caught Goffard's attention because not many murders happen in the Orange County suburb of Newport Beach.
The question that's being asked is whether his death is a prosecutable offense. Meehan was reportedly stabbed 13 times, but as Matt Murphy, an assistant district attorney for Newport Beach, California who handles homicides, explained on the podcast: "When you review something like this, what it tells you is, this young woman fought like hell." From there, Goffard looks into who this Dirty John really was by talking not only to the Newells, but other women who had been tricked by him.
THR reported that the series, which will be written by Alexandra Cunningham (known for Desperate Housewives), has already been picked up for two seasons. There is no official premiere date for the first season as of now. However, Season 2 will reportedly feature "an entirely new and closed-ended story that has yet to be determined." Likely, this means Britton will not be back for another season.
For those that can't get enough of Dirty John, though, there will be more than one way to see this story. THR reported that Bravo's sister network Oxygen will air an "unscripted companion series exploring the real-life experiences of those manipulated and harassed by Meehan."
A warning for those who haven't officially met Meehan: The expanded universe of Dirty John is sure to be one of the scariest things you'll see on TV.