Connie Britton Showed Up At The Golden Globes With An Unexpected Message Across Her Chest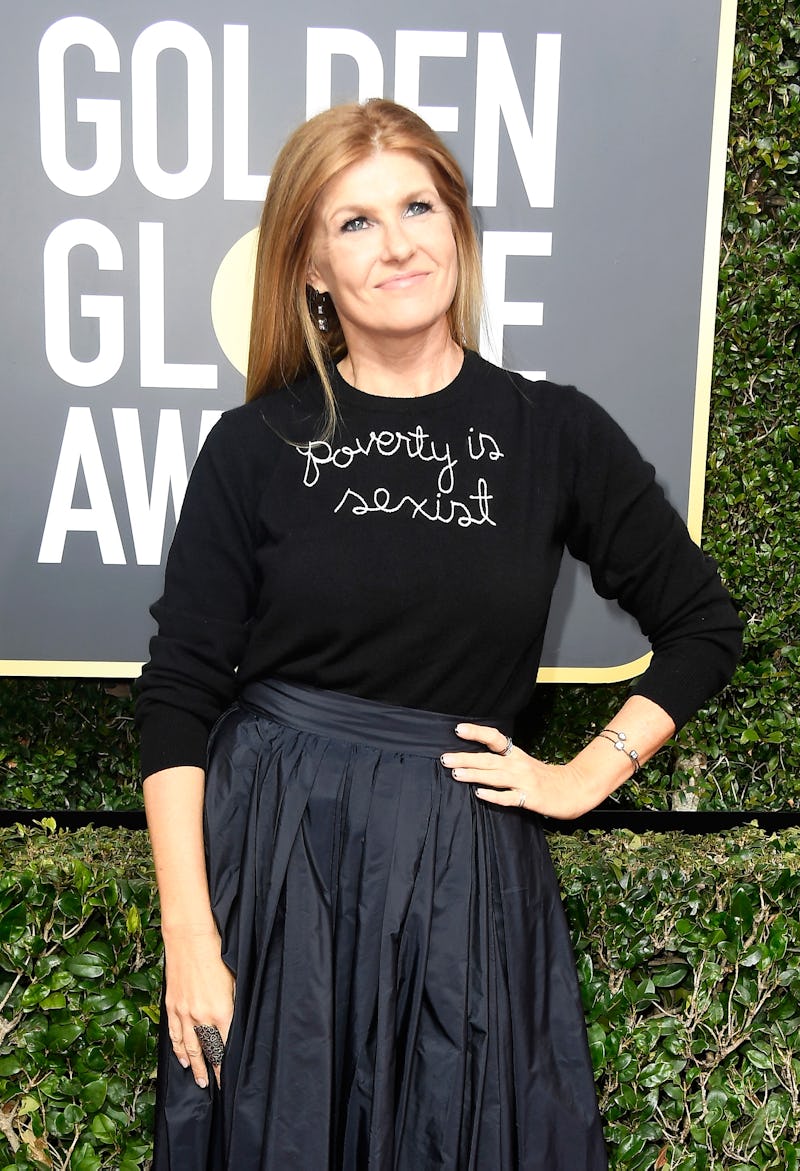 Frazer Harrison/Getty Images Entertainment/Getty Images
The 2018 Golden Globes red carpet was a sea of black gowns and solidarity, an impactful movement to fight back against against rampant sexual harassment in the entertainment industry and beyond. Stars like Emma Watson, Issa Rae, and Alison Brie all wore black. Connie Britton's 2018 Golden Globes outfit was black — but it also shared a powerful message that made it unique from the other looks on the red carpet.
In addition to the all-black ensembles on the red carpet, many stars also wore black and white "Time's Up" pins to the Golden Globes, paying homage to a recent initiative specific to fighting sexual harassment and inequality in the entertainment industry. Time's Up is represented by over 300 actors, agents, and other Hollywood figures.
Britton didn't rock a pin, but she did include an impactful message with her look. Britton's wore a black skirt and top, and the top was embroidered with the phrase, "Poverty Is Sexist." The phrase is likely a nod to One Campaign's #PovertyIsSexist movement.
"Nowhere on earth do women have as many opportunities as men. Nowhere. But for girls and women in the poorest countries, that inequality is amplified," reads One Campaign's website. We won't end extreme poverty until we break down the barriers holding girls and women back. Sexism is global — the fight against it should be too. Join the movement and use your voice to call for change. We're almost 8 million strong already, but we'll be even more powerful with you."
The message on Britton's shirt is an appropriate extension of the movement happening on the red carpet and throughout Hollywood, and serves as a reminder that sexism goes far beyond the concept of powerful men abusing their power and exploiting women. In truth, sexism and inequality pervade the most vulnerable communities in more ways than one, as One Campaign points out.
"My hope with this movement now is that we get to the next level," Britton told TooFab at the beginning of January 2018. "That we're really reaching out to the grassroots and we're really reaching out to women all over who have been impacted by these situations and by sexual harassment and lack of gender parity."
The 9-1-1 star continued, saying that she hopes the movement goes global.
"To me, my hope is that we start looking outside of Hollywood and really make this a movement that will impact all women," Britton told TooFab, "In the United States and all women in the world."