Why It's No Accident This 'Happy Together' Character Will Remind You Of Harry Styles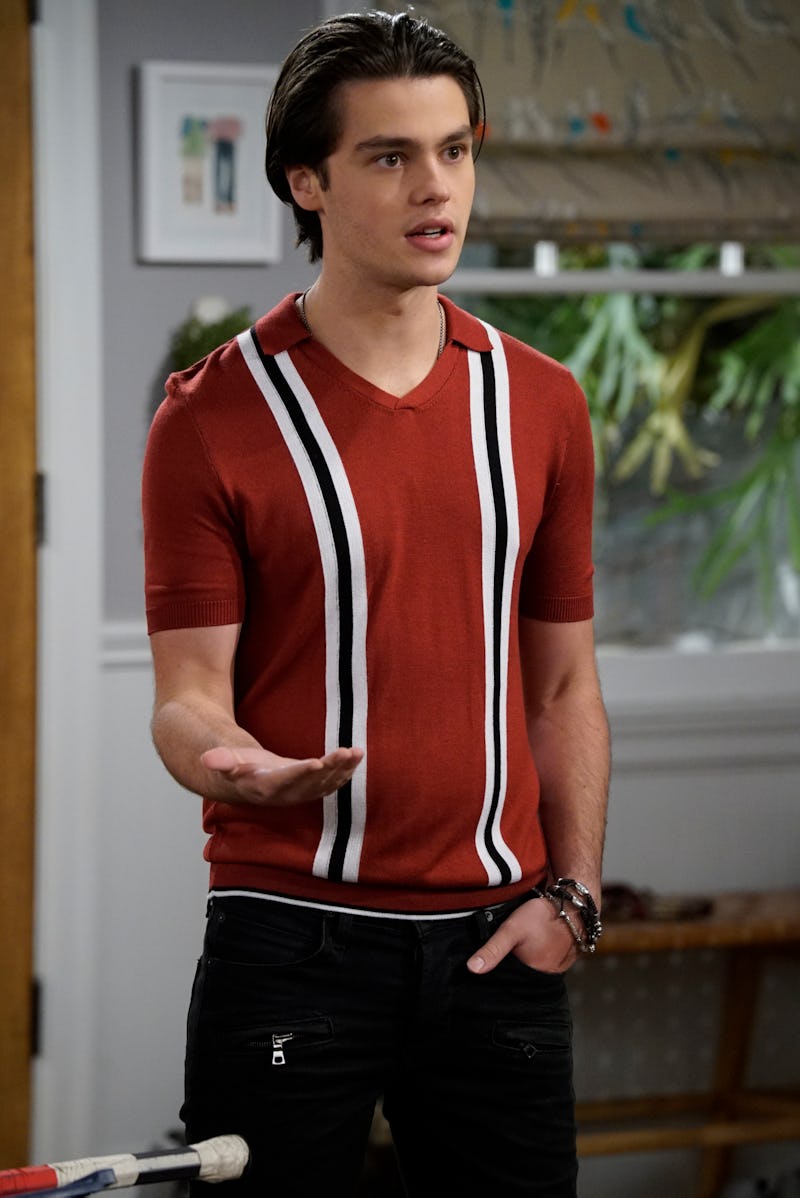 Cliff Lipson/CBS
Get ready, One Direction fans, because the Harry Styles-produced TV show Happy Together premieres Oct. 1 on CBS at 8:30 p.m. ET. And while Styles himself isn't actually on the show, viewers may notice some similarities between the fictional pop star they'll see on-screen and the actual 1D alum. That's because Happy Together's Cooper James is based on Harry Styles. Well, loosely anyway — very loosely.
According to Teen Vogue, CBS said in a statement that "the show is not based on real life experiences and characters." That being said, it was inspired by a real time in Styles' life, when he lived with fellow Happy Together producer Ben Winston and Winston's wife.
Back in April 2017, Winston revealed to Rolling Stone that, during 1D's early years, Styles found himself in need of a place to stay after moving out of his family home. He'd purchased his own house nearby, in Hampstead Heath, but it required two weeks of work — so Winston agreed to let Styles crash in his attic (yes, his attic). The two had met shortly after the band's X Factor success and become close, with Winston going on to work on two of 1D's documentaries as well as several music videos.
Soon, what was supposed to be a two week stay turned into 18 months. For Styles, Winston's home became a sanctuary: He was never discovered by the paparazzi there, and Winston and his wife loved having him around. "The truth of it is Harry became a huge part of our family. We never wanted him to move out," Winston said during the TCAs, per E!. "He would prefer to live in this sort of modern suburban family unit rather than living on his own in a mansion. And I think everybody can relate to that, regardless of how famous you are."
Happy Together similarly features a famous musician seeking refuge with an average suburban family, but it's easy to see that it's not a shot-for-shot remake of Styles' own life. In the show, Cooper moves in with his accountant, Jake, and his wife Claire after a messy public breakup. What ensues is the comedic clash of two very different worlds colliding: Cooper knows nothing about things like landline phones or Costco, while Jake and Claire are a dorky married couple unfamiliar with Cooper's celebrity-cool lifestyle. In fact, according to E!, Winston also said at the TCAs that in order to make the show more interesting, it had to deviate quite a lot from his own experiences with Styles.
"Unfortunately, our lives really were very boring. He would come in. He'd go to sleep. We would do a few chores, and there wouldn't be anything very funny about it," Winston said. "So when we say [the show] is 'loosely inspired by,' that's because if we actually put what happened on the television, it wouldn't be that exciting."
Happy Together producers Tim McAuliffe and Austen Earl also told Variety that they were careful not to portray "the versions of the true story that happened in that house," though they acknowledged that Styles did come by the set during shooting. And while Felix Mallard, who plays Cooper, told People he did talk to Styles as preparation for the role, he's also a musician in his own right: According to his CBS bio, he writes his own songs and plays multiple instruments.
So though Cooper is (loosely!!) inspired by Styles, Mallard can certainly put his own spin on the character, and fans will likely fall for him just as they did for Styles when he first rose to fame.