Here's What Harry Styles Thinks Of 'Happy Together,' According To The Show's Cast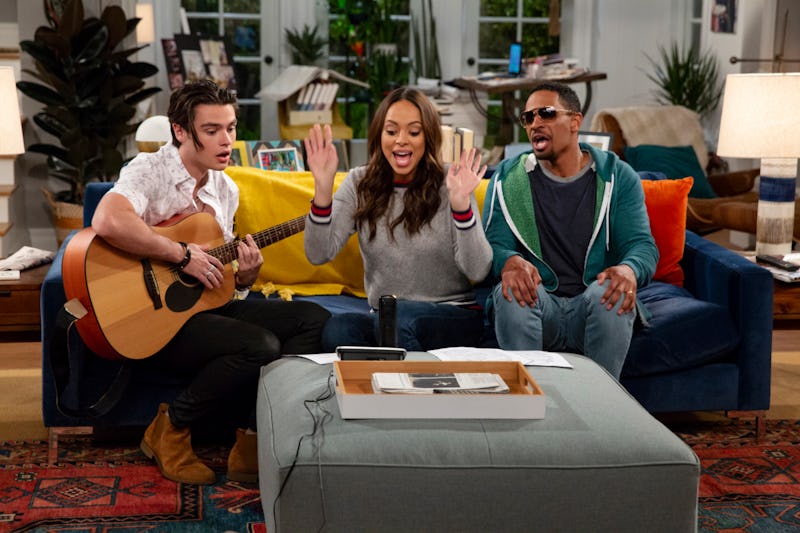 Cliff Lipson/CBS
The premise of Happy Together gives One Direction fans something they perhaps had never dared to dream of: a sitcom version of Harry Styles. And while the 1D alum doesn't actually star in the show, he is an executive producer, so if you've gone ahead and assumed Harry Styles' opinion of Happy Together is, well, good, you'd be mostly right. Since his name is majorly associated with the show, he's obviously given his stamp of approval. But other than that, the "Sign Of The Times" singer has kept pretty quiet about the whole thing.
In Happy Together, Damon Wayans Jr. stars as Jake, an accountant for Australian pop star (and Styles look-a-like) Cooper James (Felix Mallard). After Cooper suffers a very public breakup, he moves in with Jake and his wife Claire (Amber Stevens West). The story is inspired by the fact that, during the height of One Direction, Styles lived in the attic of Ben Winston's England home. As the TV producer told Rolling Stone in 2017, what was supposed to be a temporary stay turned into nearly two years of Styles living with him and his wife. "That period of time, he was living with us in the most mundane suburban situation," Winston explained. "But he made our house a home. And when he moved out, we were gutted."
If you're not familiar with Winston, he's an executive producer for The Late Late Show With James Corden and, alongside Styles, serves as a Happy Together EP. But while both him and Styles have probably given plenty of input, that doesn't mean you should presume that everything that happens on the show is real — in fact, it's quite the opposite.
"Although the series is inspired by when Ben and Harry lived together, that's where the reality ends. The show is not based on real life experiences and characters," CBS said in a statement when Happy Together was announced, per TV Guide. Winston also wrote on Instagram that, "despite what a couple of articles say," the series "is not based on reality!! just simply inspired by a fun story !" adding that he wishes he "was as cool as Damon."
Styles, meanwhile, hasn't really addressed his role on the show, but guest star Peyton List — who plays Cooper's ex-girlfriend — shared some insight about his involvement during an interview with PEOPLE Now. "He gets sent all the scripts and gives notes and has been told everything," List said. "And apparently, had looked at everyone's tapes and made sure he made casting approvals."
Amber Stevens West, who portrays Claire, also told the New York Post that the cast "didn't really get to know [Styles] because he was on his world tour" while they were filming, but that, "he did get an opportunity to come by the set once and finally introduce himself to everyone. He was just lovely and seemed very grateful to be behind the scenes, for once."
Styles said in the aforementioned Rolling Stone piece that he prefers "to separate" his personal and professional lives because it helps him to "compartmentalize," so it's possible he'll never share his thoughts on Happy Together. But if you scroll back far enough on Twitter, you can find some tweets about his time living with Winston.
Other than that, just be grateful that Happy Together has given the world another version of the music sensation to obsess over — even if Cooper James is only loosely based on the real-life Styles.