Cory Booker Just Made It Official: He's Running For President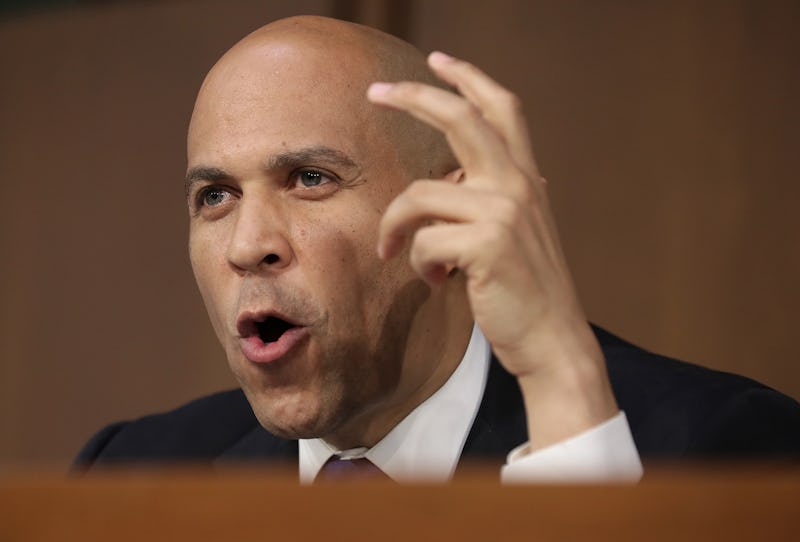 Chip Somodevilla/Getty Images News/Getty Images
Will he or won't he jump into the Democratic presidential primary? That question was answered Friday morning when New Jersey Sen. Cory Booker said he's running for president in 2020 via a video message posted to Twitter. The announcement came on the first day of Black History Month.
"I believe that we can build a country where no one is forgotten, no one is left behind," Booker said in the video message. "Where parents can put food on the table; where there are good paying jobs with good benefits in every neighborhood; where our criminal justice system keeps us safe, instead of shuffling more children into cages and coffins; where we see the faces of our leaders on television and feel pride, not shame."
Booker, who boasts an impressive political resume, may just prove himself to be a formidable candidate. In 2013, he became the first African-American senator from New Jersey, and now sits on the high-profile Senate Judiciary Committee. Booker was a fixture in Garden State politics before his time on Capitol Hill: From 1998 to 2002, he worked on the Newark City Council, then served as the mayor of Newark from 2006 to 2013.
Booker's Friday announcement probably comes as no surprise for those who've kept an eye on his statements in the past. In September, the senator told New York Magazine that he deemed it "irresponsible" if he didn't run for president. Then in November of the same year, Booker told New Jersey Advance Media, "I will consider running for president."
"That's something that I will do," Booker told the media outlet. "There's people in New Jersey who are talking to me about it, across the country that are talking to me about it, so I will consider that."
If his announcement video is any indication, Booker will highlight his long history with housing reform during the campaign. When his parents moved to Harrington Park, New Jersey, when he was a baby, they encountered many white realtors who refused to sell homes to them, a black couple. So his parents joined the Fair Housing Council: They'd inform the council when a realtor told them a property had been sold, and a white couple would be sent to see if they got the same response. Booker has said that a real estate agent once set a dog loose on his father.
Booker is already drawing upon this history to make the case for his candidacy. In the announcement video, he said that the Fair Housing Council "changed the course of [his] entire life." He then explained that he moved into Newark's Central Ward over two decades ago; Booker fought to fix the city's homelessness problem, even living in a tent for a short time to draw attention to the issue. During his tenure as mayor, he helped double the affordable housing production rate. Booker noted in the video that he still lives in the Central Ward today, saying, "I'm the only senator who goes home to a low-income, inner-city community, the first community that took a chance on me."
NPR reports that Booker has also made criminal justice reform and health care reform a focus of his political career. He supports Medicare for all, and like many other Democratic presidential contenders, he's signed on to Sen. Bernie Sanders' bill, which would phase in a single-payer system over four years.
Booker will likely find that one of his major challenges as a candidate is his presumed closeness to Wall Street: Liberals have at times condemned him for accepting huge donations from the financial industry. Many have also criticized his mayoral tenure, pointing out that crime and unemployment rose under his leadership, for example.
Booker will likely have to face these critiques regularly over the next two years. With high-profile figures like Sens. Elizabeth Warren, Kamala Harris, and Kirsten Gillibrand already in the mix, the 2020 race is shaping up to be a lively one.