Cory Monteith's Mom Opened Up About Losing Her Son & Her Words Are Absolutely Heartbreaking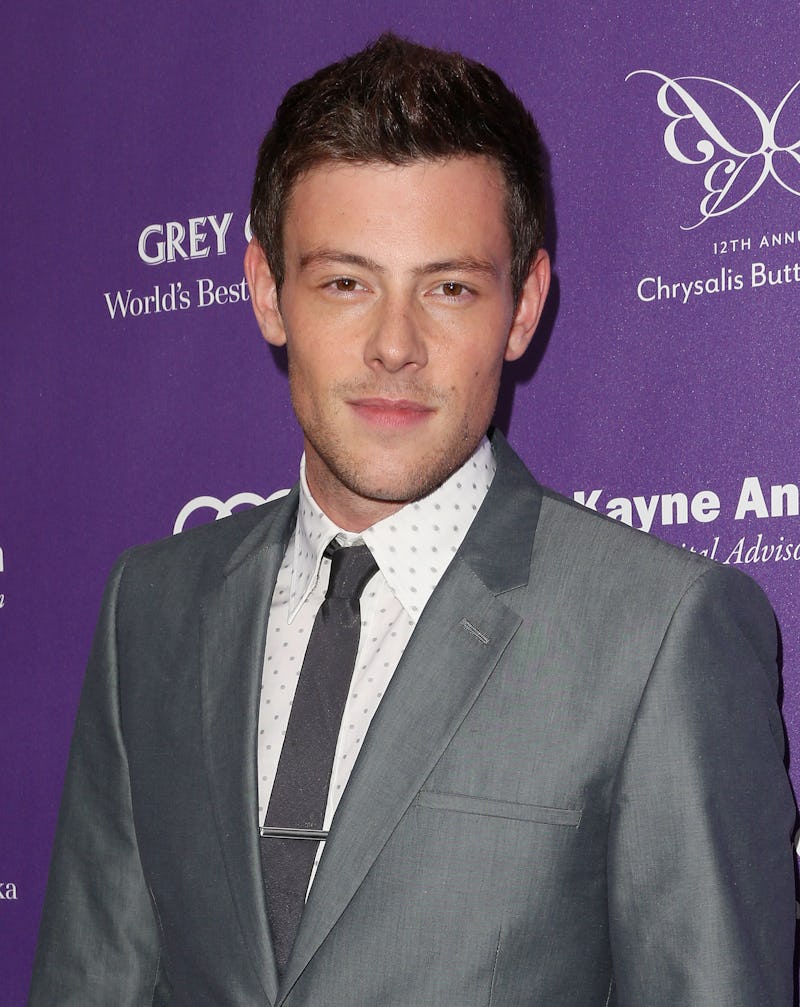 Frederick M. Brown/Getty Images Entertainment/Getty Images
Losing a child is one of the hardest experiences a parent can go through. That sentiment is made clear by Cory Monteith's mom, Ann McGregor, who opened up to People about the death of her son in an interview published Wednesday. Monteith died at only the age of 31 on July 13, 2013 from reportedly mixing heroin and alcohol, the British Columbia Coroners Service revealed in 2013 (via TheWrap). Even though it's been five years since McGregor said goodbye to the Glee star, it understandably still feels like yesterday for her.
"I still can't pick up the pieces," she told People about her son's death. "My world totally stopped. And I'm a different person than I was before."
McGregor was very close with Monteith when he was growing up in Victoria, British Columbia. She was a single mother, which bonded them. "We used to go everywhere together," she said. "We had a favorite restaurant where we'd share fish and chips. Even at 3 years old, he would stand at the counter and pay the bill. He could talk to anyone. He just had a way about him, and all I could do was enjoy it."
Unfortunately, Monteith battled addiction — and at a young age. According to his mom, he was drinking alcohol and smoking marijuana by age 13, and he went to rehab twice at 15 and 19 years old. "He tried to keep everything from me, because he loved me and wanted to protect me. He was just always so curious. And the darker world just drew him in," she said.
Eventually, McGregor said he worked hard and got sober before moving to Los Angeles and scoring the role of Finn Hudson in Glee. However, his mom said his sobriety didn't last. "He wasn't ready for the Hollywood world," she said. McGregor even said Monteith admitted to using drugs again in December 2012, only seven months before he died. "Drugs were his way of checking out," she said.
Despite entering a 30-month rehab program in April 2013, McGregor said "massive" dental work may have interfered with his treatment. "He had little teeth and they were all capped," she explained. "He had a lot of medication in his system, which was not good for his body coming out of rehab." She later added, "He didn't have enough drugs in his system to kill him, but for some reason it did because of his intolerance [built up by periods of intermittent sobriety]."
As tragic of a loss as it is for McGregor, she's trying to remember Monteith the best way she knows how — by working with Amber Academy, a non-profit dedicated in helping young individuals through the fine arts. She told People, "Cory believed in prevention, rather than trying to fix people. He wanted to give children opportunities to shine and feel good about themselves so they wouldn't turn to drugs."
McGregor's honoring her son in a beautiful way, but that doesn't mean it makes his death any easier. As anyone who's experienced tragic loss understands, the pain never disappears. Like McGregor told ABC News in July 2014, one year after Monteith's death, "The loss is horrendous … until three days ago I couldn't look at a picture of Cory," she admitted. "So there's been progress." McGregor also said in the interview she was still in contact with Lea Michele, Monteith's girlfriend at the time of his death. McGregor said about Michele, "She texts me and emails me. She's hurting too; you see the sadness, I know her pain."
Like McGregor, though the loss they've both experienced is very different, Michele is still affected by losing the actor. On the five-year anniversary of Monteith's death this year, Michele tweeted the quote: "There are some who bring a light so great to the world, that even after they have gone, the light remains." He clearly still remains close to her heart.
It's absolutely heartbreaking to hear what McGregor deals with on a daily basis. She probably appreciates fans keeping Monteith's memory alive. It's also important to never forget McGregor and the unimaginable heartache she faces every single day she gets out of bed.
If you or someone you know is seeking help for substance use, call the SAMHSA National Helpline at 1-800-662-HELP (4357).