'Hidden Figures' Wins Big At The SAG Awards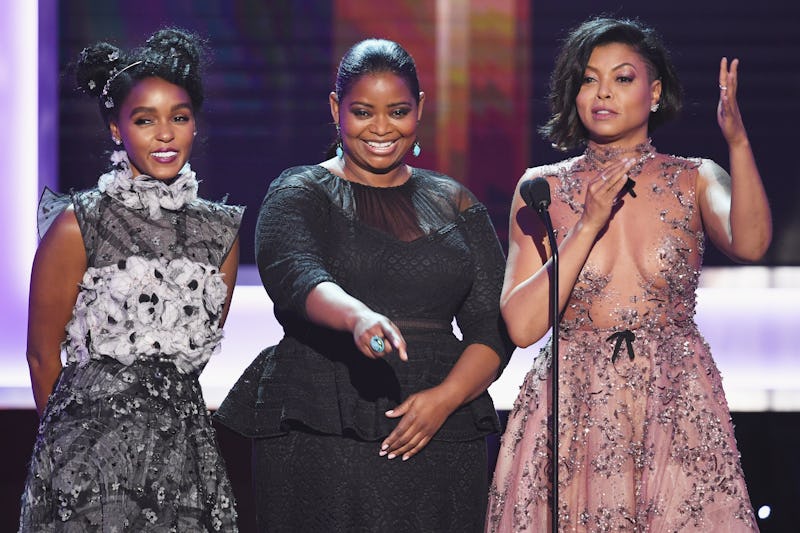 Kevin Winter/Getty Images Entertainment/Getty Images
This year at the Screen Actors Guild Awards, the category for Outstanding Performance by a Cast in a Motion Picture was pretty impressive. Competing for the prize were a mix of true ensemble films — Fences, Hidden Figures, Moonlight — and more star-driven movies, like Manchester By The Sea and Captain Fantastic. In the end, Hidden Figures won the SAG for Outstanding Performance by a Cast in a Motion Picture, which was both unexpected and totally deserved.
After the 2017 Oscar nominees were announced, it was clear that Captain Fantastic was probably not going to win the SAG Award, with only one Oscar nominated performance (for star, Viggo Mortensen). Hidden Figures also only has one Academy Award nomination for acting, which is part of the reason why this win is a bit of a shock. Fences and Moonlight, on the other hand, both have two, and Manchester By The Sea boasts three.
Moonlight previously took home the Critics' Choice Award for Best Acting Ensemble, but in the end, it was Hidden Figures that took home the biggest prize of the night at the SAG Awards. So what does this mean for the film's Oscar chances? Perhaps we should be taking it more seriously as a contender on Feb. 26, specifically in the category of Best Picture.
Earlier in the night, Hidden Figures co-star Octavia Spencer lost the SAG Award for Outstanding Performance by a Female Actor in a Supporting Role to Fences' Viola Davis, a fate likely to be repeated come Oscar night. However, the fact that Hidden Figures won for Outstanding Cast could mean that the film has more than a fighting chance to win Best Motion Picture at the Academy Awards.
For the past two years, the winners of this particular SAG Award — Spotlight and Birdman — have gone on to win Best Picture at the Oscars. Though there is not always a correlation between the two awards, it's clear that Hidden Figures should not be dismissed in the discussions leading up to the awards. If anything, Hidden Figures' SAG Award victory puts it in the top five films currently nominated, up there with frontrunners Moonlight, La La Land, Manchester by the Sea, and Arrival.
This SAG Award can only help Hidden Figures' Oscar chances, but we won't know for sure what the effect will be until the awards are handed out on Sunday, Feb. 26.