Resignation Could Be The Least Of Flynn's Worries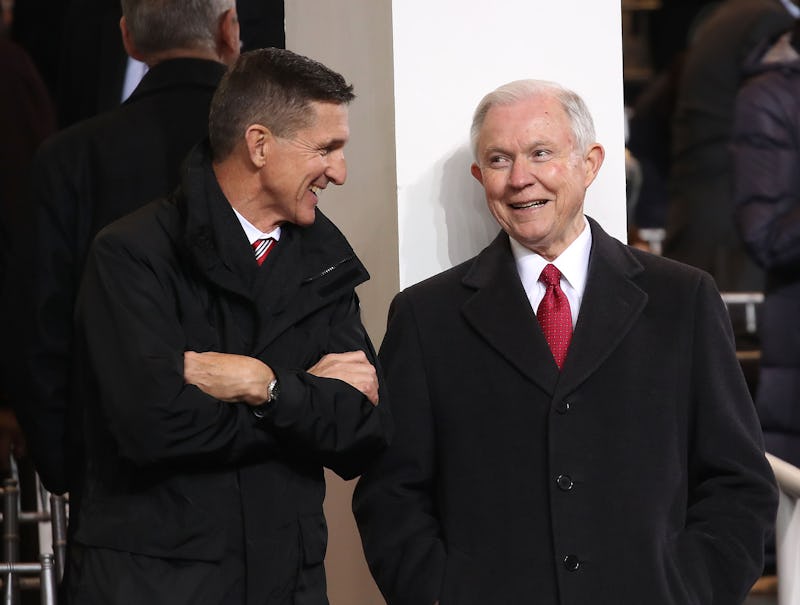 Mark Wilson/Getty Images News/Getty Images
The Donald Trump administration was dealt its first real body blow on Monday night with the resignation of Michael Flynn as Trump's National Security Advisor. The resignation was the culmination of a series of revelations about Flynn's improper discussions regarding sanctions with the Russian Ambassador back in December. While many in Congress and the media are trying to sort out what the administration knew and when — and whether they chose to ignore damning information about Flynn — some are pushing for Flynn to face criminal charges for his actions.
Whether or not he actually will depends on a bunch of different factors. First and foremost, there are still questions about what went down on the call between Flynn and Russian Ambassador Sergey I. Kislyak. The discrepancies between what Flynn told then Vice President-elect Mike Pence about his contact with Kislyak, and what was later revealed by U.S. Intelligence agencies are more than a little problematic for the Trump administration. In fact, it makes things all the more dicey considered ties to Russia and Vladimir Putin have posed a big (and somewhat ominous) question mark even before Trump was elected. The reason U.S. officials even knew a discrepancy existed was because they had a transcript of the call as part of their monitoring of Kislyak.
Most of the discussion on potential criminal charges Flynn might face revolves around a 1799 statute called the Logan Act, which bars private citizens obstructing foreign relations efforts by communicating with foreign governments. Since at the time of the call, Flynn would have been acting not on behalf of the government but the government-to-be, he could theoretically be prosecuted under the act.
However, no one has ever been prosecuted under the act — charges were brought against a farmer in Kentucky in 1803, but were later dropped — and it's unclear whether the act would be trumped by First Amendment free speech rights. Moreover, given how, by my opinon, lackluster the Republican response to Flynn's actions have been, it seems unlikely that Jeff Sessions' Justice Department would bring charges against the former national security advisor.
What might be a bigger problem for Flynn is whether or not he lied to Pence — and FBI investigators — about the content of his call with Kislyak. However, given that it's unclear whether there will be a robust investigation into the Flynn affair, it's possible that we may never know exactly what happened.
Nevertheless, Flynn's 24-day tenure in the White House is seen by many as a a black eye on the new administration — and it's only week four.