Country Music Stars Respond To The Las Vegas Shooting With Thoughts & Prayers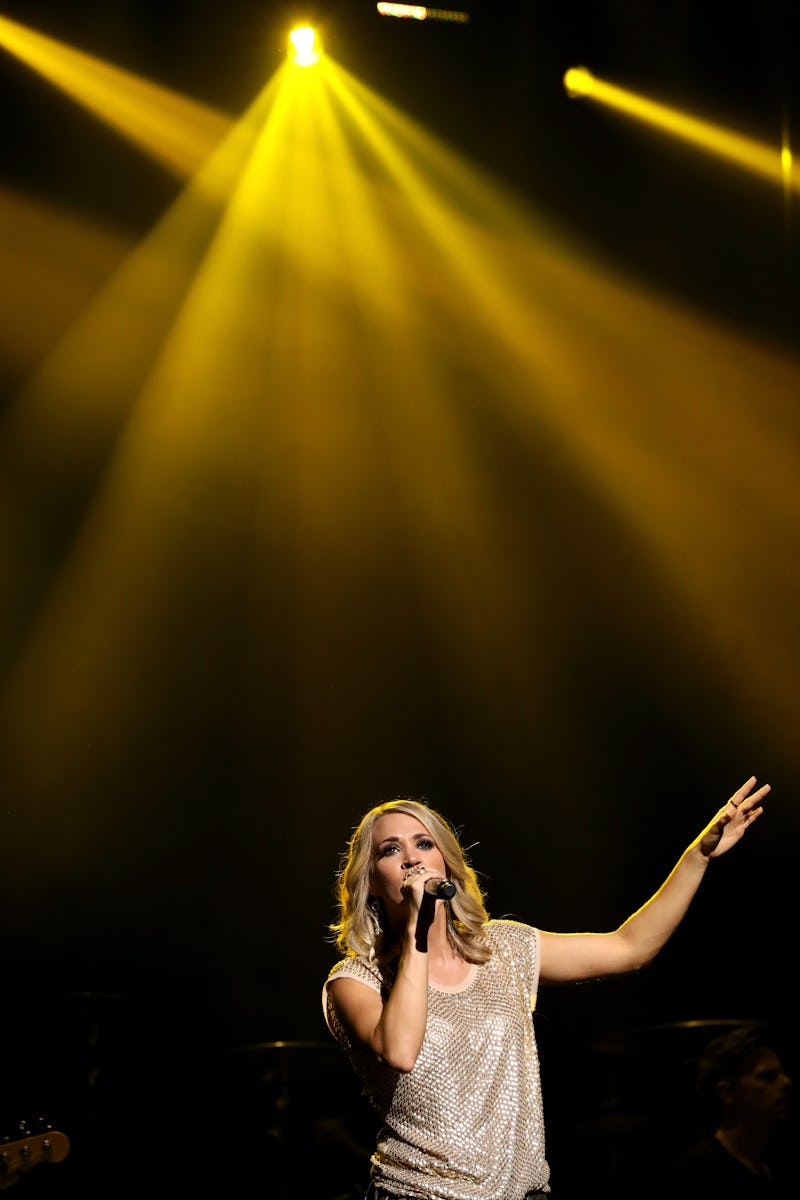 Christopher Polk/Getty Images Entertainment/Getty Images
After a deadly shooting occurred Sunday at a country music festival in Las Vegas named Route 91 Harvest Festival, country music singers immediately began to respond to the tragic event on Twitter and Instagram. The tragedy started Sunday night when shots were fired from the 32nd floor of the Mandalay Bay hotel into the festival on the ground, according to The New York Times, which made it hard for anyone to run for cover.
According to CNN, country star Jason Aldean was on stage when the shooting broke out. And, Jake Owen, another singer who, according to the NYT, was on stage when the shots started, told CNN that "shooting fish in a barrel" was an accurate comparison for the horrific event, which left at least 50 dead and hundreds injured. "This is not an exaggeration," Owen continued, "This shooting was going on for at least 10 minutes ... It was nonstop."
Aldean and Owen both managed to take cover and escape the venue unharmed. Aldean took to Instagram shortly afterward to share his thoughts and prayers in a caption that read [sic]:
"Tonight has been beyond horrific. I still dont know what to say but wanted to let everyone know that Me and my Crew are safe. My Thoughts and prayers go out to everyone involved tonight. It hurts my heart that this would happen to anyone who was just coming out to enjoy what should have been a fun night. #heartbroken#stopthehate"
Owen took to Twitter to share a similar message.
But, they were far from the only singers and musicians to share their thoughts and prayers on social media.
Taylor Swift
The Reputation singer tried to express her sorrow in the wake of the attack.
Carrie Underwood
The American Idol alum wrote on Twitter that she woke up to the news.
Luke Bryan
Singer Bryan wanted his fans to know he was praying for those affected by the violence.
Kane Brown
Another musician who performed at the event, he took to Twitter to share his thoughts.
Lauren Alaina
Alaina also performed on Sunday, and took to social media to let everyone know she was OK.
Brad Paisley
Paisley also posted a message to Instagram with this caption: "I love country music, our fans, and our industry. We are a family. And we are hurting together today. God be with the victims. #prayforvegas"
Blake Shelton
The Voice coach and singer sent his sympathies to those affected.
Shania Twain
Twain said she was "heartbroken" on Twitter.
Kacey Musgraves
One tweet wasn't enough for Musgraves to get her thoughts across, so she posted a lengthy follow-up statement.
Keith Urban
In a brief message on Twitter, Urban sent his prayers.
Martina McBride
The singer wrote on Twitter that she played the venue last year and was thinking of everyone involved.
Miranda Lambert
The singer posted a brief message on Twitter and tagged the festival.
The theme of most of the country stars' messages was one of thoughts and prayers — a response which often gets critiqued after a gun-related tragedy. Senator Elizabeth Warren of Massachusetts took to Twitter after the shooting to decry that "thoughts and prayers are not enough."
While certainly none of these musicians meant any harm by their heartfelt messages, some people often feel frustrated that shootings happen again and again and the response is never change — but simply thought. Some of the country stars' tweets displayed fan responses similar to Warren's. "It's been proven that prayers don't work. Take guns off the shelves and ban them," one user responded to Underwood's tweet.
What, if anything, will change this time will be determined in the days and weeks ahead. And, as time goes by, more stars country (among others), will likely speak up to express their thoughts and feelings on everything that happened. For now, as people deal with the shock — particularly those in the country music family — thoughts and prayers seems to be what they have and wish to offer at this time.
Here are some ways you can help the victims in Las Vegas.