Recipes To Make With Girl Scout Cookies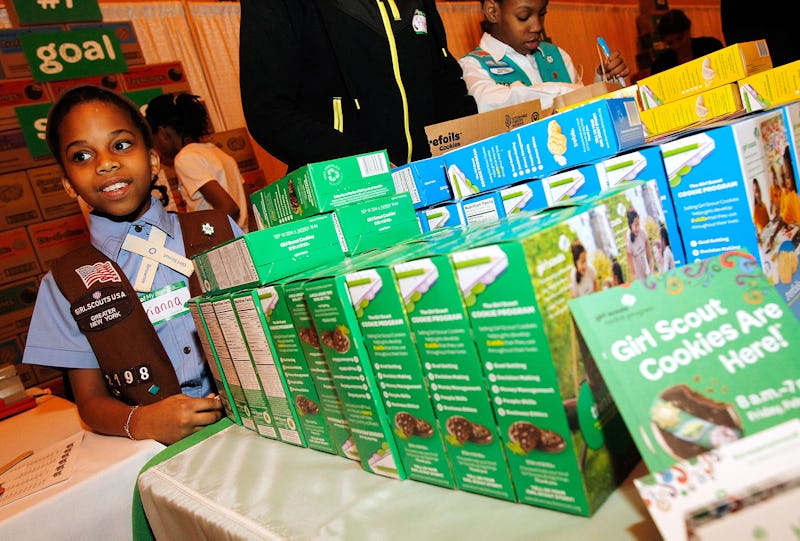 Paul Morigi/Getty Images Entertainment/Getty Images
Girl Scout Cookie season is with us once again our once-a-year insatiable craving for all things Thin Mint is back. (Though, if you're anything like me, that craving really sticks around all year.) And with this year being the 100-year anniversary of Girl Scouts America selling cookies, there's more reason than ever to buy now.
Because who can fight the urge to give into a group of cute kids selling cookies outside the grocery store? Answer: no one. I mean you already have a few shopping bags filled with things you're not excited about like lettuce and quinoa and toilet paper, and then you're confronted with a table of treats just before you head to the car. Talk about marketing: this is the perfect time to be convinced to add some cookies to your grocery cart. Not to mention, by purchasing a box of cookies, you're directly supporting your community's Girl Scout Program which means you're also directly empowering the women of the future. So go you! Buy some cookies and ensure the future is sacred, too.
And if you're anything like me, you get a little nuts at the cookie table and get more than you can chew. By the end of the month, you have cookies in the fridge, cookies in the freezer and you're concerned you'll still be trying to eat them off by next year's drive. If that's the case, here are a few creative things you can do with your cookies to repurpose or increase the purpose they already have.
Thin Mint Chocolate Chip Ice Cream
Crush up some Thin Mints and fold them into your favorite vanilla ice cream for the ultimate mint chocolate chip remix.
Peanut Butter Patties Pie Crust
Crushed cookies make the best pie crusts. Toss a cup of Peanut Butter Patties into your food processor with some melted butter and blend until fine. Pour the damp mixture into a greased pie pan and pat down until it resembles a crust.
Caramel DeLites Oatmeal
Instead of adding sweeteners to your morning oatmeal, crush up a few Caramel deLites and toss them into your warm oatmeal for a seriously decadent breakfast.
S'mores Brownies
Into your favorite brown mix, fold in some crushed S'mores cookies to add texture and campfire flavor. Add a few extra marshmallows on top for garnish as you please!
Thanks-A-Lot Cheesecake Crust
These shortbread cookies make the tastiest crust. Blend them with melted butter in the food processor and use the mix as the base of your favorite cheesecake recipe.
Trios Granola
Crush up some Trios and blend them with your favorite nuts and dried fruits. It's the perfect sweet touch for any trail mix.
Peanut Butter, Jelly & Cream Cheese Sandwich
If you're all peanut buttered out, twist open your Peanut Butter Sandwich cookies and add a layer of cream cheese and jelly. This combination will brighten up the flavor profile and add some much needed complexity.
Lemonade Blondies
Add a cup of your Lemonade cookies to the food processor and blend until they're broken up into large crumbs. Add most of the mixture to your favorite blondie batter and bake as directed. Add the left over cookie crumbs to the top as a garnish.