These 'Sharp Objects' Halloween Costumes Look Like They're Straight Out Of Wind Gap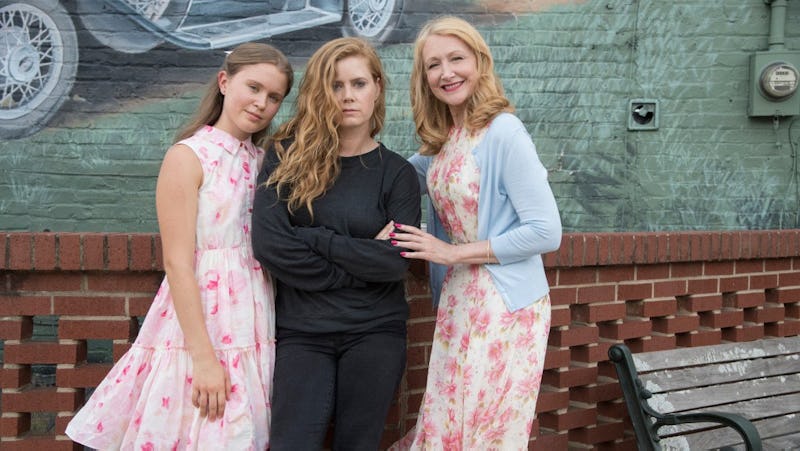 HBO
Hands-down, the most chilling TV show of 2018 has been HBO's Sharp Objects. So it's no surprise that we're all scouring the internet looking for the best Camille, Amma, and/or Adora costume inspiration. But look no further! Here I've put together a list of creative Sharp Objects Halloween costumes, because if you're going to go Wind Gap, MO this year, you'll want to go all the way. I mean, spare no expenses! Decorate your costume with teeth! Bring a pair of pliers out with you! Throw a pair of roller skates on!
With so many people looking to Wind Gap for Halloween inspiration, you'll want to go to extra mile by paying close attention to detail so that your costume stands out. Chances are, any Halloween party you show up at will have a few Camilles, Ammas and Adoras. But instead of getting discouraged, just lean into the fandom and make your costume extra special. Here are some suggestions for nailing your Preaker or Crellin. Some items you might be able to pull from your own closet or borrow from friends, and others might make great additions to your wardrobe. As dark and dangerous as this family is, you can't deny their fashion sense.
Camille
Forever 21
H&M
Forever 21
H&M
Super Skinny Low Jeans, $20, H&M
Foldable Weekend Bag, $25, H&M
Long Sleeve Pocket Patch Top, $9, Forever 21
Qupid Faux Suede Booties, $38, Forever 21
Camille Preaker dresses in dark colors. She pairs most of her dark, baggy tops with a pair of fitted dark jeans and a scuffed up bootie. She always has her work bag with her and she's always holding it tight. Smudge some eyeliner around your eyes, tousle your hair with messy waves, and make your own press badge to top off the look.
Amma
Modcloth
Etsy
Modcloth
Anne Marie Fox/HBO
Confidently Coordinated Collared Dress, $75, Modcloth
Collectif Timeless Attire Cropped Cardigan, $49, Modcloth
Yellow Hair Bow, $4, Etsy
Embrace the seemingly sweet side of Amma, it's that much creepier. Anything doll-like and darling will work, add a bow and a matching cardigan to really make your costume pop. If you really want to go an extra mile, add some fake teeth to your costume; earrings, a necklace, or a brooch. If you want to go for her secret night time look, wrap the cardigan around your waist, let your hair down, and throw on a pair of roller skates.
Adora
Modcloth
Target
H&M
Anne Marie Fox/HBO
Chi Chi London Look Luxe Fit and Flare Dress, $129, Modcloth
Women's White Floppy Hat, $13, Target
Nail Polish, $6, H&M
Adora is easily the most terrifying character on the show. And yet, she's the most perfectly put together at all times. A nice summer cocktail dress, a floppy garden party hat and a fresh coat of red nail polish will definitely create a strong Adora look.