Here's Why Cressida Bonas May Have An Unexpected Role In Princess Eugenie's Wedding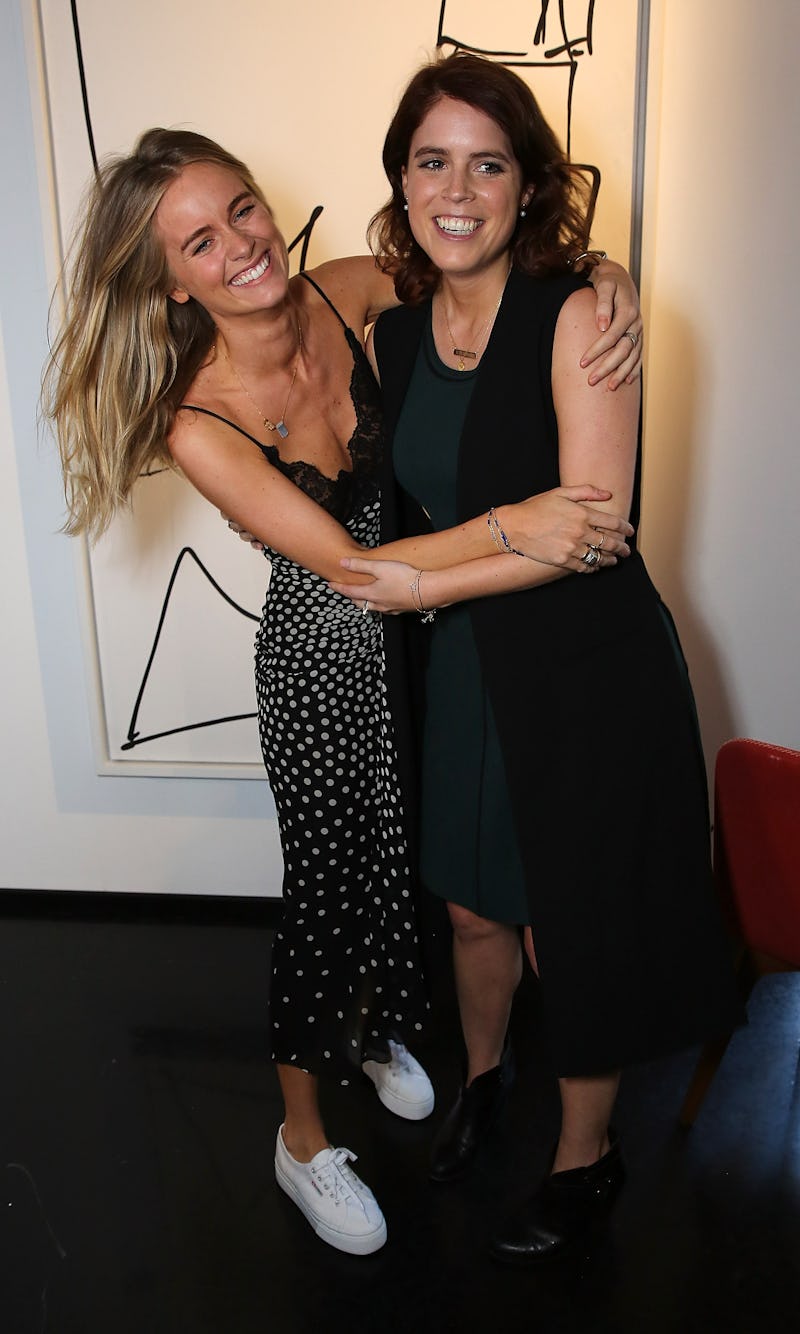 Photo by David M. Benett/Dave Benett/Getty Images
Could one of Prince Harry's ex girlfriends get her chance to be in a royal wedding? With Princess Eugenie's walk down the aisle quickly approaching, many are wondering if close friend Cressida Bonas could be a bridesmaid when the royal marries fiancee Jack Brooksbank at St. George's Chapel, Windsor Castle on Friday, Oct. 12.
Cressida's inclusion in the wedding party of her pal Eugenie — who the actress and model once nicknamed Pooch Face — would only make sense. Aside from being close for a number of years, Eugenie is actually the one who introduced Cressida and Harry back in 2012, according to multiple media reports. (The pair went on to date for two years.)
Even so, royal watchers shouldn't expect to see Cressida to actual take on a formal bridesmaid role for Eugenie's upcoming nuptials. According to royal expert Marlene Koenig, children are typically included in the bridal party for British weddings, instead of adults. "In Britain, the bride goes down the aisle first, followed by attendants or bridesmaids and page boys holding the train," Koenig told Harper's Bazaar.
Much like Prince Harry's May ceremony with Meghan Markle (of which Cressida was a guest), this royal wedding is expected to follow the same tradition. According to the Express, Eugenie has chosen Prince William and Kate Middleton's daughter Princess Charlotte to lead the flower girls and their son Prince George to act as a page boy.
Per the same report, additional members of the wedding party will include singer Robbie Williams' daughter Theordora Rose; Maud Windsor, daughter of Lord Freddie Windsor and actress Sophie Winkleman; and Ines de Givenchy, daughter of JP Morgan exec Olivier de Givenchy. According to Vanity Fair, additional celebrity invitees include David and Victoria Beckham, as well as Sir Richard Branson.
There's certain to be one adult at the Eugenie's side on her big day, though. Her sister, Princess Beatrice — who described her sibling as "a very modern bride" in British Vogue's September issue — will be Eugenie's maid of honor.
The planning process has been surprisingly modern as well. Per per British Vogue, Eugenie had compiled Pinterest boards of cakes and was "not stressed at all." Remarked the royal, "You realize that you're going to be with the person you love forever and nothing else really matters."
She and her husband-to-be also invited 1,200 members of the public to take in the spectacle of their plastic-free royal wedding, which, coincidentally will be held at the same exactly venue where the Duke and Duchess of Sussex were married earlier this year. "Jack and I are excited to be able to invite people to watch our wedding inside the Precinct of Windsor Castle," Eugenie posted on Instagram in July.
According to Kensington Palace, once upon the grounds of Windsor Castle, lucky attendees who fill out a public guest entry application form "will view the arrival of the congregation and Members of the Royal Family, listen to a live broadcast of the Marriage Service and watch as the Bride and Groom depart St George's Chapel at the end of the ceremony."
While royal watchers may not officially know what role Cressida will play in the wedding, there's no doubting she and Eugenie are super tight and will likely celebrate in kind.