Here's When The Other Big British Royal Wedding Of The Year Is Happening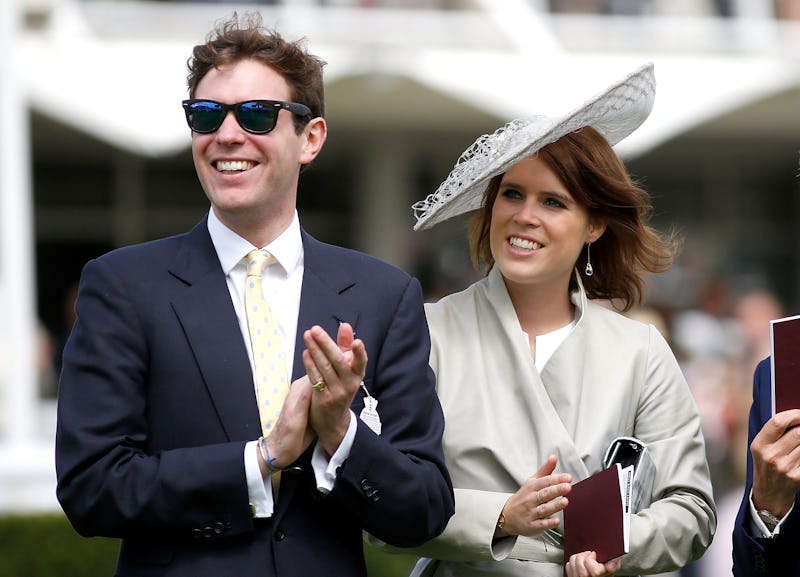 Tristan Fewings/Getty Images Entertainment/Getty Images
After their original date reportedly got bumped due to some, uh, scheduling conflicts, fans of the Royal Family may be wondering when Princess Eugenie is getting married. According to an official Twitter post from Prince Andrew, Duke of York (AKA Eugenie's dad), "[the] marriage of Her Royal Highness Princess Eugenie to Mr Jack Brooksbank will take place on 12th October 2018." Let the countdown begin!
According to People, Eugenie and Brooksbank got engaged in early January, while the couple was vacationing (or, "on holiday," as the Brits say) in Nicaragua. The Royal Family confirmed the happy news in a Twitter post on Jan. 22, stating that, "the wedding will take place in the Autumn of 2018 at St George's Chapel in Windsor, with further details to be announced in due course."
The Daily Mail reported that the couple originally expressed wanting a wedding in September, but had to bump it back a month in order to accommodate the rest of the Royal Family. File that under: things I can't imagine having to deal with.
"Eugenie and Jack are keen to tie the knot quite quickly, and there certainly wouldn't be any issue as regards the booking of the chapel given who her grandmother [Queen Elizabeth II] is," a source told the Daily Mail. "But the issue is that some members of the Royal Family already have commitments in the diary."
The source then went on to basically blame the whole bump-back on Prince Harry and Meghan Markle, specifically. "There is talk of a number of foreign tours for Prince Harry and Miss Markle this year, and September is a date that has been mooted," the source said.
While Harry and Markle's foreign tours are undoubtedly high-priority, Prince Andrew told BBC News that they had "to look at everybody's diaries" — which, based on what can be gathered from the 2018 British Royal Family calendar, involves a ton of people with commitments often planned many months in advance.
Previous date "drama" aside, the wedding is now happening in October —and, according to a recent post on her newly-debuted Instagram account, Eugenie appears to be getting pretty pumped about the planning.
On March 15, Eugenie shared a super sweet snap from the 1993 wedding of her former nanny, Alison Wardley, Hello! reports. "90s throwback...wedding planning starts!!" Eugenie captioned the post.
In the picture, Eugenie and her older sister, Princess Beatrice — who served as tiny bridesmaids at Wardley's wedding — are decked out in matching white dresses with big balloon sleeves and a whole lot of ruffled trim. The girls are both carrying delicate floral wreaths, and while Beatrice is wearing an additional floral wreath on her head, Eugenie kind of looks over it, and is instead holding her head-wreath in her hand.
How amazing would it be if Eugenie and Brooksbank's wedding had a '90s throwback theme? It's probably safe to assume that the Royal Family would never let that fly, but it'd be kind of great to see those balloon sleeves back in action. Perhaps they'll at least allow her to sneak in some '90s songs at the reception? Because let's be honest: '90s songs are crucial to any wedding reception, royal or otherwise.
With Eugenie and Brooksbank's wedding now officially on the books, 2018 is shaping up to be pretty busy for the Royal Family. Kate Middleton's third child with Prince William is due in April, Prince Harry and Meghan Markle's wedding goes down in May, and then Eugenie and Brooksbank will take over the marital stage shortly thereafter in October. Get your fascinators ready, Royal Family fans. It's going to be a big year.