Cup Noodles Will Send "Steamy Noods" To Your Valentine This Year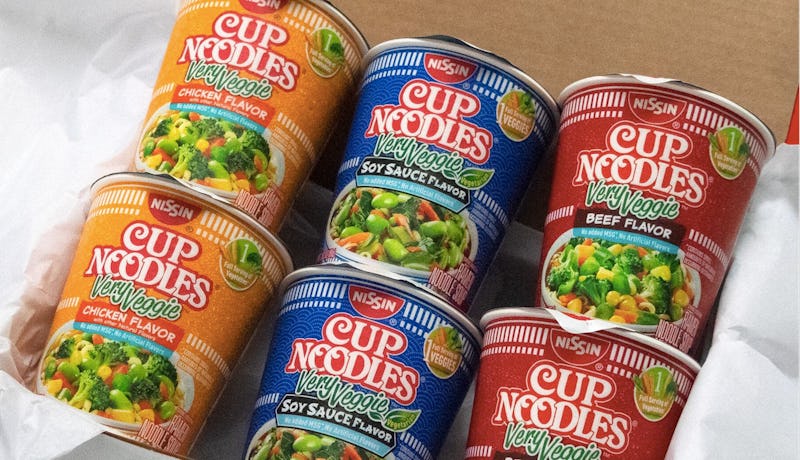 Courtesy of Cup Noodles
Valentine's Day is fast approaching. If it's a holiday you celebrate, have you got all your plans in place? Dinner and/or activities arranged? Cards signed? Gifts assembled? Well, if you're still looking for that perfect finishing touch, good news — Cup Noodles has you covered. Yes, the Nissin instant ramen brand. With a little help from Cup Noodles, you can send a box of "Steamy Noods" to your Valentine this year. No, not those kind of nudes (here's your reminder never to send anyone unsolicited nudes; get the recipient's enthusiastic and informed consent first, and if they say they're not interested, respect their response and, uh, don't send them); by "Steamy Noods," I mean steaming noodles. Best pun ever, or best pun ever? You be the judge.
Nissin's Steamy Noods Valentine's Day boxes hold six Cup Noodles from the Very Veggie line — two each of the Chicken, Beef, and Soy Sauce flavors — along with a cute little Valentine's Day message; however, there's only one way to get 'em, and you have to act fast: Starting today (that's Monday, Feb. 11, 2019, in case you, uh, haven't been keeping track) at 8 a.m. PT/11 a.m. ET, Nissin will be giving away 100 cases of Steamy Noods boxes to fans via the Steamy Noods website. What's more, they're free — but the boxes are available on a first-come, first-serve basis and are therefore likely to sell out fast. So, y'know, consider yourselves warned.
Regardless, though, that's a nood I can get behind. For the curious, here's what a box of Steamy Noods looks like:
Whew. It sure is getting hot in here, isn't it?
This isn't the first time Cup Noodles has done something wacky for Valentine's Day; in 2018, Cup Noodles bouquets became available in the Nissin online store in Japan. What's more, they're still available now, as far as I can tell: They only ship within Japan, but I was able to at least add one to my shopping cart — so, hey, if you're in Japan for Valentine's Day this year, maybe you can still get one! In any event, the bouquets come in four varieties; choose from Original, Seafood, Curry, or a variety pack. They each include seven Cup Noodles, gathered together in a bunch, wrapped with florist paper, and tied off with a ribbon that looks like a giant string of noodles.
Truly, they're a sight to behold:
But although those of us in the United States are unfortunately unable to send Cup Noodles bouquets to our favorite people (unless we get crafty and make them ourselves), at least this year, we can send a box of Steamy Noods instead. WHAT A TIME TO BE ALIVE.
The Cup Noodles Very Veggie line debuted in 2017, with an additional flavor, Soy Sauce, joining the ranks in 2018 — although it's worth noting that its name isn't due to the products being vegetarian (with the exception of the Soy Sauce flavor, they're very much not vegetarian). Rather, it's because each cup is said to contain a full serving of veggies. Currently available in Chicken, Spicy Chicken, Beef, and the aforementioned Soy Sauce, each "will feature a full serving of vegetables with a mix of edamame, carrots, broccoli, corn, green beans, cabbage, red bell pepper, and tomatoes," according to a press release from the launch (although the exact veggie mix might vary by flavor).
To grab your own box of Steamy Noods, head here at 8 a.m. PT or 11 a.m. ET right on the dot. Good luck!