CVS Will No Longer Photoshop Images Used In Their Beauty Campaigns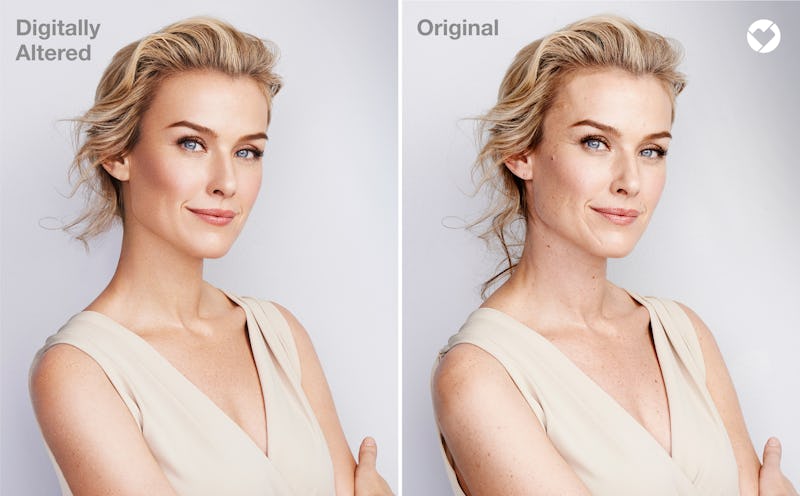 Courtesy CVS
No matter where you shop, finding the perfect makeup is tough. The job gets even harder when your have ads and flashy signs to draw you in multiple directions. Enter: Beauty Mark. CVS will no longer photoshop images used in their beauty campaigns. The drugstore is offering to get rid of altered images and is rolling out Beauty Mark — an easy way to know that what you're seeing hasn't been tampered with.
CVS is vowing to create new standards for beauty in-stores, online, and on social media. The new initiative Beauty Mark will add a, well, mark to every photo that has not been altered. According to the press release, altered is defined as changing or enhancing a person's shape, size, proportion, skin or eye color, wrinkles or any other individual characteristics.
"As a woman, mother and president of a retail business whose customers predominantly are women, I realize we have a responsibility to think about the messages we send to the customers we reach each day," said Helena Foulkes, President of CVS Pharmacy and Executive Vice President, CVS Health in a press release.
"The connection between the propagation of unrealistic body images and negative health effects, especially in girls and young women, has been established. As a purpose-led company, we strive to do our best to assure all of the messages we are sending to our customers reflect our purpose of helping people on their path to better health."
The above is an actual altered photo that CVS Pharmacy used in one of their previous ad campaigns. They're willing to admit that what they have done in the past is misleading and are taking strides to change that in the future.
The vow to end photoshop doesn't just stop in-stores though. According to the press release, the Beauty Mark will be used in-stores, online, and on all social media platforms as well. The goal is to achieve a complete transparency for beauty imagery by 2020. To do that, they've partnered with Girls Inc. to spread the message of empowerment and that all beauty is celebrated.
"As the national nonprofit dedicated to inspiring all girls to be strong, smart, and bold, Girls Inc. is honored to be a partner in CVS Pharmacy's movement to counter limiting stereotypes too often faced by girls and women. Allowing diversity and natural beauty to shine will have an immensely positive impact on girls and women everywhere." said Judy Vredenburgh, Girls Inc. President & CEO in the press release.
The beauty industry is a unique place. On one side, you have a realm that is all about self-expression and, in some cases, even used as an escape from anxiety. On the other, it's a place that can bring pressure to look near-perfect at all times. Three years might seem like a long time to wait for a company to be transparent, but they're ultimately breaking down barriers for the entire makeup industry.
The brand isn't just stopping at the imagery they produce, either. CVS is working with the brands that they sell in their stores to change the way the beauty world is run. After all, this is a topic that we all have to talk about together.
"We've reached out to many of our beauty brand partners, many of whom are already thinking about this important issue, to work together to ensure that the beauty aisle is a place that represents and celebrates the authenticity and diversity of the communities we serve," Foulkes said in the press release. "We've been inspired by their willingness to partner with us to redefine industry standards around this important issue for the well-being of all of our customers."
According to their Instagram page, the Beauty Mark has officially launched Jan. 15. Beginning in April, you can expect to see unedited and un-retouched images on all of their platforms. This isn't just a brand looking out for their customers, it's changing the way that future generations will see beauty.