What's Up With Cyborg In The 'Justice League' Trailer?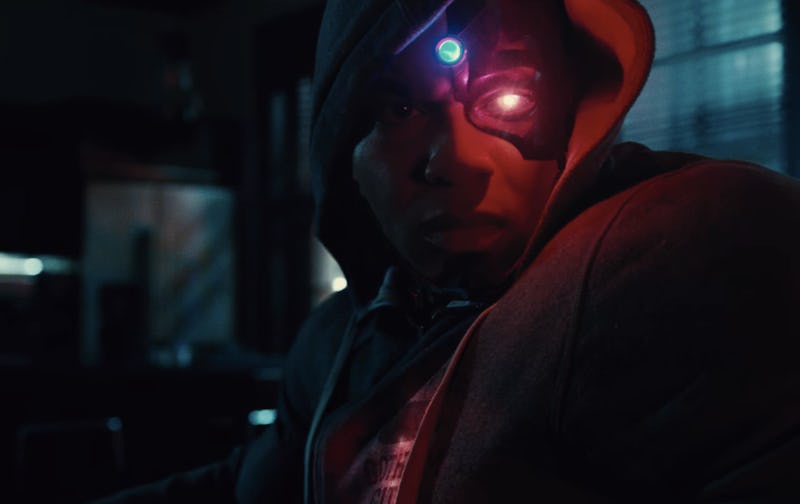 Warner Bros. Pictures
On Saturday, Zack Snyder's much-anticipated Justice League got a new trailer, and the reactions are a little mixed — especially when it comes to Cyborg, who makes his debut in the JL trailer. But that isn't the only thing fans are worried about. Although we see Amy Adams (who plays Superman's love interest Lois Lane), Superman actor Henry Cavill is totally missing from the trailer, which has fans wondering how much screen time the superhero will actually have. On a brighter note, Wonder Woman (portrayed by Gal Gadot) totally steals the show, in my opinion. Her upcoming standalone film looks like it could be the best film yet in the DC Extended Universe, and it definitely seems like Wonder Woman will be prominent in Justice League alongside Batman (played by Ben Affleck).
In this trailer, we got out first real look at The Flash, Aquaman, and Cyborg in action (portrayed by Ezra Miller, Jason Momoa, and Ray Fisher, respectively). Now, although The Flash and Aquaman definitely shine in the trailer, the appearance of lesser known Cyborg has caused some fans to express their concern. Not only does Cyborg get noticeably less time in the trailer than his counterparts, but the visual effects used on his body have left many of us feeling... well, quite honestly, disappointed. On Twitter, some fans are commenting that Cyborg looks like a cartoon, and others (myself included) are desperately hoping that Cyborg's body isn't finished yet.
I certainly don't want to be a Debbie Downer here, but take a look for yourself. I've gone ahead and taken a few HD screen captures to back up my concern.
Is it just me, or is Cyborg giving anyone else major General Grievous (from Star Wars: Episode III - Revenge of the Sith) vibes in the above photo?
Fortunately, in some of the close-up shots, Cyborg does seem a little more polished. But then when I look at some of Cyborg's body shots, I can't help but feel underwhelmed.
You can also check Cyborg out alongside the rest of his fellow members of the Justice League (sans Superman) in the trailer below.
Now, I'm a huge fan of superhero movies, and I will undoubtedly be seeing Justice League opening weekend, but I do hope the filmmakers listen to the feedback from fans and dedicate a little more attention to giving Cyborg the superhero-like appearance he rightfully deserves. However, as some have pointed out, it's entirely possible that Cyborg's CGI effects might not be 100 percent finished, and he could look significantly better on the big screen. Either way, the trailer has totally given fans enough of a sneak peek to stay interested.