Cynthia Nixon Urges Viewers To Resist In Her Tonys Speech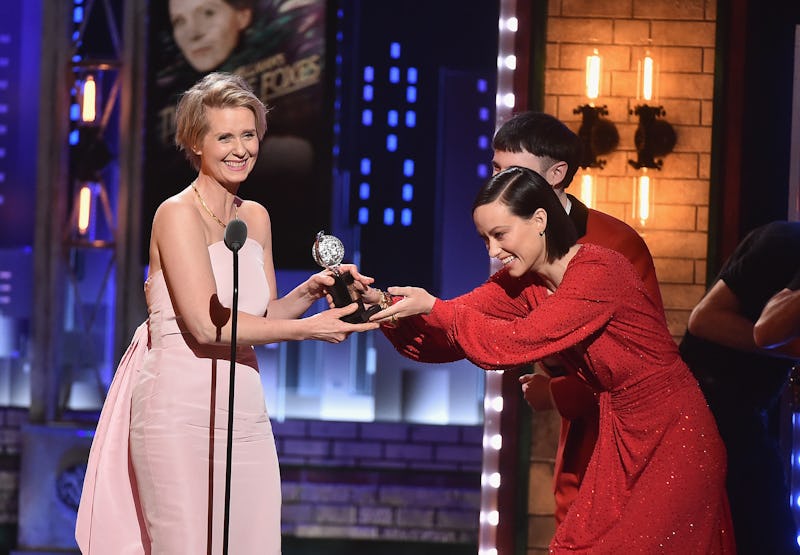 Theo Wargo/Getty Images Entertainment/Getty Images
Award shows and their acceptance speeches are ripe nowadays for political commentary (which I highly support), and the Tonys were no exception — when accepting her award for Best Featured Actress In A Musical, Cynthia Nixon's Tonys speech encouraged resistance. It was a rally cry in a world where more and more people are standing up to those in power.
Nixon won for her role in Lillian Hellman's The Little Foxes, which tells the story of women that struggle for wealth and freedom in a society where sons are considered to be the rightful heirs for, well, everything. A big theme in the play is the question of sitting back when you know that people are doing evil — do you watch, or do you stop it? In her speech, Nixon vouches for the second treatment, and she does so wholeheartedly. She said:
"It is a privilege to appear in Lillian Hellman's eerily prescient play at this specific moment in history. 80 years ago she wrote, 'There are people who eat the earth and eat all the people on it and other people who just stand around and watch them do it.' My love, my gratitude, and my undying respect go out to all the people in 2017 who are refusing to just stand and watch them do it."
I have to admit that I cheered during this speech. I know that many people want their favorite celebrities to just do their jobs and entertain them, but you know what? Celebrities are people, too, and they're entitled to opinions. They're also entitled to share them, especially if the celebrity has a platform in which to do so and has something to say. Nixon has never backed down from expressing her emotions and feelings, so why stop now? She deserved that trophy, and she deserves to have her say.