Cyntoia Brown Will Have To Serve At Least 51 Years In Prison, A New Court Ruling Says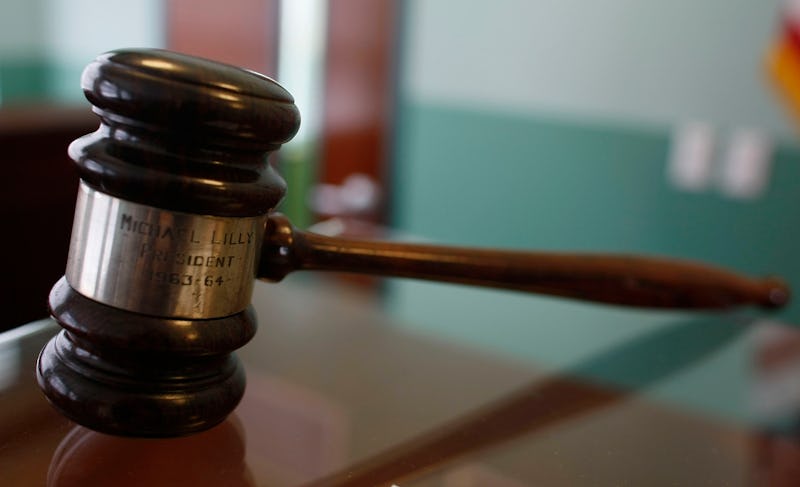 Joe Raedle/Getty Images News/Getty Images
A woman convicted of killing a man after he solicited her for sex when she was a teenager won't become eligible for release until she serves more than five decades in prison. In a unanimous decision announced Thursday, the Tennessee Supreme Court ruled that defendants serving life sentences for first-degree murders allegedly committed after July 1, 1995, such as Cyntoia Brown, must serve a minimum of 51 years in prison before they can be eligible for release.
"Under state law, a life sentence is a determinate sentence of 60 years," CNN has reported the Tennessee Supreme Court wrote in a statement. "However, the sixty-year sentence can be reduced by up to 15 percent, or nine years, by earning various sentence credits." According to the cable news network, such credits can be earned through various actions, including participation in educational or career training programs.
Brown's case garnered significant national attention in the last two years after Rihanna and Kim Kardashian West caught wind of her story and attempted to advocate on her behalf. According to The New York Times, Brown was sentenced to life in prison in 2006 after being convicted of shooting and robbing a man in 2004 who'd allegedly taken her to his house for sex while she was being trafficked by a pimp who allegedly abused her.
In court documents, Brown said she thought the man was reaching under the bed for a gun when she shot him with the handgun she kept in her purse. According to court documents, she told police she'd taken money, guns, and a truck from the man and fled.
But prosecutors argued that Brown killed the man in order to rob him rather than in self defense, according to The Tennessean. In 2006, Brown, who was tried as an adult, was sentenced to life in prison after a jury convicted her of robbery and first-degree murder.
When Brown later moved to challenge her sentence as unconstitutional following a 2012 Supreme Court decision that ruled handing juveniles mandatory life sentences without parole violated their Eighth Amendment rights, her motion was denied. According to The Hill, Brown's challenge was denied as the court noted she'd not been given a life sentence without parole, but rather just a life sentence.
Brown has appealed that ruling, and more recently, filed for clemency. She was given a hearing in May, according to The New York Times. But following the hearing, Tennessee's six-member parole board was divided two, two, and two on whether or not to recommend Brown to Gov. Bill Haslam for clemency, CNN has reported. According to the cable news network, two of the board's members voted to recommend Brown's application for clemency, two voted against it, and two voted for Brown to be eligible for parole after she'd served 25 years of her sentence.
Thursday's ruling from the Tennessee Supreme Court came after the lower court hearing Brown's appeal asked it to clarify exactly when those serving life sentences become eligible for parole. It is unclear when the U.S. Sixth Circuit Court of Appeals may rule on Brown's appeal in light of Thursday's ruling.