Dairy Queen Has A Pumpkin Pie Blizzard With Legit Chunks Of Pumpkin Pie Inside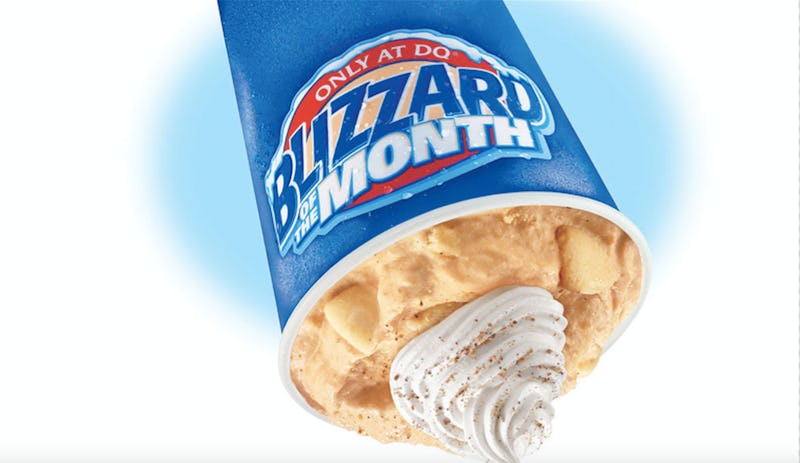 Dairy Queen
It's ~almost~ officially fall, aka the best time of the year. From baggy flannels, yummy snacks (hello, apple cider donuts), delicious drinks (@Starbucks PSL), what's not to love? And if you're not hooked into all things fall just yet, I have news that'll make you change your mind: Dairy Queen's Pumpkin Pie Blizzard is returning on September 3, and just because it's not summer anymore doesn't mean you can't stuff your face with ice cream, right!?
Besides, what better way to celebrate the new season of comfort, gorgeous scenery, apple picking and other fun activities by slurping your sorrows away on the delicious limited edition blizzard? Side note, though: NYC, you need some more Dairy Queen locations in you, STAT, because I am already craving this.
Find the Pumpkin Pie Blizzard at a DQ near you, and bring your appetite. According to a press release, the smooth and creamy treat is blended with heavenly pumpkin spice flavors and even chunks of real (!) pumpkin pie. The pumpkin goodness is then mixed into Dairy Queen's signature vanilla soft serve and topped with whipped cream and fall-appropriate nutmeg. Not too hungry? No worries – you can always get it in the mini size (or the largest one they have if you're anything like myself).
Luckily for all you pumpkin lovers and sweet tooths (@myself), there are so many more pumpkin-themed treats coming your way this fall! Scroll below for the list of other delicious fall treats you need to try: