Auntie Anne's Is Dropping Pumpkin Pretzels Nuggets With The ULTIMATE Dipping Sauce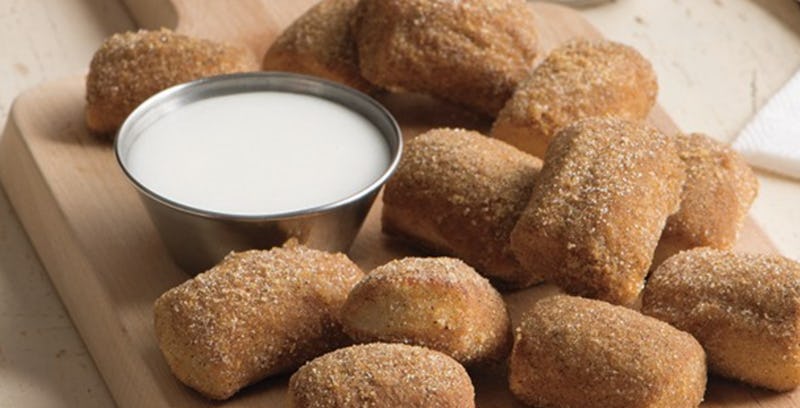 Auntie Anne's
We may not know when the Pumpkin Spice Latte will be on the Starbucks menu again just yet, but I have good news for those of you who are already thirsty for cinnamon and ginger: Auntie Anne's Pumpkin Spice Pretzel Nuggets are coming back for 2018 — and what's more, they'll be available a lot sooner than you think. In fact, you don't even have to wait a whole month: According to Delish, their return date is Sept. 3, 2018.
It's happening again. THE SPICENING HAS BEGUN. And you know what? I am here for it.
Auntie Anne's first offered up the autumnal nuggets in 2015. "Pumpkin is a beloved fall flavor and we're excited to offer our guests a unique and fresh take on everyone's favorite autumn treat," Heather Neary, then Vice President of Global Marketing for Auntie Anne's, said in a press release at the time. (Neary is now President of Auntie Anne's.) She continued, "The combination of a freshly baked Auntie Anne's pretzel and pumpkin creates a delicious and portable snack that can be enjoyed while shopping or traveling." Back then, you could also ask for the Pumpkin Spice topping that made the nuggets so spectacular to get added to a full-sized Original Pretzel — and a lucky select number of Auntie Anne's locations also had a Pumpkin Smoothie on the menu that year.
The smoothie doesn't seem to have made any reappearances since then, but the Pumpkin Spice Pretzel Nuggets have returned for a brief period each fall in the intervening years. Generally, they arrive at the beginning of September, and this year is no exception: In 2018, they'll be back on Sept. 3. Interestingly, though, they're also going to be available for a much shorter time this year than they usually are: In 2015, you could get them through Halloween itself; in 2016 and 2017, you actually had until midway through November to get your pumpkin spice on; but in 2018, they're only going to be around until Oct. 8, according to both Delish and Los Angeles radio station 104.3 MYfm. I'm not sure what that says — maybe it's an indication that the Age of Pumpkin Spice has begun its long, slow decline? — but, well… do with it what you will.
Regardless, they do sound pretty tasty. The nuggets — a beloved Auntie Anne's favorite — come tossed in a sweet, seasonally appropriate mixture of spices (likely come combination of cinnamon, cloves, nutmeg, ginger, and/or allspice); you've also got your choice of dipping sauces: You can go for either Sweet Glaze or Cream Cheese Dip. They're definitely more dessert than they are snack food — but, hey, you do you. It's always a good time for pretzel nuggs in my book.
Reviews for Pumpkin Spice Pretzel Nuggets have generally been favorable in the past; Twitter is full of folk saying things like, "Auntie Anne's has pumpkin spice pretzels and I'm LIVING FOR IT," and, "Auntie Anne's makes pumpkin spice pretzels and they're about the best things ever." Real Simple's piece on the 2017 release also spoke highly of them, noting that they were "definitely reminiscent of fall" and "warming, doughy, and delicious."
One of Real Simple's taste testers did say that they found the actual pumpkin flavor to be "lacking" — but I think it's also worth noting that "pumpkin spice" doesn't necessarily mean "pumpkin AND spice." A lot of the time, the phrase just refers to the spice mix — that is, there isn't actually any pumpkin involved — largely because that flavor profile is so closely associated with pumpkin pie. That seems to be the case here: The nuggets aren't special pumpkin nuggets; they're just the regular Auntie Anne's nuggs. What makes them "pumpkin spice-flavored" is the use of the pie spices, rather than any inclusion of actual pumpkin. So, if you're looking for something that's specifically pumpkin-flavored — not cinnamon, clove, nutmeg, ginger, and allspice-flavored — then you'll probably want to go elsewhere.
Just, y'know, FYI.
Anyway, you can get Auntie Anne's Pumpkin Spice Pretzel Nuggets starting on Sept. 3; they'll be available through Oct. 8. Happy pumpkin spice season!