Daniel Radcliffe's Reaction To Harry Potter Memes Will Have Fans Desperate To Make More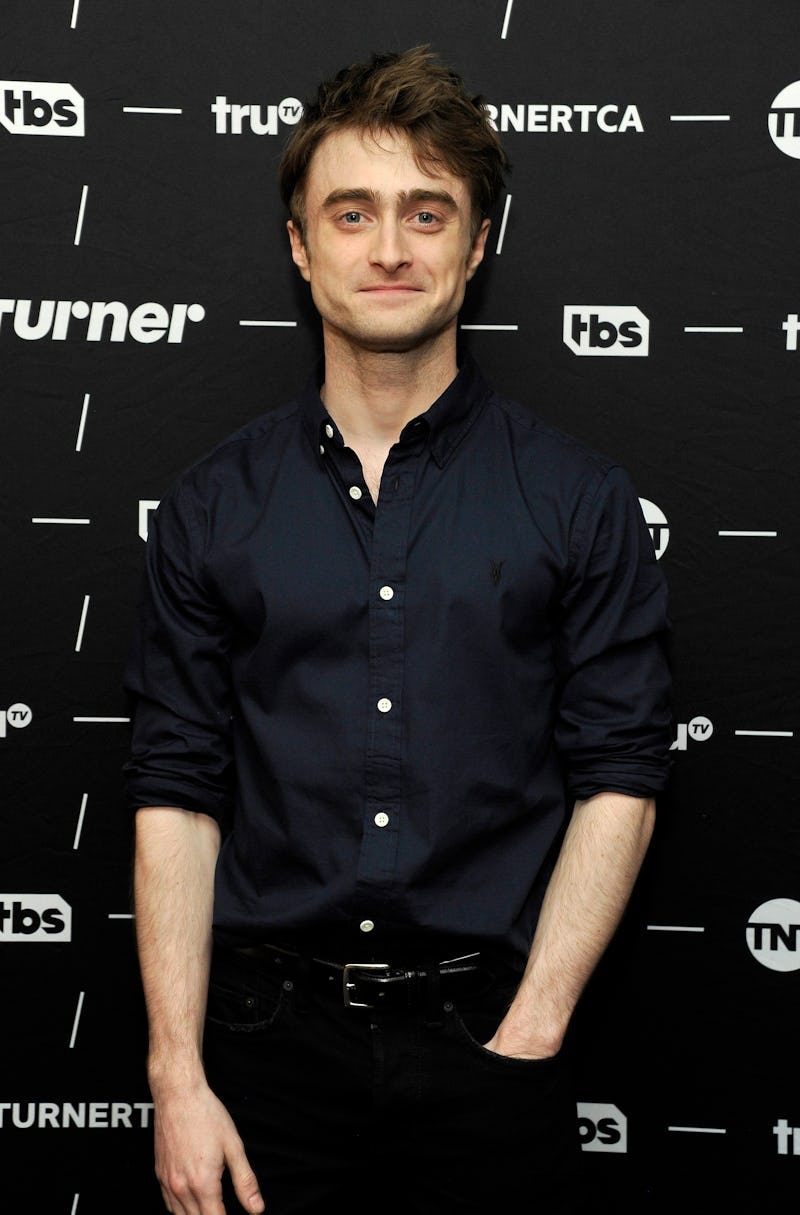 John Sciulli/Getty Images Entertainment/Getty Images
Harry Potter has really helped shape a whole generation. What began as a book about a boy wizard sparked a seven book series, eight blockbuster films, a spinoff series, and a critically acclaimed play. It's recognizable, quotable, and, because the franchise has hit a chord in the age of the Internet, it's also very meme-able. Over the years, Harry Potter has inspired a fair amount of memes, and Daniel Radcliffe's reaction to Harry Potter memes will immediately be another milestone in the Harry Potter saga.
Radcliffe, who played Harry for a decade, was a guest on The Tonight Show Starring Jimmy Fallon Wednesday night to promote his new play, The Lifespan of a Fact, and it was there that he was introduced to the Harry Potter memes. When host Jimmy Fallon asked if he'd ever seen a meme of himself or Harry Potter, Radcliffe replied, "Um, I have, I think like maybe a couple over the years but nothing I can immediately remember. But I don't seek them out." Being the star of something as big as the world of HP can probably be daunting, so it's no wonder he doesn't actively look up those memes. Plus there are endless amounts to choose from, so it'd be hard to catch up on ones you missed anyway.
"I feel like I should be educated," Radcliffe told Fallon. And educated, he was. Fallon took it on the safe side, starting off by showing his guest a Hairy Pugger picture (a pug dressed as his wizarding character), another with a play on "99 Problems" by Jay-Z, and yet another that captured a funny screenshot of when Harry is yelling at Ron in The Chamber of Secrets.
The last picture meme Fallon brought up was a paparazzi photo of Radcliffe trying to enjoy eating outside at a cafe of some sorts, and had the worst thinking face on. Radcliffe pointed out that he was making that face because he saw a paparazzi nearby, taking that photo.
And then, the pièce de résistance — possibly the best "meme" Fallon showed him was a video of someone in full Hermione garb dancing. Radcliffe was clearly impressed, joking, "We need to make remake the films as a musical."
The viral video is pretty mesmerizing and has over 8.8 million views on Twitter, where it first appeared. The dancer in the video, London performer Kelsey Ellison, got wind that Radcliffe had seen her video, and as you'd expect from any Harry Potter fan, she freaked out. Maybe Radcliffe will show it to his Harry Potter co-star, Emma Watson, and make Ellison even more ecstatic.
As impressive as Ellison's dance was, Radcliffe did seem to favor the "99 Problems" meme — "If you're having Quidditch problems, I feel bad for you son, I got 99 problems but a snitch ain't one." The actor was clearly delighted by that one, telling Fallon, "That's great. That's really good."
Radcliffe himself hasn't had any Quidditch problems for 7 years, since Harry Potter and the Deathly Hallows — Part 2 was released in theaters in 2011. And now he finally has a meme to truly allow him to express how he feels.