The Highlight Of The 'RHONJ' Season 8 Trailer Is Danielle Staub, Of Course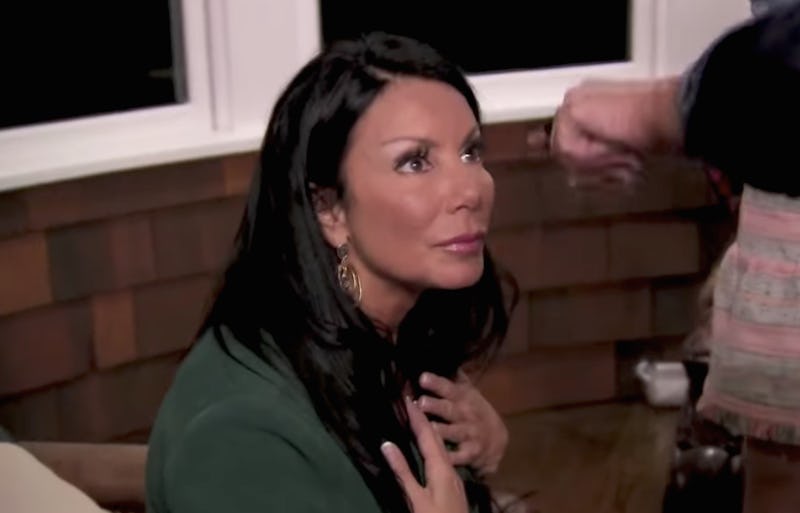 Bravo on YouTube
You can always count on reality television to change the way we see dinner parties forever. Case in point: Danielle Staub, who's officially making her return to television. The official Real Housewives of New Jersey Season 8 trailer shows that she's bringing back the drama just as if she never left, so dinner parties will never be the same.
The two minute trailer, released on Tuesday morning, shows Danielle shouting out a loud and proud "I'm back b*tches" before reuniting and bonding with her former table-flipping enemy, Teresa Giudice, over yoga on the beach. The two original housewives have mended fences since that explosive (and iconic) dinner that ended RHONJ's first season, but don't expect things to be fun and sweet all season. The first look also shows Teresa — who recently spent just under a year in jail on bankruptcy and fraud charges — proving that she's still got it when it comes to flipping furniture, while Danielle ends up throwing several drinks during a dinner with her fellow cast mates that not-surprisingly goes left.
Yeah, this is definitely about to be a wild ride, and it doesn't look like even the housewives are ready for it. But at least it's entertaining.
Staub was an original housewife of the franchise when it first premiered back in 2010. She made her exit from the show after its second season when gossip and rumors about her first marriage to former FBI informant Kevin Maher pretty much lead her to repeatedly become a target among her fellow New Jersey cast mates.
Her return to the show is obviously set to bring about a lot of drama if you can't already tell from watching the trailer, but it'll definitely be nice to see Danielle and Teresa being friendly with one another for a change. You'll have to wait and see if any more tables end up flipped, though.