Danielle Staub Explains The Real Reason She's Returning To 'RHONJ'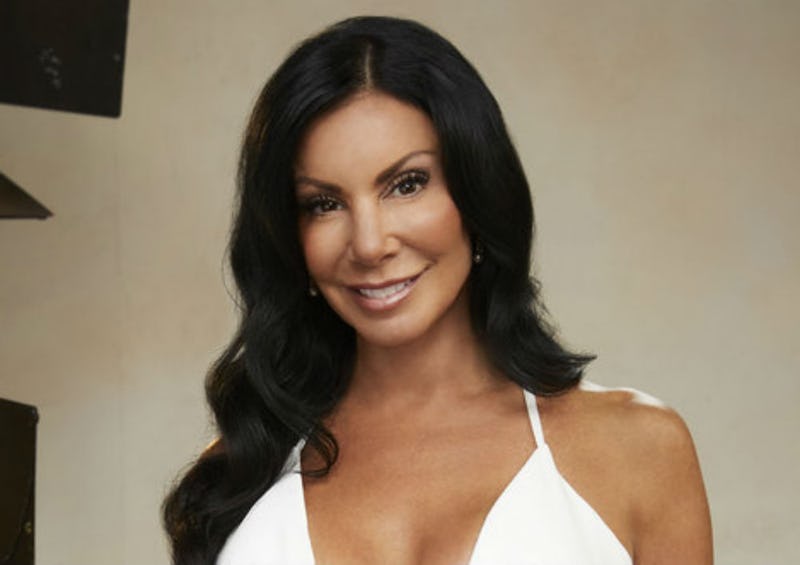 Rodolfo Martinez/Bravo
She is considered one of the most controversial, yet memorable, Housewives, so when it was confirmed in August that Danielle Staub would be returning to The Real Housewives of New Jersey, well, it was beyond thrilling for fans of the series. Staub appeared in the first two seasons of the show, making it seven years since fans have been graced with her presence in the franchise. But, if you think the Housewife you remember from Seasons 1 and 2 is showing up in Season 8, you're greatly mistaken. "I think what's going to be the biggest difference is people are actually going to get to see me rather than what other people are saying about me constantly," she says.
That's not to say the parts of her that fans remember won't be making an appearance, but she says viewers will get to see the full picture of Danielle Staub. "I've always been like this, it just wasn't shown," she explains. "Believe me, I'll still throw a f*cking bottle of wine or break some glasses." (She does just that in the Season 8 trailer.) "I might be calm, speaking with clarity," she says, before quickly adding, "but, honey, I will bring the drama."
Staub says that there was no way she was going to let her time on RHONJ end the way that it did. "Returning was inevitable for me, because I always felt like nothing was really told, my story wasn't told." And she hopes that the audience won't immediately judge her based on the previous seasons. "I think the viewers should have an open mind about me because they should have an open mind about any OG that's being returned to the franchise after seven years."
If you're grateful that she is making her triumphant comeback — albeit, and unfortunately, not as a full-time Housewife — you really have Andy Cohen and Teresa Giudice to thank.
"[Andy]'s so brilliant and I'm so grateful to daddy," Staub says. (Should or shouldn't this be his new title?) "I really am. I love Andy, because he knew how badly I needed to return for not just me and not for just normal reasons. He knew that my kids needed to see my name cleared."
Staub's daughters, Christine and Jillian Staub, who are now 23 and 19, respectively, played a major part in her decision to re-enter the Housewives franchise. "The world needed to see me as more than just the person that was being judged and beat up on." She adds, "[My daughters] needed the world to see their mom, like the parts of me that are a little kooky and a little off, but also the parts of me that are really present and forgiving and warm and loving."
Staub also might not have returned if Giudice hadn't reached out to her. In October 2016, Real Housewives fans were shocked when Giudice posted a photo with Staub of the two doing yoga together. "So good catching up with @danielle_staub Leaving the past in the past and moving forward with only positive vibes. Looking forward to the future," she wrote on Instagram. Staub tweeted in response to the picture, "It was so nice seeing you, just like old times.... great talk we had over Jamba Juice! #rhonj #yoga #friends."
RHONJ fans know these two were never on the same page when Staub was on the show, as evidenced most famously in Season 1 when Giudice flipped a table because she was so angry with her fellow Housewife. They have clearly moved on, and now, they consider each other close friends.
Eleven years ago, Danielle says she and Teresa had "the start of a really great relationship" and if you factor in the time Staub wasn't part of RHONJ, they "were an 11-year relationship with a seven-year delay." When Giudice reached out to apologize that was the shift Staub needed. "With me, everything is forgivable if it's asked," she says. "She asked. She asked to meet with me. I felt her heart, she wanted to make it right."
Staub isn't one to overlook the things that they both said to each other in the past, but she believes that other people "got in the way" of what could have been a great friendship. "I'm not saying she didn't say some things. I'm not saying she didn't act that way. I'm not saying it wasn't her behavior. I'm just saying it was a lot going on that shouldn't have been going on."
On Watch What Happens Live in October 2016, Giudice said about her rekindled friendship with Staub, "I feel like she never tried to hurt me in any way maliciously, so I just wanted her to know that." Also that same October, the Turning the Tables author told E! News, "Andy brought her up at the reunion, so it sparked something up inside me. So I reached out to her on Twitter and she responded."
Staub says Giudice made her "feel safe," which she believes is important if you're going to do a show like Housewives. "You need an ally if your gonna do these things, you really need an ally." She adds, "One or two would be great, but none, which is what I had, none... for the first two seasons, that was painful."
People transform over the years and with how much has changed for Staub there really isn't a better time for her comeback. And now, she has her chance to present her story the way she always wanted it to be told.
"There were still people wanting to know what exactly my story was," she says about why she returned. "It couldn't just be something I did when I was 19 years old that the rest of the ladies decided to make it seem like it was yesterday. It couldn't be just name calling and mean girl behavior towards one person and ganging up like a pack of wolves — it couldn't end that way. It did, but I knew in time, eventually, somehow, some way, I would be able to hold my head high and return. I didn't know what that was going to look like, but I'm so happy that it looks like this."
There's no doubt Staub is going to take the series back to its roots, which has been needed for some time now. You better be sure to channel all that love and light in preparation for what could easily be one of the best seasons yet.
RHONJ Season 8 premieres Wednesday, Oct. 4 at 9 p.m. EST on Bravo.