Why Social Media Is Critical For DAPL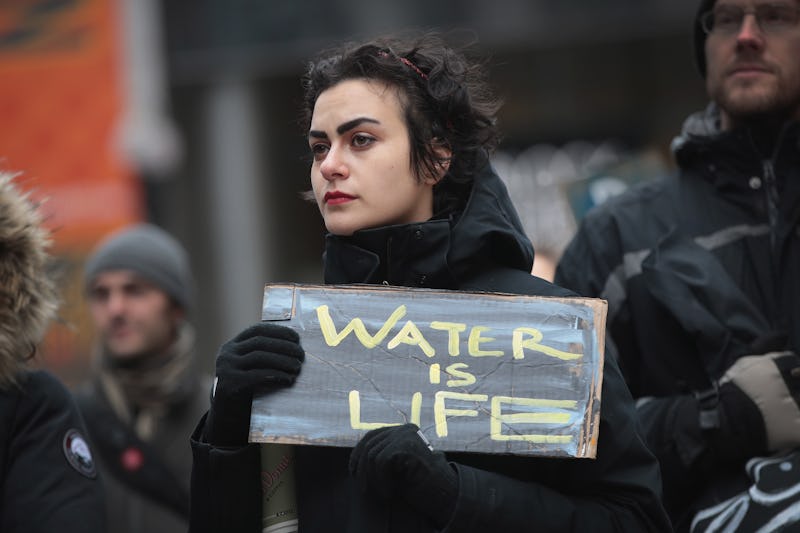 Scott Olson/Getty Images News/Getty Images
The ability to communicate through live-streams has enabled a brand new generation of information sharing. With increased technology at the fingertips of anyone with a smartphone, the ability for political documentation is not only viable, but crucial. One can certainly see that in the ways social media has mobilized Standing Rock protesters. In fact, Lauren Regan, an attorney that has been working with demonstrators at Standing Rock, argues social media may be one of the most powerful part of the protest's legacy.
Regan is the executive director of the Civil Liberties Defense Fund, which has been working with Standing Rock protesters since August. As water protectors fight the state for environmental rights, particularly for indigenous communities, one of her biggest urges to the public is that we take news straight from the live-streams.
"This movement since it's inception has had more video recordings than probably any other protest movement in the history of the United States, especially live-streams," Regan says.
The ability for activists to communicate with the public through live-streaming videos and social media feels particularly prescient under the current presidential administration. Ever since senior White House adviser Kellyanne Conway introduced the concept of alternative facts in an interview on NBC's Meet The Press and administration complaints about "fake news" became more virulent, who and what to trust has become a bigger concern.
"This administration, especially with its 'alternative facts' is really going to be a challenge. People need to dig in and form their own opinions based on research," Regan says. "Standing Rock is a great example, all you need to do is spend 30 minutes on the internet before you'll find videos of people burning sage, playing drums and peacefully crossing invisible property lines."
During our phone conversation, Regan touched on the significance of gathering information about Standing Rock straight from the water protectors themselves. She proposes that live-streaming and social media capabilities can serve the public to educate them and make them feel more connected. "The facts, the hard facts are available to anyone on the internet," Regan says. "That is more educational for the public than anything else."
The hope, for the Standing Rock Sioux Tribe, the Cheyenne River Sioux Tribe, Regan, and all the other water protectors, is that the social media documentation of Standing Rock will urge more people to do their own research and devote their time and energy into learning about Standing Rock.
Specifically, Regan urges people who want to support Standing Rock to dig into historical research on environmental injustice against Native American communities, as well as local environmental fights.
"You're going to see more and more Standing Rocks popping up across the country," Regan says. "I think people educating themselves about the history of activism so they can mobilize is more important than sending $20 to Standing Rock."