Dave Bautista Hinted That He May Not Return For 'Guardians Of The Galaxy 3'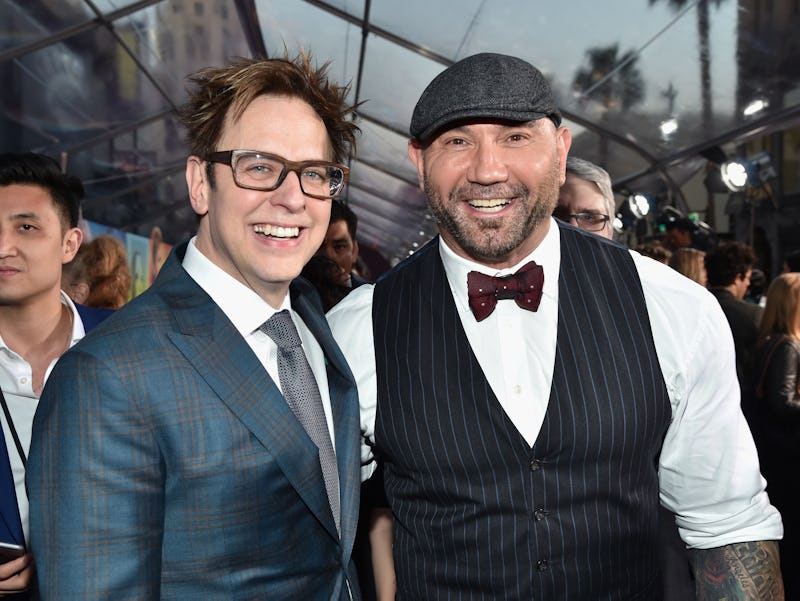 Frazer Harrison/Getty Images Entertainment/Getty Images
The fallout continues to spread following Disney's decision to fire director James Gunn from the upcoming Guardians of the Galaxy: Volume 3, as actor Dave Bautista hinted he may not return as Drax for the film. During a Sept. 1 appearance on The Jonathan Ross Show, Bautista discussed the next Guardians film, which is currently delayed, and mentioned his continued frustration over Disney's firing of Gunn.
"It's a bittersweet conversation... No, it's a bitter-bitter conversation because I'm not really happy with what they've done with James Gunn," the actor said after Ross asked about the upcoming film. "They're putting the movie off. It's on hold indefinitely, and to be honest with you, I don't know if I want to work for Disney." (Bustle reached out to Disney for comment on Bautista's statements, but did not receive an immediate response.)
This is not the first time Bautista has expressed hesitation about returning to work to the franchise after Gunn's firing. He was the first Guardians star to publicly come out in support of Gunn after the director was fired on July 20, following the resurfacing of offensive jokes Gunn had tweeted out several years ago. Shortly after his firing, Gunn issued a statement where he apologized for his tweets and accepted Disney's decision to let him go. "I understand and accept the business decisions taken today," he said at the time. "Even these many years later, I take full responsibility for the way I conducted myself then." Bautista, however, tweeted at the time that he was "NOT ok" with Gunn's firing.
On July 30, Bautista joined with the rest of the Guardians cast in signing an open letter to Disney asking for Gunn to be reinstated. Then on Aug. 5, the 49-year-old actor tweeted that it was "nauseating" to work for Disney again, and stated that he would only return for Guardians 3 because he was legally obligated to do so.
However, the following day, Bautista told ShortList's Tom Ellen that if Gunn's Guardians 3 script — which had already been submitted to the studio — wasn't used, then he would try and exit the film. "Where I'm at right now is that if [Marvel] don't use that script, then I'm going to ask them to release me from my contract, cut me out or recast me," he said at the time. "I'd be doing James a disservice if I didn't."
Disney, which owns Marvel, has not responded publicly to any of Bautista's comments, and The Hollywood Reporter claimed on Aug. 24 that production on Guardians of the Galaxy 3 has been postponed indefinitely as the studio searches for a new director. It's not clear at this time whether or not Gunn's script for the film will still be used.
There's a lot that is currently unknown regarding Guardians of the Galaxy: Volume 3. The film has no production date, no release date, no director, and possibly no Dave Bautista. But regardless of whether Bautista ultimately appears to the film or not, his experience with Disney — and the Guardians — is not over yet. The actor has already filmed scenes for the sequel to Avengers: Infinity War, directed by the Russo brothers, which will premiere on May 3, 2019, and fans can only hope the film won't be the last time Bautista suits up as Drax.