The 'Guardians' Cast Speak Out About James Gunn's Firing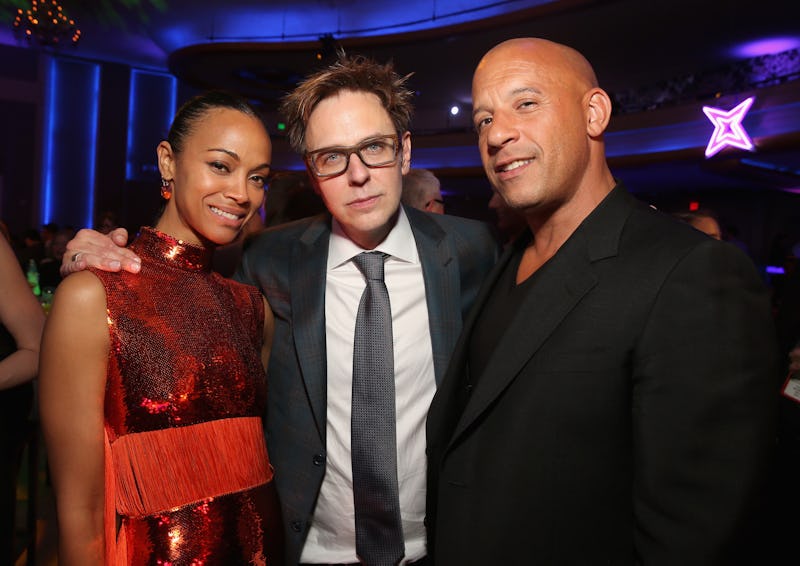 Jesse Grant/Getty Images Entertainment/Getty Images
The internet is up in arms over the firing of James Gunn, the former Guardians of the Galaxy, Vol. 3 director who was dismissed last week after a string of offensive tweets (allegedly shared to Gunn's Twitter account several years ago) resurfaced late Thursday night, July 19. In the aftermath of his dismissal, the Guardians of the Galaxy cast is coming to James Gunns' defense, courtesy of some markedly heartfelt tweets from the franchise's roster of Hollywood A-listers. And, as it turns out, the GOTG cast members aren't the only MCU enthusiasts keen on advocating for the film's fallen director. Bolstering the handful of supportive messages from various GOTG cast members that's begun to make the rounds of social media, fans have also launched a Change.org petition to have Gunn rehired.
Last week, following the news of his firing, Bustle obtained the following statement from Gunn:
"My words of nearly a decade ago were, at the time, totally failed and unfortunate efforts to be provocative. I have regretted them for many years since — not just because they were stupid, not at all funny, wildly insensitive, and certainly not provocative like I had hoped, but also because they don't reflect the person I am today or have been for some time.
"Regardless of how much time has passed, I understand and accept the business decisions taken today. Even these many years later, I take full responsibility for the way I conducted myself then. All I can do now, beyond offering my sincere and heartfelt regret, is to be the best human being I can be: accepting, understanding, committed to equality, and far more thoughtful about my public statements and my obligations to our public discourse. To everyone inside my industry and beyond, I again offer my deepest apologies. Love to all."
In the following days since Gunn's firing and public apology, Guardians of the Galaxy Vol. 3 headlining stars, Zoe Saldana, Chris Pratt, and Dave Bautista have taken to Twitter with some distinctly solemn thoughts regarding Gunn's sudden dismissal. Suffice to say, much as fans' impassioned comments on the Change.org petition suggest their genuine investment in Gunn's rehiring, these tweets from the GOTG cast feel comparatively more heartbroken.
"It's been a challenging weekend I'm not gonna lie," wrote Saldana in a tweet shared with her following Sunday afternoon, July 22. "I'm pausing myself to take everything in before I speak out of term." The actor finished up her tweet with a fierce proclamation of love to "ALL members" of her GOTG family. (So perhaps it's safe to say that means Gunn, too.)
Pratt and Bautista also addressed the controversy on Twitter. In pretty typical fashion for Pratt, he conveyed his message via a Bible verse about anger. It's unclear whether he will make any more explicit messages supporting Gunn or Disney's decision to fire him going forward. Bautista, however, was much more straightforward in his support for Gunn, writing, "@JamesGunn is one of the most loving, caring, good natured people I have ever met ... He's made mistakes. We all have. I'm NOT ok with what's happening to him."
Bautista wasn't alone in his enthusiastic defense of Gunn. GOTG star Michael Rooker was so upset upon hearing the news of Gunn's firing that he closed his Twitter account altogether, writing, "We're very tired & upset over the ongoing B*LLSH*T."
As for the fans, they're channeling their energy into the petition. It's already racked up more than 175,000 signatures (of its ultimate 200,000-signature goal) since it was first created just a couple of days ago, and its language suggests pretty heavily that there's at least a quarter-million GOTG fans out there who don't think Disney did the right thing. Toward the bottom of its description — which spans four paragraphs total and mostly serves to elucidate the point that Disney and Marvel made a "mistake" with Gunn's dismissal — the petition's creator laid out their requests to the studio, point-blank, writing,
If Marvel would come to their senses and re-hire Gunn, that would be great.
That being said, in lieu of Gunn's rehiring, it sounds like the petition's creator was mostly looking to make some kind of statement. "If all we can do is have proof by your signatures that Disney made a mistake, I would still count that as a win," reads the petition description's final sentence. At this point, it's unclear whether the Change.org petition will have any impact whatsoever on Gunn's future employment opportunities at Disney, but it certainly is making its statement heard, loud and clear.
It's also managed to snag the attention of some industry folks, like Selma Blair, who tweeted out the petition's URL link Saturday, July 21, with some stirring words of her own on Gunn's behalf. "Sign the petition!" she wrote. "Because if people are punished despite changing, then what does that teach people about owning mistakes and evolving?"
There's no telling whether the fan- and GOTG cast-fueled hullabaloo over Gunn's firing will have any impact on Disney's decision to let him go. While it's probably more likely that the studio's dismissal decision stands, the outcry of support for Gunn from fans and colleagues alike does seem like a testament to his character. Does that mean he should be re-hired? At this point, the jury's still very much out on that one. But, if the Change.org petition and heartfelt messages from GOTG cast members are any indication, it seems safe to say they'd be on board.