You Might Finally Get To Drink With David Beckham Thanks To His Major New Purchase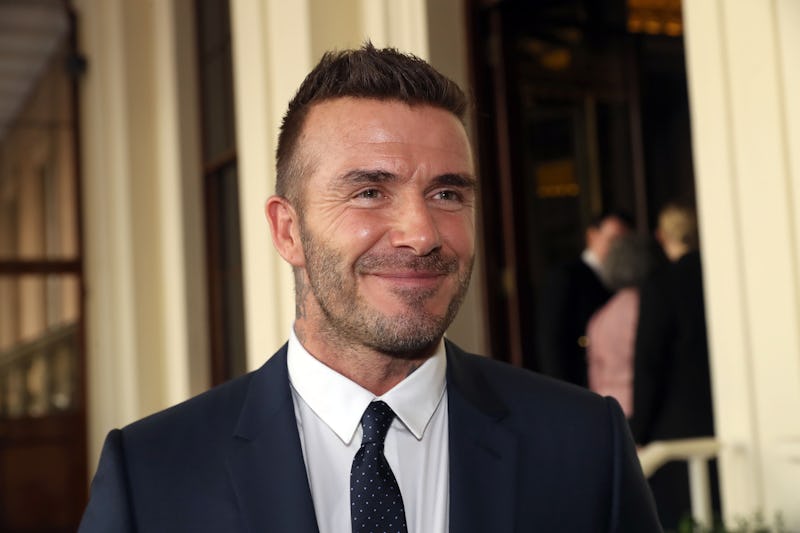 WPA Pool/Getty Images Entertainment/Getty Images
Some of us cement our friendships by going for a quick pint with our mates every now and then. Others? They buy the whole darn pub together. David Beckham bought a pub in London with his friend Guy Ritchie, according to the Daily Mail — and the pair dropped £3 million on the purchase. That's only the beginning of the expenditure, too: the newspaper says Beckham's planning to renovate the pub in the style of fancy members' club chain Soho House, a makeover that won't come cheap. Good job he's inconceivably wealthy then, isn't it?
Beckham and film director Ritchie bought the Walmer Castle pub in Notting Hill, West London, the Daily Mail says; according to an unnamed source, the football legend "can't wait to get stuck into making it just as he wants it." Ritchie's likely to be a knowledgeable business partner, considering he already owns the Lukin pub in fancy Fitzrovia. What's more, the paper says, Ritchie owns a brewery, the Gritchie Brewing Company, based on his very own farm in Wiltshire. And the beers he produces? They're "expected to be on tap soon at the Walmer." Convenient!
If the Walmer Castle is to receive a full, Beckham-approved renovation, it's possible there'll be more than just Guy Ritchie's beer on the menu. David and Victoria Beckham have a well-documented love of extremely expensive wine. To celebrate their 19th wedding anniversary in July, for instance, the couple shared a bottle of Château Lafite Rothschild 1990 — worth up to £1,000, according to the Evening Standard.
And their expensive taste was most recently demonstrated on a date night dinner in Paris. As the Sun reports, Victoria shared a snap of their beverage of choice on her Instagram story, revealing the pair were drinking a bottle of Grands Échézeaux Grand Cru. That typically goes for around £1,300 a bottle, in case you're unfamiliar. David, meanwhile, Instagrammed his dinner: escargots to start, followed by possibly the most expensive-looking steak I've ever seen.
It's been something of a fraught week for David Beckham: as the BBC reports, he recently dodged prosecution for a speeding charge, after his lawyer Nick "Mr Loophole" Freeman had the charge thrown out on a technicality. According to Freeman, the speeding notice was delivered a day too late, meaning Beckham could not be prosecuted for driving 59mph in a 40mph. According to the BBC, several newspaper headlines criticised Beckham for avoiding prosecution, while a spokesperson for road safety charity Brake told Sky that Beckham was "shirking his responsibility." I've reached out to the Beckhams' representatives for comment on David's charges and his pub purchase, but haven't yet received a response.
Perhaps the former footballer will throw himself into the renovation of his new pub as a distraction, then — though he might not have too much work to do. The Walmer Castle already has an average rating of 4.4 on Google, with reviews praising its food, decor, staff, and craft beer selection. On Trip Advisor, too, the pub boasts a 4 star rating — and it's even won the site's "Certificate of Excellence". Maybe all that's left for Beckham to do is hammer his name above the bar.