David Bowie's Up For Five Grammy Noms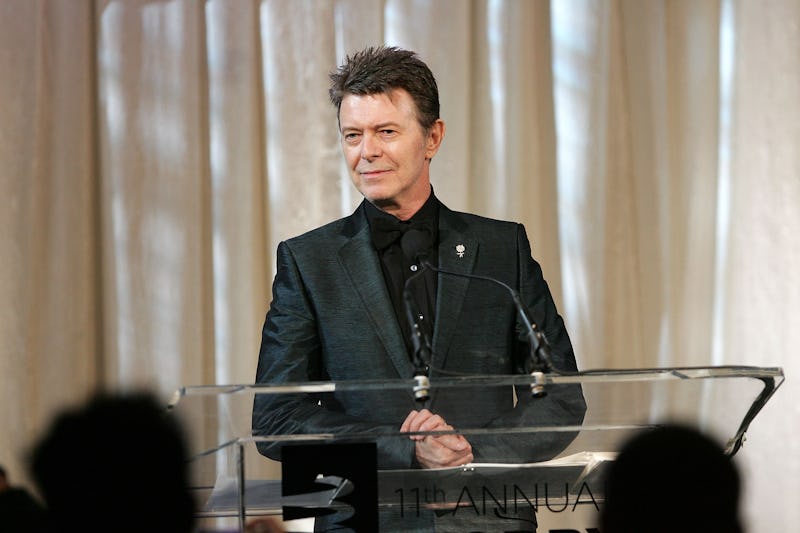 Bryan Bedder/Getty Images Entertainment/Getty Images
It's hard to believe it's been more than a year since David Bowie died. Two days before the 69-year-old pop icon passed away on Jan. 10, he released his final album, Blackstar, which he recorded while dealing with liver cancer. Now, the deeply emotional album is up for five awards at the 59th Annual Grammy Awards on Sunday night. Bowie's 2017 Grammy nominations are for Best Alternative Album, Best Rock Performance, Best Rock Song, Best Recording Package, and Best Engineered Album, a pretty impressive mix, regardless of whether or not he actually wins in those categories.
If he does win, though, it wouldn't be the first time a beloved artist won a Grammy after passing away. In 2005, Ray Charles won five Grammys posthumously for his album Genius Loves Company. If Bowie follows a similar path, it'll be highly deserved. Blackstar, Bowie's 25th album, was highly acclaimed and was his only album to top the Billboard 200 in the United States. (It also held the number one spot in the UK charts for three weeks.)
Last year, Lady Gaga paid homage to Bowie at the Grammys alongside his old friend, Nile Rodgers, by performing the medley of, "Spade Oddity," "Changes," "Ziggy Stardust," "Suffragette City," "Rebel Rebel," "Fashion," "Fame," "Under Pressure," "Let's Dance," and "Heroes." While that tribute was beautiful, a few posthumous Grammy wins for Bowie feels like a great additional way to honor the artist.
Yet while posthumous Grammy victories for Bowie would certainly be great, it's heartbreaking that the artist is gone and can't accept the awards he so richly deserves.