David Foster Finally Addressed His Engagement To Katharine McPhee With SO Much Happiness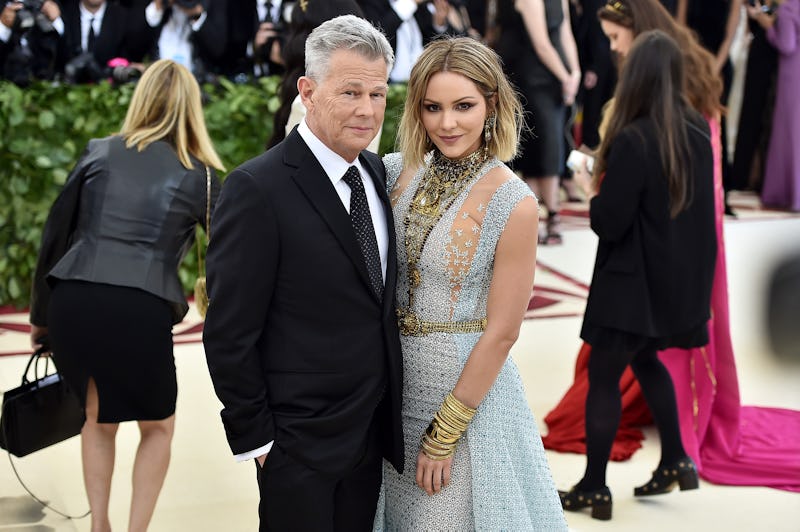 Theo Wargo/Getty Images Entertainment/Getty Images
Katharine McPhee is 34. David Foster is 68. And the two of them are engaged and in love, but their age is all anyone seems to be interested in when it comes to their relationship. Now, 16-time Grammy winner David Foster has spoken out about his engagement to Katharine McPhee, and his statements show that the couple really doesn't care what anyone else thinks about their relationship.
During an appearance on Access Live Thursday, Foster shared that he and McPhee are "happy," which is what really counts. "We're all great, we're all happy," Foster told the outlet. "And you know, for some reason, the two of us, one plus one makes four instead of two. So it seems like it's interesting news to people, so we're just gonna roll with it."
His cavalier attitude shows that the two of them don't mind if other people have less than kind comments about their relationship. If they're happy, everything else will fall into place — and the critics will, hopefully, fade into the distance as the two of them plan their new lives together.
On July 3, McPhee shared a few details from Foster's proposal on Instagram. She posted the screenshots of a text conversation with Jared Eng, in which the American Idol alum revealed that Foster proposed atop a mountain in Anacapri, Italy.
During the Access Live interview, Foster also talked about the first time he met his fiancée, all the way back in 2006. At that time, McPhee was on American Idol, and Foster apparently said that the singer had "a great future ahead of her." Of course, little did either of them know at that point that that future would be with him. "I was bragging," Foster joked, referring to his old statement.
While Foster was more comfortable talking about his upcoming tour than his relationship during the Access Live conversation, McPhee has been vocal about shutting down critics. Last Friday, McPhee reminded her followers that who she's marrying doesn't impact their daily lives — and that there are way bigger things to worry about. She tweeted,
"y'all should be worrying more about registering to vote and midterm elections than who's marrying me. thank you for coming to my TED talk."
McPhee and Foster made their official debut as a couple at this year's Met Gala, though they'd been reported to be dating for about a year before that. Even though they've known each other for more than a decade, it looks like now was the time for their relationship to bloom.
And while there may be some critics about the couple out there, it seems like Foster's family is on board with the relationship. His daughter Erin commented "Mommmyyy" on an Instagram photo Foster posted after the engagement news broke.
There's one aspect of Foster and McPhee's relationship that's a little awkward, though — Foster performed at McPhee's first wedding. McPhee married Nick Cokas in 2008, and she filed for divorce in 2014. Still, it seems like the past is behind them, and that the fifth time will be the charm for Foster, who has four ex-wives. Most recently, he was married to Yolanda Hadid; they announced they were divorcing in 2015.
As for when Foster and McPhee will get married, it sounds like it will be sooner than fans might think. An unnamed source told Us Weekly that McPhee and Foster don't want a long engagement, and that they might be married "in the next nine months." The source also told the magazine that the two of them "want to have a family."
At the end of the day, the two of them are adults who can make their own decisions. And if they're happy, it doesn't really matter what fans have to say about their relationship. The two of them are clearly in love, and it sounds like their engagement is off to a solid start.