Katharine McPhee Addressed Fans Criticizing Her Engagement With A Powerful Political Message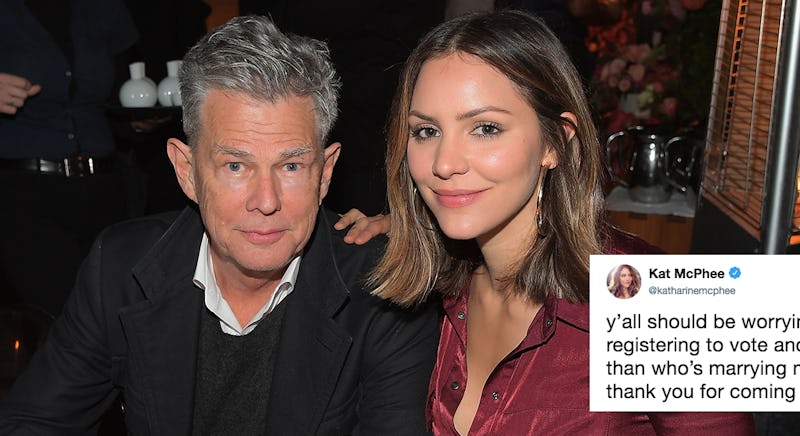 Charley Gallay/Getty Images Entertainment/Getty Images; KatharineMcPhee/Twitter; Bustle/Screenshot
Waitress star Katharine McPhee has a tip for anyone looking to criticize her relationship with David Foster: Don't. McPhee responded to haters via Twitter on Friday, July 6 — three days after she confirmed her engagement to the Grammy-winning music producer, writing that her wedding gift wish-list isn't the registry people should be focused on.
"Y'all should be worrying more about registering to vote and midterm elections than who's marrying me," McPhee tweeted, adding a light-hearted joke, "Thank you for coming to my TED talk."
In the days since McPhee announced her engagement using an Ariana Grande GIF on July 3, the American Idol alum has been the target of social media trolling about everything from her and Foster's 34-year age difference to her fiancé's four previous marriages. The Scorpion actress almost dared haters to try to come for her with the GIF of Grande with the text, "And what about it?" (She captioned the announcement with a simple diamond ring emoji.)
Upon returning from the European vacation during which Foster proposed, the singer made light of all the hoopla on July 5, tweeting, "guys HELLO! i'm back in america and back on stage tonight. were you saying anything? what did i miss?"
What fans didn't miss out on were details of McPhee's engagement, as she shared on Instagram via a screenshot of a text message exchange with JustJared founder Jared Eng. "He did it at the top of this mountain in Anacapri [in Capri, Italy]," she wrote. "Totally dark only stars. Thankfully he didn't push me off the cliff. He said it was one or the other. And in the end he spared me. [crying laughing emoji]."
For his part, Foster confirmed he proposed with a July 3 Instagram photo of the pair which he captioned with a music note emoji and the word "Yup!!" His daughters, Barely Famous stars Erin Foster and Sara Foster, used their dad's post as an opportunity to show their support — as well as their senses of humor.
Sara jokingly commented "Out of the country. What did I miss?" and Erin wrote "Mommmyyy," along with three heart emojis under Foster's pic.
Back in September, Erin also poked fun at the rumors of her dad dating McPhee, posting photos of the pair performing at the Grammy Museum's annual gala on social media with captions such as "Excited about my new stepmom" and "My parents."
By October Erin sang McPhee's praises, calling the musician "amazing" in an interview with People. "My dad is kind of a hopeless romantic, and Katharine's awesome," she said. "We really, really like her, and we've known her for a really long time. And if he's happy, we're happy."
And McPhee said as much herself, speaking about her relationship with her husband-to-be in a November interview with Health:
"We're very close friends, and we've been friends for a long time. I'm really, really fond of him, and I think he's an incredible person. I've known him since I was 21-years-old, you know? He produced my first single. So he's been really good to me. People can say whatever they want."
Indeed, they go way back to the early days of her fame, as McPhee and Foster met on American Idol in 2006 when the latter appeared as a Season 5 mentor. That's when the pair began their professional relationship, and Foster even played piano at McPhee's wedding to her first husband, actor Nick Cokas, in February 2008. As revealed by People, Foster accompanied her while she serenaded Cokas with Natalie Cole and Nat King Cole's "Unforgettable." (Following a one-year separation, McPhee and Cokas filed for divorce in May 2014.)
Rumors that McPhee was dating Foster — who was most recently married to The Real Housewives of Beverly Hills alum Yolanda Hadid — first began in 2017, and the pair made their romance red carpet official while "having a fun date night" (as McPhee told Entertainment Tonight) at the 2018 Met Gala in May.
Their relationship has clearly been long in the making, and as McPhee's latest tweet suggests, anyone who has something negative to say should just know that she's "Over It."