This Senator Is Getting Sued For What He Apparently Did To A Student's Phone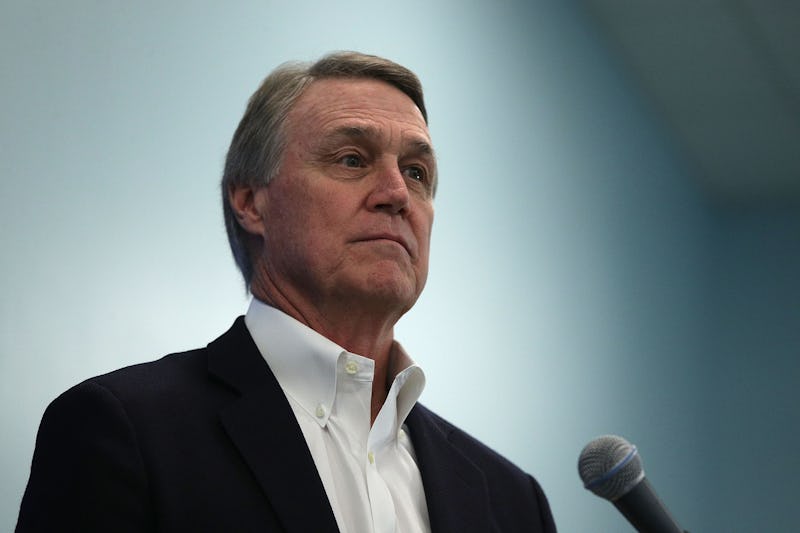 Alex Wong/Getty Images News/Getty Images
His camp has called the case "frivolous" and a waste of the court's time, but nonetheless, it's one more thing to add to his plate as the midterm elections approach. Republican lawmaker David Perdue is getting sued after the senator supposedly yanked a Georgia Tech student's phone away last week while campaigning for a GOP candidate. The reported incident was captured on camera.
The student, Nathan Alan Knauf, who's currently a junior and computer science major at Georgia Tech, filed a civil battery complaint and seeks a jury trial, damages, and attorneys' fees and costs from Perdue, CNN reported. His legal team includes David Dreyer, a Democratic state representative in Georgia.
"This complaint is complete nonsense and lacks any merit whatsoever. All you have to do is look at the political hacks who are trying to spin something out of nothing," said a spokeswoman in a statement for Perdue, according to The Hill. "This is being orchestrated by a former Obama operative and current Democrat state representative who spends most of his time campaigning for Stacey Abrams."
The reported incident happened while Perdue was on the Georgia Tech campus stumping for the Republican candidate for governor, Brian Kemp, who is running against Democratic candidate Stacey Abrams. While Knauf was near Perdue, he tried to ask how he could endorse a candidate who was trying to reject "people's voter registrations on the basis of their race," CNN reported.
According to the court document, that's when "suddenly and without warning, Senator Perdue committed unlawful battery when he seized Mr. Knauf's phone, touching Mr. Knauf in the process of seizing the phone, while angrily declaring: 'No, I'm not doing that — I'm not doing that.' "
Knauf's question — which was only asked halfway before he was cut off — touched on an issue at the center of an increasingly rancorous gubernatorial race. Kemp is also the secretary of state for Georgia and is currently warding off accusations of voter suppression. His opponents charge that his office had blocked more than 53,000 voter applications— almost 70 percent of them from black registrants — from going through, according to the Associated Press. Kemp has since said those 53,000 applications have successfully been registered, CNN noted.
"I was polite and respectful as I started to ask a question that is important to me and is, in fact, important to the health of our democracy," Knauf said in a statement on Monday, The Hill reported. "Instead of answering in a civil and respectful way, Sen. Perdue ripped the phone out of my hands."
Perdue's office has continued to say that the incident was a misunderstanding and that the senator took Knauf's phone to take a selfie. According to The Hill, a spokeswoman for Perdue said that Perdue is well-known for taking pictures with his constituents and that he had believed the student was asking for a photo at the time.
Perdue's spokeswoman continued in the statement: "Georgians will see this for what it is – a manufactured setup to embarrass the senator and attack his credibility two weeks before the midterm elections. Instead, Democrats are embarrassing themselves with a frivolous case that will only waste the court's time."
Knauf is a student member of the Young Democratic Socialists of America, according to The Washington Post. Knauf's attorneys said the student would be willing to dismiss the complaint if Perdue gave an apology and gave an answer to the question that was never fully asked during the incident.