Attention, '90s Kids: David Schwimmer Is Joining 'Will & Grace' In A VERY Key Role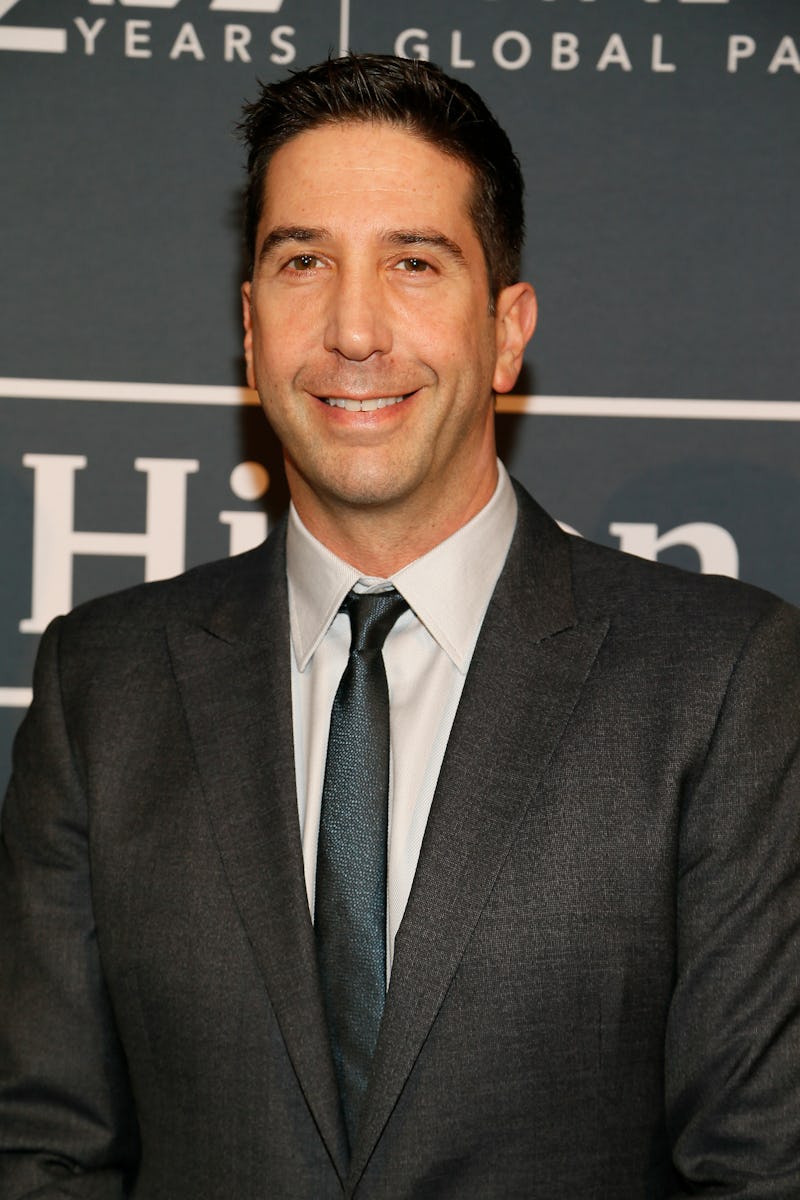 Paul Morigi/Getty Images Entertainment/Getty Images
With the chances of a Friends reboot apparently now slim to none, another revived sitcom has set its sights on bringing one of the show's most beloved stars back to primetime television. David Schwimmer is joining Will & Grace as a guest star and the nostalgia of it all seems to be as close as fans are going to get to seeing the actor in a reboot. NBC confirmed the casting to Bustle; a rep for Schwimmer declined to comment.
Although the new role could never be a substitute for Schwimmer's goofy Friend's character, Ross Geller, his return will definitely be a huge moment for fans who've missed seeing him on primetime TV in recent years. The part additionally reunites the actor with NBC, the same network which made him a household name during the '90s, making his return that much more epic.
While details surrounding Schwimmer's participation on the Will & Grace revival remain scarce as the second season's scripts are still in the process of being written, a statement from the network reveals that the actor will be taking on the recurring role of Grace's (Debra Messing) new love interest. Messing confirmed the news on August 8, gushing about Schwimmer in a tweet which read:
"Grace is getting a [heart emoji] INTEREST!!!!!! Yes that's right! David Schwimmer is coming to play in my sandbox and I. AM. PSYCHED!!!"
According to Deadline, five episodes of the 18-episode second season will feature Schwimmer as a guest star when it returns on October 4, but scripts are still being written. But it's safe to say he's in good company with guest stars like Alec Baldwin (who is returning), Chelsea Handler and Mary McCormack (who is also returning) all set to be on the reboot's upcoming sophomore season.
After Friends ended in 2004, Schwimmer had scattered roles on TV and in film, notably appearing in The People vs. O.J. Simpson: American Crime Story as Robert Kardashian. His portrayal of O.J. Simpson's good friend and attorney in the limited series helped to earn him a second Emmy nomination.
Fans of the actor have kept their fingers crossed for years in hopes that a Friends reboot was on the horizon. However, the show's co-creator David Crane recently revealed to The Wrap that a Friends reunion will never take place and said:
"Never happening. Never. We did it! It's done. That's why you don't want to see more of it, because it's all a happy ending."
Despite the disappointing news, Crane did offer some insight into the show's infamous Ross and Rachel romance, revealing that Schwimmer's character and Rachel are still very much together and fictionally living out their happily ever after off-camera.
When asked if the TV couple's relationship is still surviving in current times, Crane told The Wrap:
"Yes. Come on, they worked really hard, ten years."
With Will & Grace, Schwimmer will step right into a largely thriving franchise, who in its return to television became the network's most-watched comedy in 7 years, according to the network's press release. The show, whose original version debuted in 1998, returned to NBC in Sept. 2017 and has been nominated for a total of 88 Emmy Awards overall, winning 16. The show's rebooted version is currently in contention for five of those nods for it's inaugural season.
While he won't be returning to the sitcom scene as the sometimes lovable and self-deprecating Ross Geller, David Schwimmer's return to primetime television with Will & Grace is certainly a huge deal for his fans.