David Beckham Says His Marriage To Victoria Is "Hard Work" For THIS Major Reason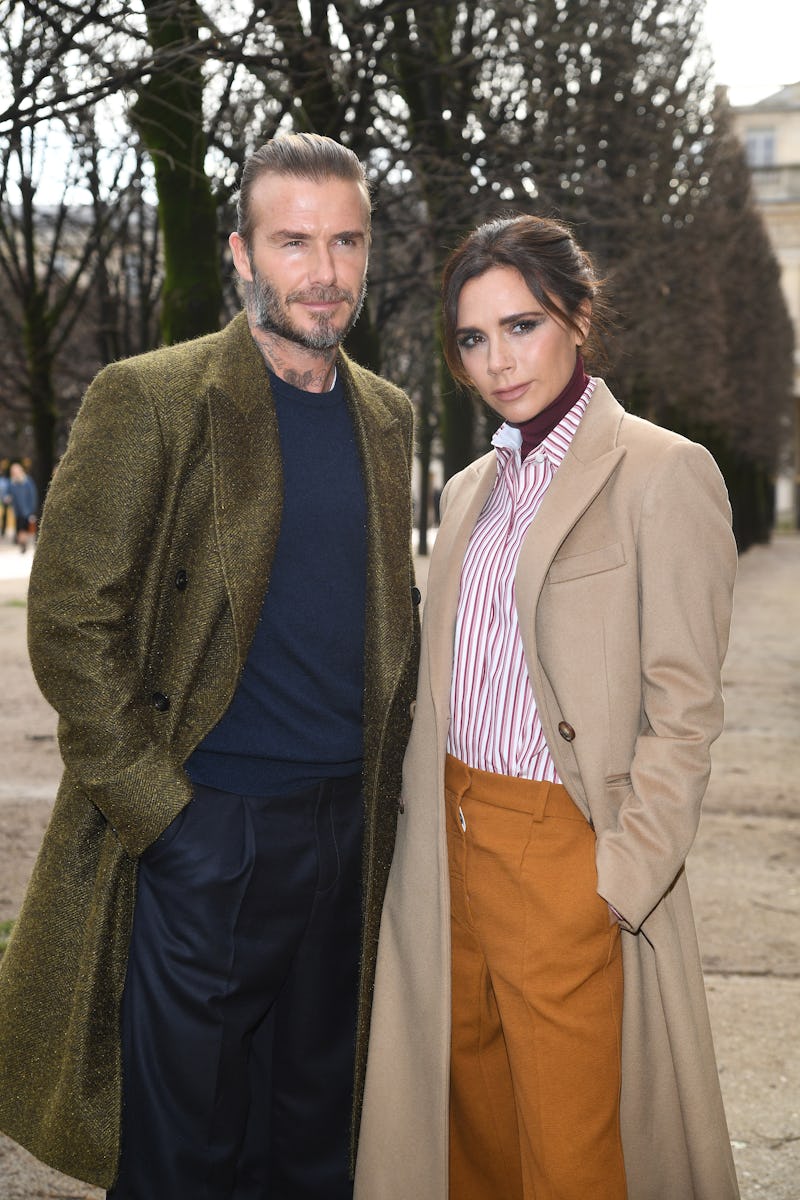 Pascal Le Segretain/Getty Images Entertainment/Getty Images
Marriage isn't the easiest of endeavours, and a marriage in the public eye can be even tougher. That's the case for David and Victoria Beckham, David revealed in a teaser trailer for a candid new interview with Australian TV show The Project. As the Mirror reports, he opened up about marriage, fatherhood, and those persistent divorce rumours. David and Victoria Beckham's marriage is "hard work" — just like most longterm relationships, the former footballer said.
"To have been married for the amount of time that we have, it's always hard work," David explained in a teaser clip for the interview. Speaking to host Lisa Wilkinson, he added, "It becomes a little more complicated." He also spoke about his children, saying of fatherhood, "Sometimes it's the little things that make the biggest difference."
The Beckhams — like most couples in the public eye — have long been followed by rumours that their 19-year marriage is on the brink of collapse, despite repeated denials from the couple. They married in 1999, as Harper's Bazaar recaps — and it seems like they've been forced to deny an impending divorce every year since. In July, VB posted a snap of the couple celebrating their 19th anniversary with a (presumably extremely expensive) glass of wine or two.
According to Harper's Bazaar, fresh rumours surfaced in June 2018, which quickly spread on social media. Victoria Beckham issued a denial to the magazine through her spokesperson, who said of the rumours, "This is nonsense."
In September, Victoria and her four children Brooklyn, Romeo, Cruz, and Harper (plus family dog Olive) covered the October edition of British Vogue, as the Independent reports. In the cover story, the former Spice Girl called the rumours about the state of her marriage "unfair" and detrimental to those around her. "We are much stronger, the six of us, than we would be if we were individuals," Victoria told the magazine. "Would either of us be in the position that we are in now had we not met and been together all those years ago?"
The couple have learned to dismiss the reports about their marriage, Victoria explained, saying, "People have been making things up about our relationship for 20 years, so David and I are pretty used to ignoring the nonsense and just carrying on as normal."
Back in 2017, meanwhile, David Beckham talked about the strength of his marriage during an appearance on BBC Radio 4's Desert Island Discs. He called them "a strong family unit," adding, "We had strong parents." David also shared a sweet anecdote about meeting Victoria in the players' lounge, where he gave her his number, saying, "Everyone at the time had their favourite Spice Girl." Cute! (There wasn't a single Spice Girls song amongst his desert island music choices, though. Now that's grounds for divorce.)
David Beckham's full interview with The Project hasn't yet been released, but his honesty about the work a successful marriage takes is a refreshing antidote to the veneer of perfection too many celebrity couples feel obliged to maintain. While things might get tough at times, as is typical of most longterm relationships, it sounds as though the Beckhams have figured out how to power through.