Dax Shepard & Kristen Bell Are Red Carpet Goals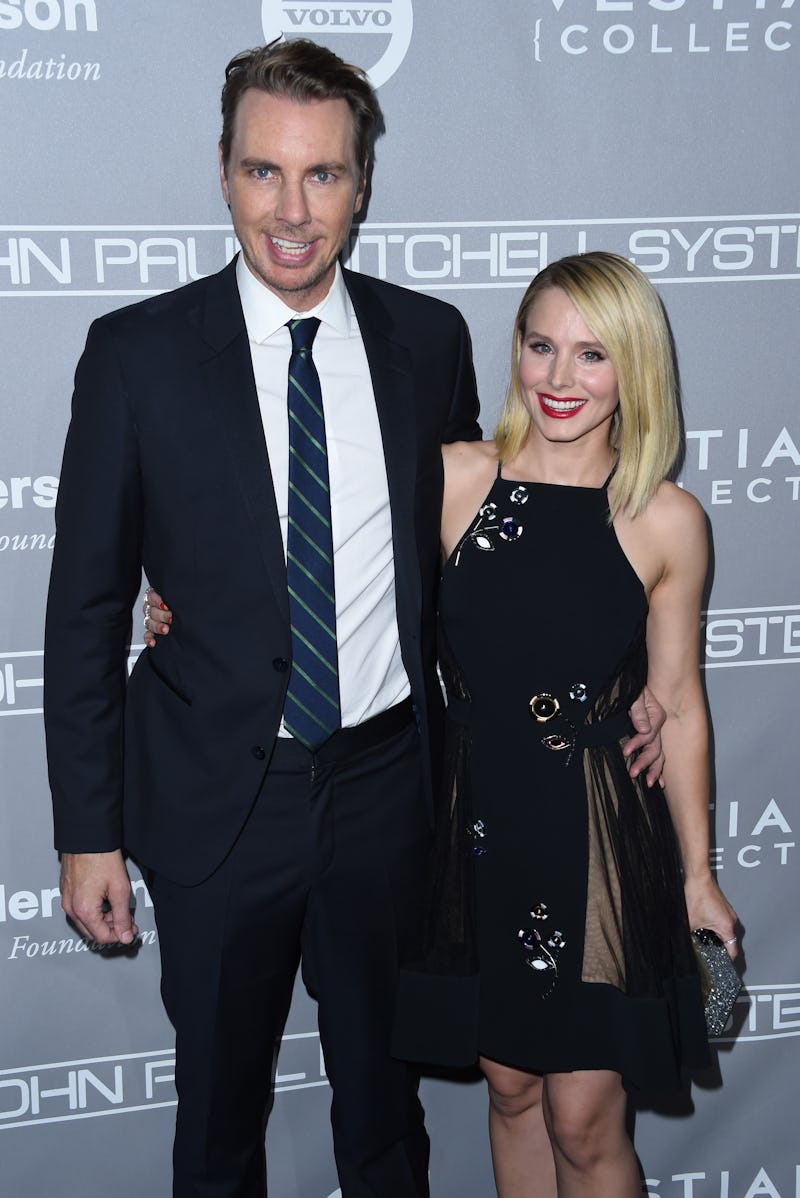 CHRIS DELMAS/AFP/Getty Images
Let's be real about this, when it comes to award shows, the Golden Globes is the one that includes the absolute best (and most entertaining) mixture of celebrities. Since Kristen Bell is a presenter at this year's ceremony, there is an essential follow-up question that I think we all deserve to have answered: Is Dax Shepard at the 2017 Golden Globes, too? Because as far as celebrity couples go, these two give me absolute life. As well as being supremely adorable at all times and clearly supportive of each other, they're also candidly honest about their relationship. And I just absolutely adore them for it. Luckily for fans, Shepard did join his wife on the Globes red carpet — proving yet again that he's her biggest supporter.
The last time that either attended the Golden Globe awards was back in 2013, when they attended the ceremony together too. Not only was Bell a presenter at the awards show that year, but she was also heavily pregnant. And sweet mercy, you guys, when they walked that red carpet together? I absolutely melted. Not only did Shepard appear as a proud, doting, and supportive husband of his wife, but they also just looked incredibly happy and loved up — which is something I'm just an absolute sucker for.
And I'm obviously not alone in feeling that way. Bell and Shepard are the definition of #RelationshipGoals, and though they're known for their affectionate displays of PDA, they're also an accomplished example of a supportive couple, willing to put hard work into their relationship.
In an interview with Bustle in April 2016, for example, Bell explained how her relationship with Shepard isn't "total bliss," despite outward appearances and loving each other "to the moon and back." Instead, they have a normal relationship like anyone else's, and enjoy, endure, and work on the same things that the rest of us do. She said,
We make funny videos like "Africa" and the sloth, but we also go to couple's therapy because we disagree on 99.9 percent of issues. There are days when I'm completely sick of him, and there are days when he is completely sick of me. But we've chosen to love one another and to be a team. We've learned how to communicate and argue in a really healthy, respectful way.
That's beyond refreshing to hear, and also something that brings some essential balance to the couple's often wonderfully affectionate and super cute public appearances. When you see Bell and Shepard smooching on the red carpet, or being ridiculously romantic on talk shows, you aren't seeing the results of a perfect relationship. Instead, you're witnessing a beautiful reminder on the rewards of hard work within the dynamics of a couple.
And that's something that Shepard's appearance beside his wife at this year's Golden Globes is once again reinforcing. As you can see in the video above, they're just as adorable and emboldening as ever. Wow, you two — I'm absolutely melting once again.