Dean Got SUPER Open About Starting Therapy After His 'Bachelor Winter Games' Breakup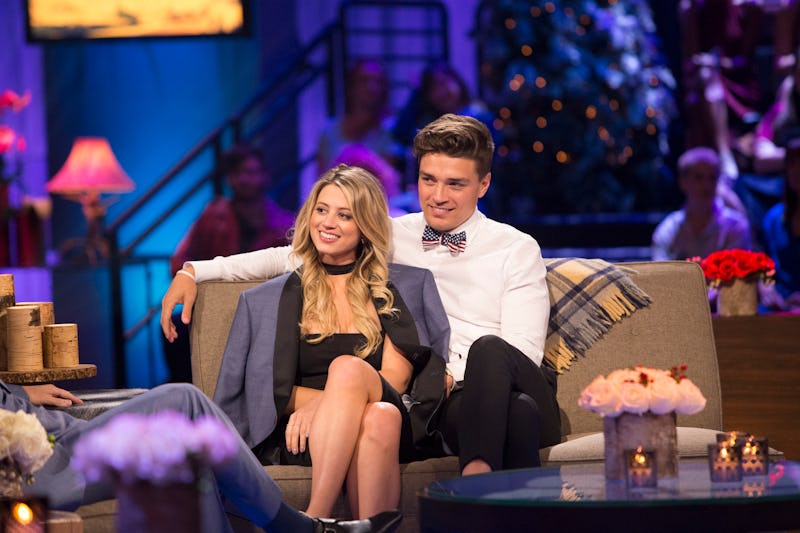 ABC/Paul Hebert
Last week, Bachelor Nation was shook when E! News reported that fan-favorite Winter Games couple Dean Unglert and Lesley Murphy had split up. When Dean and Lesley respectively acknowledged (and ostensibly confirmed) the breakup rumors several days later, it seemed like the split — while amicable, perhaps — was a pretty intense one, for both parties involved. Now, almost a week later, Dean Unglert revealed that he's going to therapy as part of his post-breakup plight for self-realization and self-care.
"I got the one thing that I wanted but it still didn't end up working out, which is one of the worst things to come to the realization of," Dean said during the most recent episode of his iHeartRadio podcast, Help! I Suck at Dating with Dean Unglert, released Tuesday afternoon, April 10. An inordinately tough lesson to learn, as anyone who's dealt with something similar could probably attest.
For those wondering how the former Winter Games star is grappling with that realization, Dean also shed some light on his newly-minted self-care routine during Tuesday's episode, appropriately titled, "What's Inside My Head?" To that end, he continued, saying,
"I've been meditating more and I'm going to start going to therapy this week."
The factors that led to Dean and Lesley's seemingly sudden split remained pretty murky up until this point, since neither Dean nor Lesley had offered any sort of concrete explanation for their decision to call it quits. E! News' initial report, published Friday, April 6, cited the testimony of an unidentified source who said the pair's breakup was at least partially motivated by the uniquely hard-to-handle issues that tend to accompany long-distance relationships. "Distance and traveling were a factor," the unidentified source told E! News. And, while the source said that the two remain "on good terms," they added that Dean and Lesley's "romantic relationship has ended."
But, during Tuesday's remarkably candid podcast episode, Dean dove headfirst into the nitty gritty of those factors that led to the end of his and Lesley's relationship after four months. And, judging by his comments (as well as those expressed, albeit cryptically, in his initial Instagram post acknowledging the breakup), it seems like Dean is recognizing his own culpability in certain elements of the relationship that went wrong. "All of this boils back down to, I think, my issues, my insecurities, my incredible fear of abandonment and needing to belong somewhere," Dean explained during the episode.
After speaking quite openly about his upbringing — specifically, the ways in which his parents' relationship, coupled with the inevitable trauma that accompanied losing his mom at 15, warped his sense of self, as well as his ability to forge healthy relationships of his own — Dean said that, while he's still mourning the loss of Lesley, he thinks breaking up was the right thing to do. Sharing his thoughts on their decision to call it off so early-on in their relationship, Dean got pretty emotional, and said,
"The guilt, the remorse, the depression and anxiety that I feel right now, it sucks. But I think if the relationship kept going, it would have been much worse if it got to this point again, you know?
In the aftermath of their breakup, the former Winter Games star said the hardest part about learning to cope is the knowledge that "regardless of everything," Lesley still loved him, through and through. Touching upon his thoughts on relationships going into the competition, Dean remembered telling a friend of his, "The one thing I want is just to know I feel loved back. I want to feel loved."
But, as he continued on to explain, the simple act of loving — and feeling loved in return — does not necessarily make for a healthy relationship. In Dean's case, he had some pretty heavy personal stuff to work through, which, in turn, seemed to take a toll on his relationship with Lesley. "I have this instinctive defensive thing to kind of push away from the good things in my life," Dean said, but noted that he's currently taking steps to remedy that behavior. He continued, "Hopefully, therapy will end up helping me out with that."
As anyone who's ever struggled with personal demons or mental health issues of their own already knows, maintaining a healthy romantic relationship can often prove particularly arduous, for everyone involved. That being said, it looks like Dean is taking the time to work through his own personal challenges in the hopes of a happier, healthier future.