Dear Dean, Please Tweet About 'Bachelor In Paradise'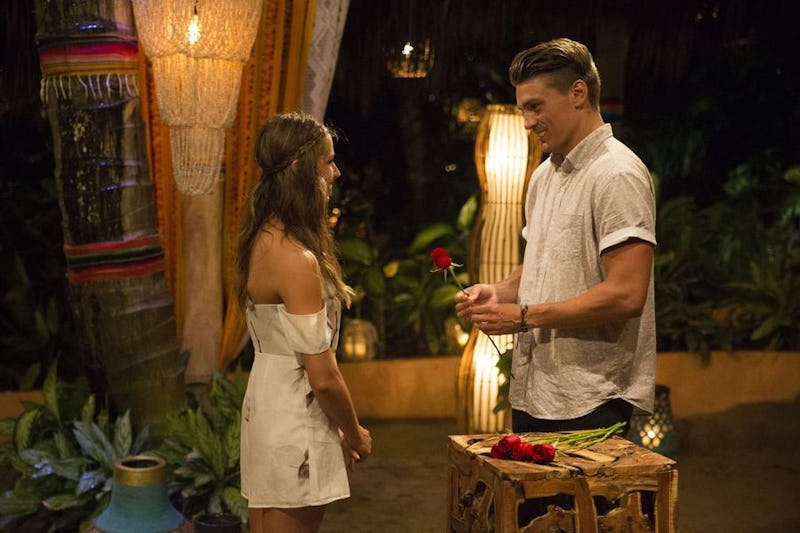 ABC/Paul Hebert
The Dean Unglert that Bachelor Nation fell in love with during Rachel Lindsay's season of The Bachelorette is a far cry from the Dean that the fandom is subjected to watching this summer on Bachelor in Paradise. Even though it's tough to commiserate with him on much these days, it seems like Dean is cringing about Dean's Bachelor in Paradise antics just as much as the viewers. At least that gives everyone some common ground.
Instead of live tweeting episodes or encouraging people to tune in, on Monday Dean posted a photo of himself and a puppy on Instagram. He captioned the photo, "Instead of watching tv tonight, I'll just be right here playing with my new friend Scooby." It's understandable that Dean would not want to watch BiP, but at the same time he, of all people, should be tuning in and speaking out because he has a lot to explain.
To briefly recap, Dean immediately paired up with Kristina Schulman when Season 4 started. They even traveled together outside of filming when production of Bachelor in Paradise was halted. She, like everyone else watching, figured that they were one of the strongest couples at the resort — until Danielle Lombard walked in. Danielle asked Dean out on a date, and Dean has been going back and forth between the two women ever since, telling each one what they want to hear and completely playing both sides.
The tides have majorly changed and it's tough to root for Dean these days. Dean himself has even said that he would rather play with a dog than watch a TV show that he's on. He essentially hinted at his demise when he posted about the show on August 13 before the premiere episode even aired. He wrote on Instagram, "Bachelor in Paradise premiers tomorrow - yet another opportunity to make a fool out of myself on national television. Hip, hip, Jorge!" At the time it just seemed like Dean was being humorous or even humble, but the caption was definitely pretty telling: Dean really did make a fool out of himself.
In another pre-airing, but post-filming Instagram that was posted on August 7, Dean went for another self-deprecating caption: "Even though it looks like I was photoshopped into this picture, I promise I was in Paradise this summer. And I promise I make a complete ass out of myself. Yay! #almostparadise."
It's understandable that Dean would avoid social media considering the way many viewers now feel about him, but his silence is pretty obvious since fans are certainly checking his Twitter for responses to his actions on the show.
Then again, this is the same guy who went from declaring "I'm ready to go black and I'm never going black" when he first met Rachel on After the Final Rose, which didn't sit well with a lot of people, to becoming a fan favorite who was easy to root for. If anyone is capable of redeeming himself, it's Dean. He's definitely not going to be the Bachelor after this, but if he gets another shot at reality TV or turns things around on BiP, there is potential for him to pull at the fandom's heart strings yet again.