One 'Bachelorette' Guy Made A Bad First Impression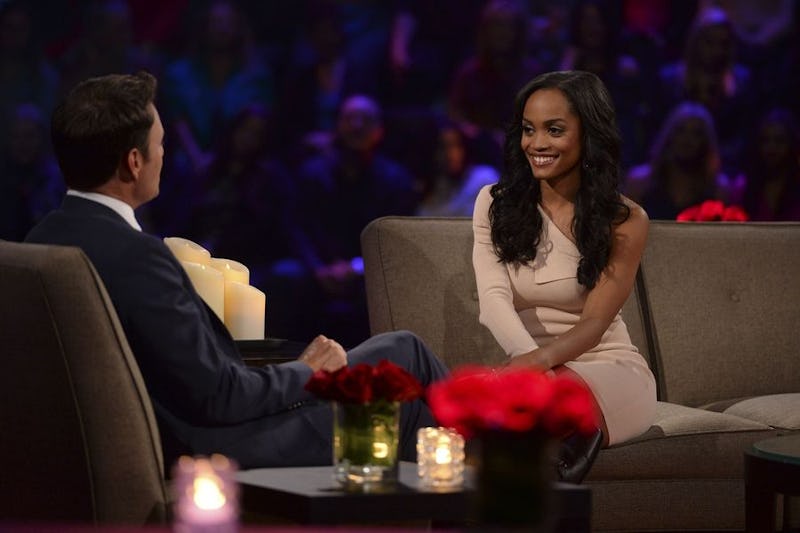 Michael Yada/ABC
When Chris Harrison continuously teased that something "historic" was coming to Nick Viall's After The Final Rose special, I didn't believe him. After all, viewers have been burned before. But then he revealed that we'd be meeting some of the contestants from Rachel's season of The Bachelorette and proved me wrong. However, things took an uncomfortable turn when the third man to come to the stage, Dean, said "I'm ready to go black and I'm never gonna go back" upon first meeting Rachel.
Immediately, viewers took to Twitter to discuss the moment, and while some laughed it off, others found it uncomfortable and offensive. Rachel, however, laughed at the comment and said, "I love that," and after another brief interaction ended her conversation with Dean by saying, "that was great," so it seems that she wasn't offended. But many fans seemed to have very different reactions.
These varying opinions on Dean's opening line are actually reminiscent of a 2014 Huffington Post article, when Danielle Cadet, editor of the website's Black Voices section, defended a previous HuffPo headline that used the phrase "once you go black, you never go back." Cadet said that while the phrase can be seen as a way of fetishizing black people, "it can also be seen as a celebration of black beauty and interracial love." When Dean used his variation of the phrase on this Bachelorette preview, it was seen in different ways, but many viewers were immediately put off by the remark.
There were some who found it funny.
And at least one viewer fell somewhere in the middle.
Overall, there were more people who seemed upset by Dean's introduction than not, but Rachel seems to have interpreted it in a more positive way. Perhaps we'll see more of her feelings about Dean's comment when The Bachelorette premieres in May.