Now's Your Chance To Give Dean Some Post-'Paradise' Dating Advice — Yes, Really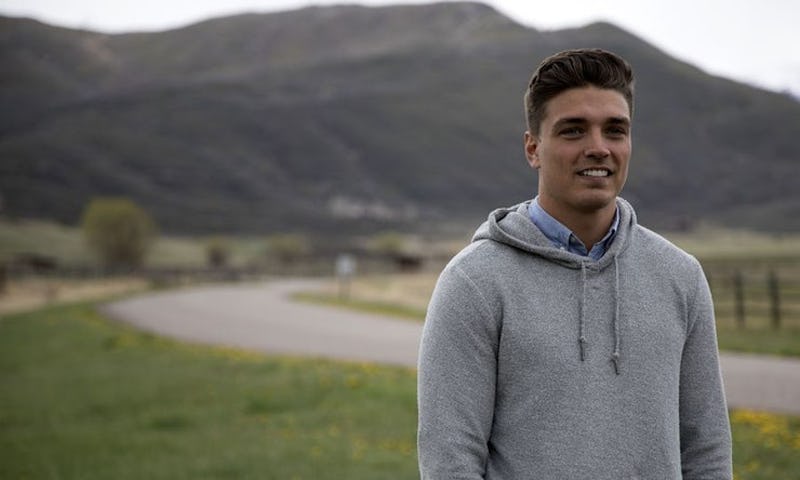 Josh Vertucci/ABC
Attention, Bachelor Nation: If you're still fuming after the recent Paradise finale, now may be your chance to give Dean Unglert a piece of your mind — or at least some words of wisdom. On Wednesday, Dean announced his dating podcast via Twitter, though most details remain underwraps. But one thing is for sure: He's open to suggestions and taking all the advice he can get. The Bachelorette alum wrote,
"I'm working on my new podcast with @iHeartRadio and I need dating advice....call (833) 236-6274 and lend your opinion!"
Considering he found himself entangled in a love triangle with Kristina Schulman and Danielle Lombard while filming Season 4 of Bachelor in Paradise, it makes sense that he's trying to sort things out. And what better way than putting himself out there and opening himself up to criticism? If he genuinely wants to amend his actions — you know, seemingly stringing along both ladies on public television and spurring countless cry seshes — this could be the way to do it.
For the record, I tried calling the number in Dean's tweet, but received an automated message for Ben Higgins and Ashley Iaconetti's Almost Famous podcast, which is also broadcast on iHeartRadio. It seems as though Dean was taking fan calls briefly, but you could probably still try leaving a voicemail and crossing your fingers that you hear back. It's entirely possible this isn't a one-time thing.
Though I wasn't as lucky, a fan tweeted about her interaction with Dean, so this whole thing totally seems legit. He also posted a subsequent message thanking those who called in, and admitted, "I need all the help I can get!"
As you can imagine, fans had a field day with the idea, offering their immediate thoughts and observations — not by calling in necessarily, but by responding with countless tweets and GIFs. They ranged from practical to brutal to straight-up silly.
And even Dean's Bachelor In Paradise buddies couldn't help but offer their two cents. Iggy Rodriguez teased him, suggesting to date only one girl at once. (What a concept!) Meanwhile, DeMario Jackson offered a counter-idea, complete with a Joker GIF and Iggy's approval.
Overall, it appears that Dean has a sense of humor about the whole thing, while also trying to focus on self-improvement. Honestly, it's a respectable move. While it doesn't excuse his appalling behavior while in Mexico, it shows he's learning and trying — and hey, better late than never. And speaking of his upcoming dating podcast, he recently told Entertainment Tonight,
"We're in discussions about launching a podcast to help me with my dating follis, because I clearly need help. The title would be, Help! I Suck at Dating... It will be just me. I'm going to get advice. We're going to call in experts and help give advice, because yes, I do suck at dating, and I think there are a lot of people out there that suck at dating but want to improve at it."
Continuing that trend of wanting to improve, Dean appeared on The Ellen DeGeneres Show alongside Kristina and Danielle earlier this week, and while it was as awkward as you could imagine, it also showed that he really took the experience to heart. He didn't just watch his BiP behavior play out and have a cold heart about it; he seems just as disappointed as the audience was. He also admitted, "Watching it back, I just know I need to learn from it and be better in relationships."
In that same Ellen interview, Dean also said, "I think that I personally have a lot of growth to do," when asked if he'd ever get back with Kristina. And though it may not be the answer that KrisDeana shippers (if there are any still out there) wanted, it shows he really is committed to focusing on self-growth.
If hosting a podcast and facing the wrath of Bachelor Nation fans head-on is how he plans to approach that process of becoming a better dating partner, then more power to him. And come on, you know you want to tune in and hear fans give Dean a piece of their mind.