Debbie Reynolds' Last Words May Make You Cry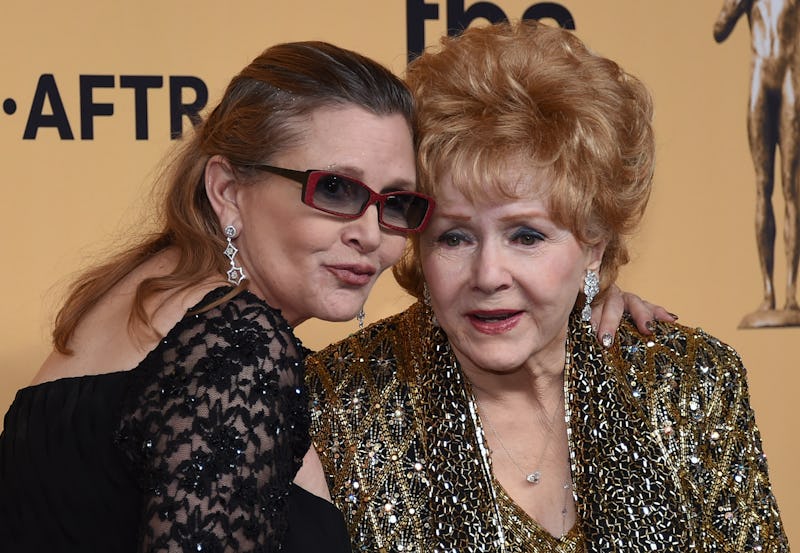 Ethan Miller/Getty Images Entertainment/Getty Images
Just a day after her daughter Carrie Fisher's passing, Debbie Reynolds has died at age 84, according to TMZ. And in case that's not enough to shatter your heart, TMZ revealed that Reynolds' last words were reportedly about Fisher. According to the site, Reynolds' son, Todd Fisher, claimed that Reynolds' final words were "I miss her so much, I want to be with Carrie." It's enough to make any fan burst into tears.
TMZ is reporting that Reynolds was at Todd's home, planning Fisher's funeral, when she allegedly had a stroke. The timing is devastating, to say the least. As fans may know, Fisher and Reynolds had a rocky relationship at times, but ultimately, they supported one another like no other. In a 2011 interview with Oprah Winfrey, Reynolds said:
"I would say that Carrie and I have finally found happiness. I admire her strength and survival... I always feel, as a mother does, that I protect her. I want happiness for my daughter — I want Carrie to be happy."
Their relationship was not only talked about in the aforementioned interview, but also was explored in Fisher's own writing, including her books Wishful Drinking and Postcards from the Edge. Despite any low points, they seemed to rise above everything — together. They also filmed a documentary, Bright Lights: Starring Carrie Fisher & Debbie Reynolds, set to air on HBO in March 2017.
After news broke of Fisher's death, her mom took to Facebook to post a heartfelt message, thanking fans for their support. On Dec. 27, Reynolds posted:
Thank you to everyone who has embraced the gifts and talents of my beloved and amazing daughter. I am grateful for your thoughts and prayers that are now guiding her to her next stop. Love Carries Mother
The fact that she signed the note "Carrie's Mother" is all the more touching. These two were a major part of one another's worlds, and both acting legends are gone way too soon. They will be — and already are — incredibly missed.