These Shimmer Eyeshadows Were Inspired By Your Favorite Internet Beauty Influencers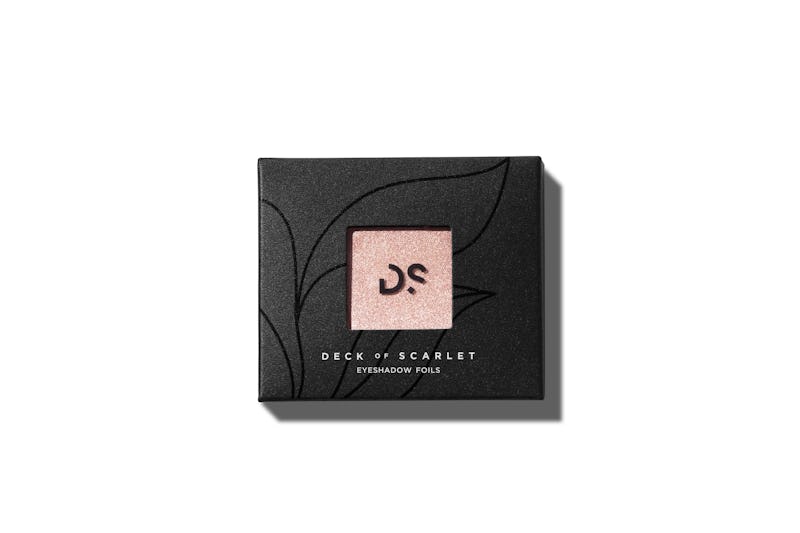 Courtesy of Deck of Scarlet
Your favorite beauty influencer could also be your next favorite eyeshadow. It sounds strange, but stick with me. Deck of Scarlet is an innovative makeup line and subscription service that pulls inspo from online beauty influencers when curating its palettes. Now, the brand is flipping the script and teaming up with 14 influencers for the Deck of Scarlet Eyeshadow Singles Collection. Once you get a look at this range of eyeshadows, you are going to want all of the foil finish shades. That's because they are universally wearable, pack some serious pigmentation, and velvety smooth.
The Deck of Scarlet solo shadows arrive on Wednesday, Nov. 15 for $12 a piece.
Influencer Melly Sanchez previously worked with the brand on its #04 Palette, viewing it as an extension of herself. That's why she jumped at the chance to collaborate on an a la carte shade, which is a bronzy copper.
"The Melly foil eyeshadow is beautiful and needless to say, one of my favorite shadows of all times," Sanchez tells Bustle. "The colors are so vibrant and the application is just flawless, which makes it not only great to show on my YouTube channel, but also easy for me to honestly speak to the products, because the camera doesn't lie."
Melly Single, $12, Deck of Scarlet
Sanchez touches on an important ethical point with her statement — that the most trusted beauty influencers get behind products they truly believe in and uses IRL. It's all about honesty when sharing quality cosmetics with their loyal legion of followers.
The vlogger was intimately involved in the process of making the shadow, saying, "With the new single foil collection, I knew that I would love the end result because I had been there testing, feeling, using the products and knew the outcome was going to be remarkable."
Amy-Rose Walker Single, $12, Deck of Scarlet
Amy-Rose Walker, whose foil finish single is a pretty pale pink hue, is also a "returning" influencer for Deck of Scarlet. She was the Artist in Chief for the #05 Palette. She tells Bustle that her experiences with DoS have allowed her to "fully understand how much work goes into creating color cosmetics," noting that beauty influencers try and review many different products, but don't often get a behind the scenes look.
She labels her shade "diverse" and suggests wearing it on its own or paired with others in the series. You can see the remaining dozen single serve shades below.
Stephanie Single, $12, Deck of Scarlet
Stephanie is a smoky, taupe-y violet, named after BabsBeauty. The shimmer is something else.
Lupe Single, $12, Deck of Scarlet
This flamed-out copper color is "Lupe," and it's named after Lupe Sujey Cuevas. Check out the depth of pigment in this collection.
Nikkia Joy Single, $12, Deck of Scarlet
The mermaid green x gray Nikkia shade is linked to influencer Nikkia Joy.
Raven Elyse Single, $12, Deck of Scarlet
Raven is actually a gold shade, despite having a name so closely associated with black. It's tied to influencer Raven Elyse.
Isabel Single, $12, Deck of Scarlet
This golden chartreuse accent shde is Isabel, and is inspired by Isabel Bedoya aka Isabel Starrrr.
Caitlyn Single, $12, Deck of Scarlet
Crimson Caitlyn is red hot, and its muse is Cait Marks.
Masha Single, $12, Deck of Scarlet
The beautiful burgundy Masha is an extra special single, as it's named after Mariya Nurislamova. She's the co-founder of Deck of Scarlet.
Kim Single, $12, Deck of Scarlet
This show-stopping, burnt rose shadow called Kim takes its name and inspo from the amazing Kim Thai.
Kelly Single, $12, Deck of Scarlet
Kelly is a metallic gold highlight hue that shares its moniker with Kelly Strack.
Evon Single, $12, Deck of Scarlet
The quartz-hued Evon is linked to influencer Evon Wehab.
Kasey Single, $12, Deck of Scarlet
Kasey is a granite, shade and was inspired by Still Glamorus aka Kasey.
Sande Single, $12, Deck of Scarlet
Lastly, those bold blue is christened "Sande," and is named after The Socialite Life Sande.
Deck of Scarlet is offering bundle purchase discounts so you can collect the entire set. After all, it's definitely too hard to pick and choose.