Demi Lovato Brought Parkland Survivors Onstage During Her Tour & It'll Make You Teary-Eyed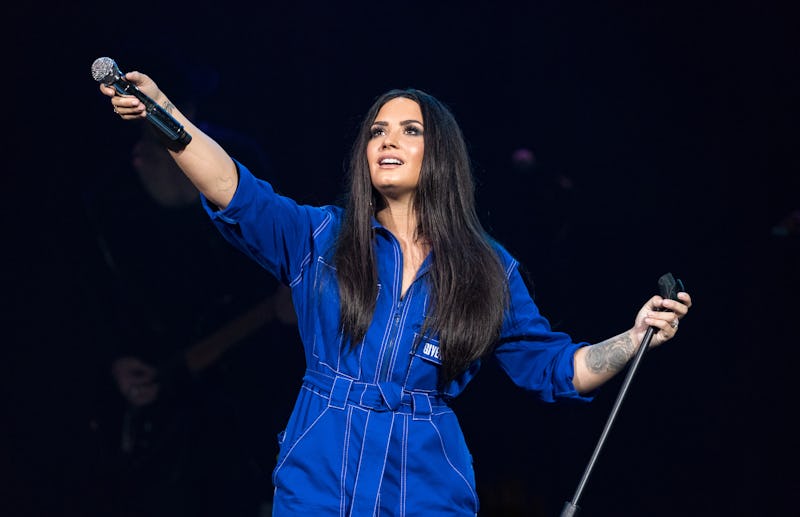 Christopher Polk/Getty Images Entertainment/Getty Images
Demi Lovato's Tell Me You Love Me world tour kicked off in San Diego this week. As is characteristic when it comes to the 25-year-old singer's loyal fanbase, her audience members showed up for a heck of a lot more than just music. On Monday, it seems they came for healing. That's mostly because Lovato invited six Parkland shooting survivors onstage during the tour's opening performance, which took place Feb. 26, according to People. And thanks to Lovato's partnership with CAST Centers — a treatment facility that will be holding mental health and wellness workshops before each leg of the concert series — it seems "healing" will only continue to be the overarching theme of her forthcoming tour.
To kick off the tour's inaugural show, Lovato had a special plan in mind. Before the evening's performance, she invited six VIPs to join her onstage: Julius Castillo, Mackenzie Marie Chapman, Samantha Megan Deitsch, Maia Hebron, Eden Hebron, and Sarah Stricker, all of whom are students at Marjory Stoneman Douglas High School, where the shooting took place on Feb. 14. Clad in matching maroon t-shirts that read "MSD STRONG" across the chest, the six students (who traveled from their home state of Florida to Southern California to attend Lovato's show) took to the stage to share their stories.
As People reported, Lovato released a statement following the tour's opening night praising her special guests for their courage. The singer said:
"Tonight was our first night of the tour and it was incredibly special. I was able to bring out and meet a few of the students that had to experience the shooting in Florida on the 14th. It was such an honor to meet them and hear their courageous stories. I want to make sure their voices are being heard and we can provide them with the mental health and post-trauma care they need."
On stage, the six survivors stood, shoulder-to-shoulder, beneath the evening's pre-show spotlight. Of course, Lovato was there, too, perched on the stool of her grand piano. Plastered across the massive screen behind them were a handful of bold-faced instructions to Lovato's audience, who were able to text monetary donations to the CAST Foundation (CAST Centers' non-profit branch) during the show. The proceeds, as Lovato explained, will help fund mental health resources for the students.
As People reported, CAST Centers founder, Mike Bayer, also commented on the incredible strength of the Stoneman Douglas students in a statement following Monday night's show. "The courage and resolve that the students from Stoneman Douglas have is truly inspiring," Bayer said in the statement, adding, "It was an honor to meet them."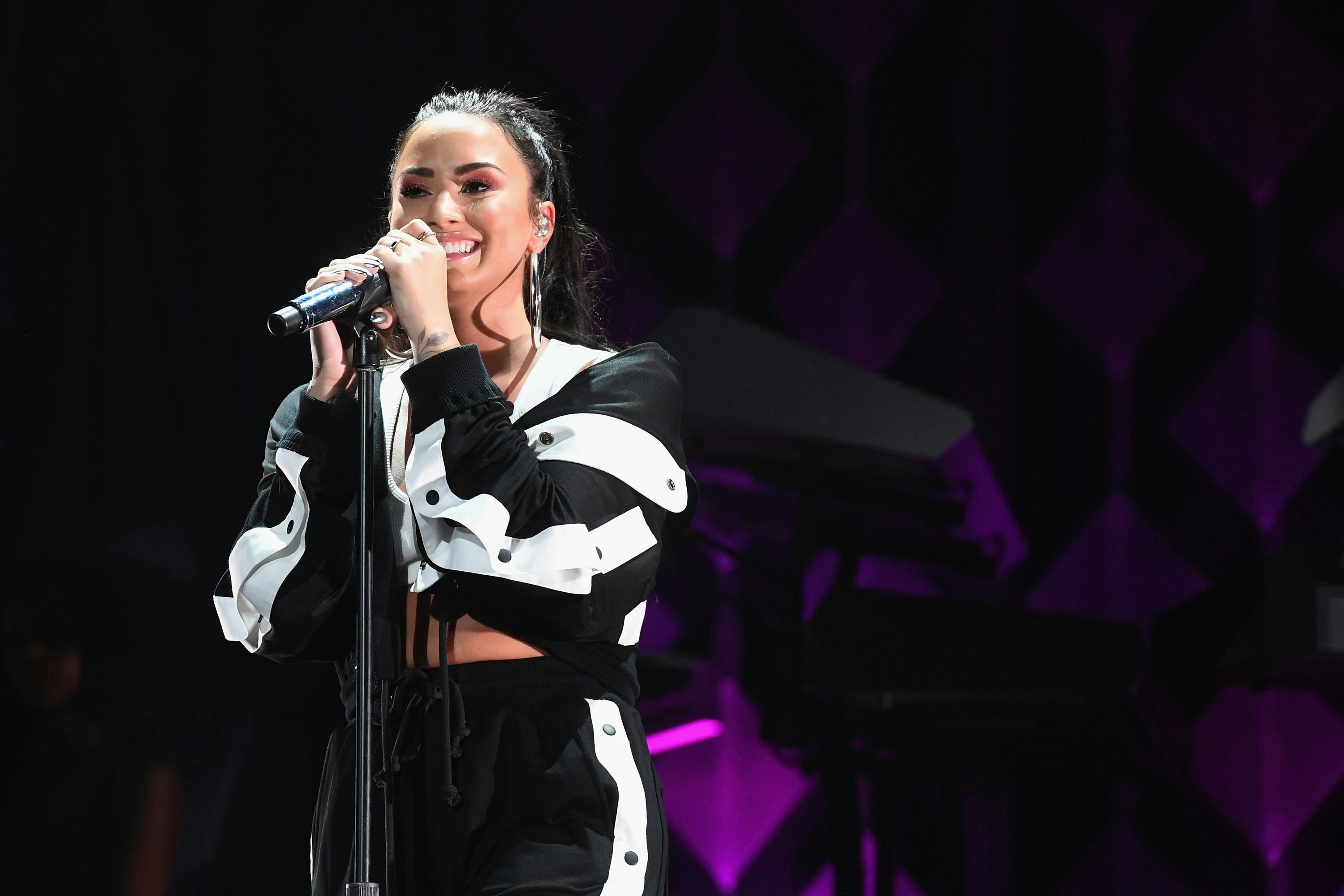 Lovato, who has been quite vocal in recent years about her challenges with mental illness, is endeavoring to provide fans with access to mental health care (to the best of her abilities, anyway) for the duration of her Tell Me You Love Me tour. Back in January, Lovato announced (via a Good Morning America appearance) that her upcoming tour would offer attendees a variety of free mental health services —including group therapy and wellness workshops — courtesy of CAST Centers, a Los Angeles-based mental health, wellness, and addiction treatment center. Lovato was a patient of CAST in 2011, and she is now a proud alum and co-owner of the treatment center.
During her Good Morning America appearance, Lovato described the tour's mental health services as "a therapy session before the concerts," adding that the tour would also see a lineup of pre-show speakers and partner with a variety of different charities from across the country. Speaking to Good Morning America, Lovato continued, "So, it'll be an incredible, very moving and inspiring experience."
Lovato's Tell Me You Love Me tour has only just begun, but if its opening night was any indication of what's to come, it looks like its gearing up to be exactly what she described.