Demi Lovato's Mom Opened Up About The Singer's Hospitalization For The First Time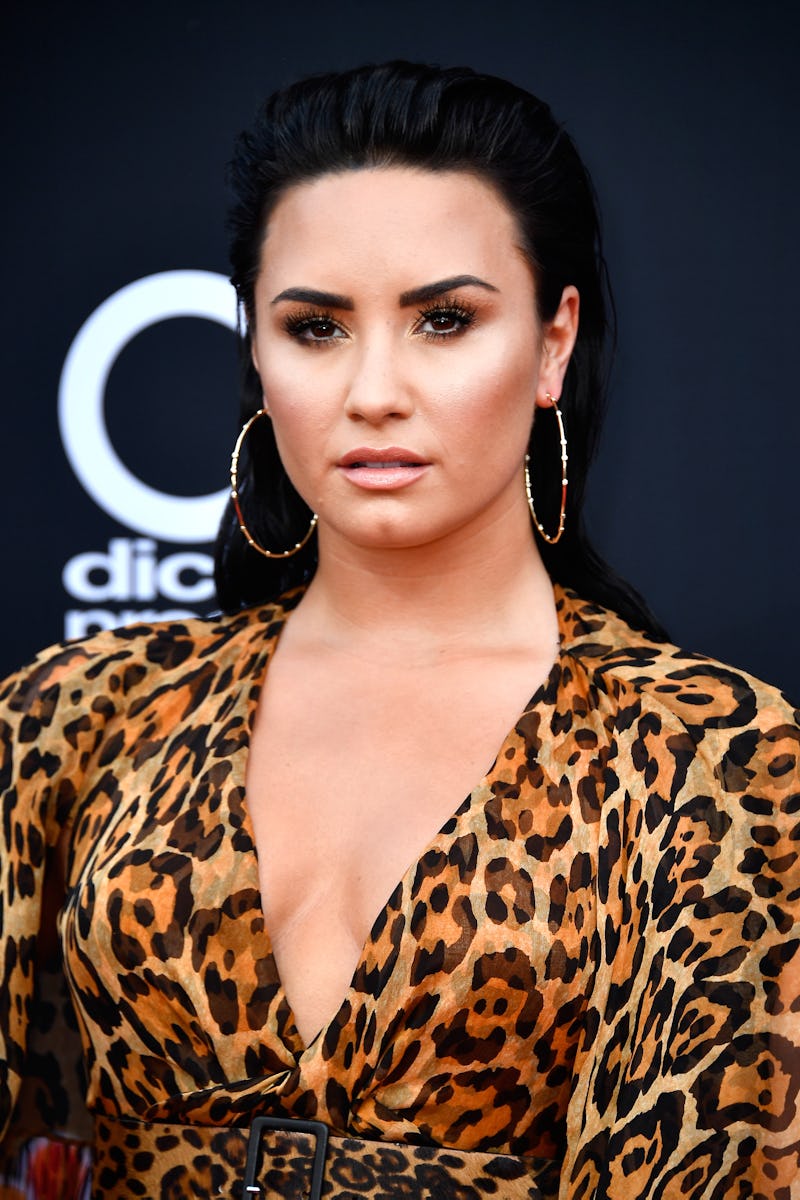 Frazer Harrison/Getty Images Entertainment/Getty Images
A little less than two months ago, Demi Lovato's fans were shaken when reports that the singer had been hospitalized began to circulate. Now, with her daughter's health on the mend, Demi Lovato's mom spoke openly about the hospitalization for the first time during a Newsmax TV appearance on Tuesday night, Sept. 19, as reported by E! News. Of course, as she told the television station, the experience is still difficult to talk about.
"I literally start to shake a little bit when I start to remember what happened that day," said Lovato's mother, Dianna de la Garza, referring to the day she learned her daughter was in the hospital. That's more than understandable, to say the least, given that it hasn't been very long since Lovato's hospitalization and eventual release from Cedars-Sinai Medical Center earlier this summer.
On Tuesday, July 24, a handful of reports (the first of which came from TMZ) surfaced claiming Lovato had been rushed to the hospital for what many of them called an "apparent overdose," though the specifics were — rightfully — kept confidential. Trailing the news of her hospitalization, Lovato's rep provided the following statement to Bustle, confirming that the singer was conscious and surrounded by loved ones:
"Demi is awake and with her family who want to express thanks to everyone for the love, prayers and support. Some of the information being reported is incorrect and they respectfully ask for privacy and not speculation as her health and recovery is the most important thing right now."
Additionally, a source close to the situation confirmed to Bustle that the overdose was not heroin-related, despite what initial reports claimed.
That was just about eight weeks ago, so it makes sense that Lovato's mother would take time to focus on family before choosing to speak publicly about what must have been an incredibly personal, frightening experience. (Plus, it hopefully goes without saying that none of Lovato's loved ones — nor the singer herself — owe the public any sort of response or explanation, anyway.)
With that being said, if Lovato's mom is ready to talk about it — and her recent interview comments indicate that she may be — then it seems equally important that she's doing so. Speaking to Newsmax TV, de la Garza said she first received the news of her daughter's hospitalization via a phone call from Lovato's assistant. "I was in shock. I didn't know what to say," she said, adding,
"It was just something that I never, ever expected to hear, as a parent, about any of my kids."
After that, de la Garza remembered calling Lovato's sisters (Dallas and Madison) before the three women drove to Cedars-Sinai to see her. "Dallas and Madison and I jumped out of the car at the emergency room and ran ... to be by her side," she continued, adding that Lovato was in critical condition at the time, and would be for the better part of the two days that followed. "But I said to her, 'Demi, I'm here. I love you,'" her mom recalled. "And at that point she said back to me, 'I love you, too.'"
Thankfully, per Tuesday's appearance, de la Garza said her daughter is doing well these days. Echoing those sentiments expressed in Lovato's public statement to fans, which the singer shared via Instagram on Aug. 5, her mother told Newsmax TV that Lovato is taking time to focus on her sobriety, and to heal. To that end, de la Garza said,
"She's happy. She's healthy. She's working on her sobriety, and she's getting the help she needs. That in itself encourages me about her future and about the future of our family."
Like Lovato said in her message to fans last month, she's going to "keep fighting" to maintain her health, happiness, and general well-being as best she can. And, with the support of her doctors, friends, and family members — perhaps her mother, most of all — Lovato won't have to do it alone.
If you or someone you know is seeking help for substance use, call the SAMHSA National Helpline at 1-800-662-HELP(4357).