Demi Lovato's Response To Her Fans' Support For "Sober" Has So Much Gratitude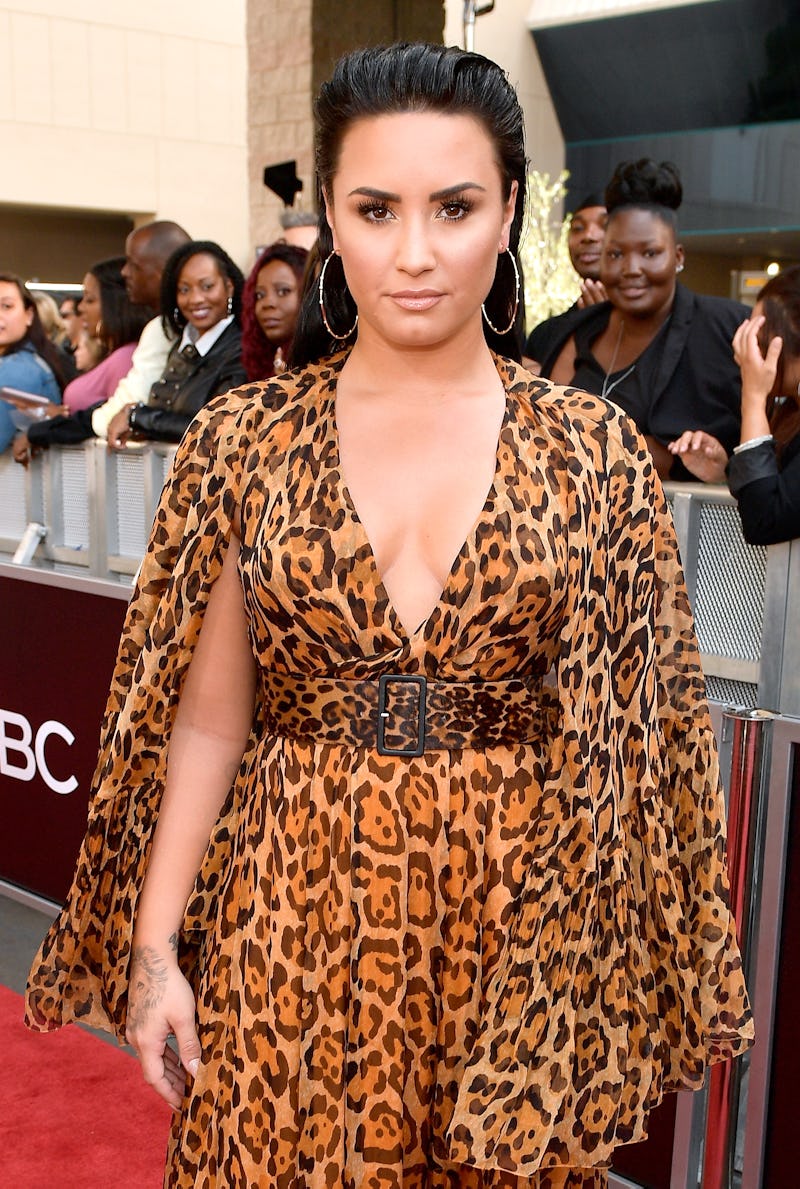 Matt Winkelmeyer/Getty Images Entertainment/Getty Images
Nearly a week after Demi Lovato released her new song "Sober," in which hinted that she may have broken her sobriety after six years, Lovato thanked fans for their support with a heartfelt Instagram message. The ballad, in which Lovato sings, "I'm so sorry I'm not sober anymore," was an honest look at sobriety and addiction, though she did tweet the words "my truth" after releasing the "Sober" lyric video. But through her sweet message on Instagram, it seems that the singer wanted fans to know she's touched by the responses she received after releasing the song.
"To my fans, my family, and my supporters," Lovato captioned an Instagram video of her first performance of "Sober" on Wednesday, June 27. "The ones who never left me, you are my light. I am forever grateful." The clip, which features shots of fans holding signs that say "We will always support you," ends with another message, this one more specific: "Thank you Lovatics."
The lyrics to "Sober" sound like an apology to family, friends, and fans for a regression, either recently or in the past. But after Lovato released "Sober," fans felt they also needed to let Lovato know that she had their support. At the very least, fans wanted Lovato to know that they didn't need a thank you from her, but nevertheless it seems like it was much appreciated.
"We love you so much Demi and we're here for everything you need," a fan named @lbermal commented on Instagram. "YOU ARE NOT ALONE," another named @domifalcadi wrote. "I don't think I've cried so much in my life over one incredibly, beautiful, raw and soulful song," @chelseahornee wrote. "To your journey and you're [sic] story you truly are a warrior."
Lovato has always been open about her struggles with alcohol and drugs, most recently talking about it in her documentary Simply Complicated, and she's also spoken about relapse before. In the documentary, Lovato revealed that during her previous 2012 documentary Stay Strong, filmed shortly after her first stay in rehab in 2010, she was still using drugs. In the 2017 documentary, Lovato revealed that at that time she wasn't yet ready to stop using. "I wasn't working my program. I wasn't ready to get sober," Lovato said in Simply Complicated. "I was sneaking [drugs] on planes, sneaking it in bathrooms, sneaking it throughout the night. Nobody knew."
With her song "Sober," Lovato's lyrics talk about not only of pressures to stay sober, but the pressures that come with doing it in the public eye. She makes the case that her fans have been on her mind throughout her journey towards sobriety. "To the ones who never left me/We've been down this road before," Lovato sings before apologizing to her parents and the fans "who watched me fall again/I wanna be a role model" she sings, "but I'm only human."
Earlier this week, when Lovato performed "Sober" live for the first time at the Rock in Rio Lisboa festival in Lisbon, Portugal, surrounded by her fans as she sang the new single.
When Lovato got to the part of "Sober" about being a role model, she sounded as if she was have trouble making it through that line, her voice tensed up as if she was on the verge of tears.
Whether "Sober" is based on her own experience or not, the song is Lovato at her most vulnerable. But she made it through with her fans by her side, rooting her on as they always have, and from the responses to her heartfelt thank you, it sounds like her fans always will.