Democrats Slam Trump After He Blamed Them For The Deaths Of Two Migrant Children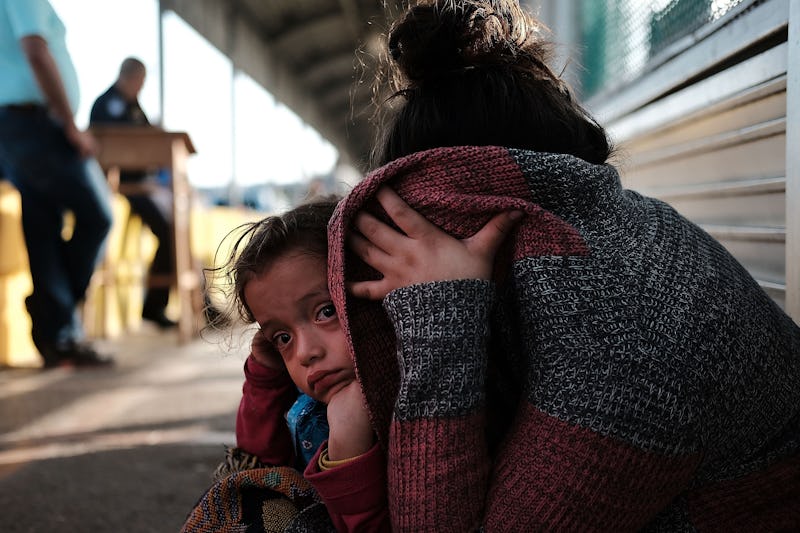 Spencer Platt/Getty Images News/Getty Images
Two young migrant children died in recent months, both while in U.S. custody at the U.S.-Mexico border. In the aftermath, the president was quick to point fingers at his political opponents. But Democrats responding to Trump blaming the migrant children's deaths on their party weren't quick to let that accusation slide.
"Mr. President," tweeted Sen. Bernie Sanders on Sunday. "Two children are dead because of your immigration policies. For once, be an adult. Stop blaming everyone else. Take responsibility for your actions."
In two tweets sent Saturday, Trump pinned Democrats for any deaths of children "or others" at the U.S.-Mexico border.
"Any deaths of children or others at the Border are strictly the fault of the Democrats and their pathetic immigration policies that allow people to make the long trek thinking they can enter our country illegally," he wrote. "They can't. If we had a Wall, they wouldn't even try!"
An 8-year-old boy named Felipe Gómez Alonzo died on Dec. 24, while in U.S. custody. A 7-year-old girl named Jakelin Caal Maquin died in U.S. custody several weeks earlier.
In his tweets, President Trump called into question whether or not it was the United States' fault that the children died. "The two [...] children in question were very sick before they were given over to Border Patrol," he wrote. "The father of the young girl said it was not their fault, he hadn't given her water in days. Border Patrol needs the Wall and it will all end. They are working so hard & getting so little credit!"
Many Democrats took issue with his assertions.
"We need a President who doesn't view everything through a partisan lens," tweeted California congressperson-elect Harley Rouda. "Felipe and Jakelin were human children @realDonaldTrump — not political pawns."
A lot of Democrats shared a similar message. Summarily, they asked the president to stop politicizing the deaths of the two children, and demanded that he stop looking for someone else to blame. Among those was Sen. Mazie Hirono, who told the president, "you can stop now."
"Obviously nothing is too low or cruel for you," she tweeted on Saturday. "A collective New Year's wish: For the sake of our country, you can stop now."
Other elected officials called attention to the impact that such presidential messaging could have on the families of those children who died. "You slander Jakelin's memory and re-traumatize her family by spreading lies about why she died," wrote Rep. Joaquin Castro. "You don't deserve to represent our nation at any level. #TrumpResign."
The ongoing controversy surrounding the two children's deaths comes as the president remains embroiled in a fight with Democrats over funding a wall on the U.S.-Mexico border. As of Sunday, the government has been partially shut down for nine days, and the president has maintained that Democrats must approve funding for a border wall if they want to reach a government funding agreement.
"For those that naively ask why didn't the Republicans get approval to build the Wall over the last year, it is because IN THE SENATE WE NEED 10 DEMOCRAT VOTES, and they will gives us 'NONE' for Border Security!" Trump tweeted on Saturday. "Now we have to do it the hard way, with a Shutdown. Too bad!"
As of Sunday, there are no known negotiations taking place between either side of the government shutdown. It will remain shut down until further notice.