What To Know About The Denmark Refugee Plan That Has Human Rights Officials So Worried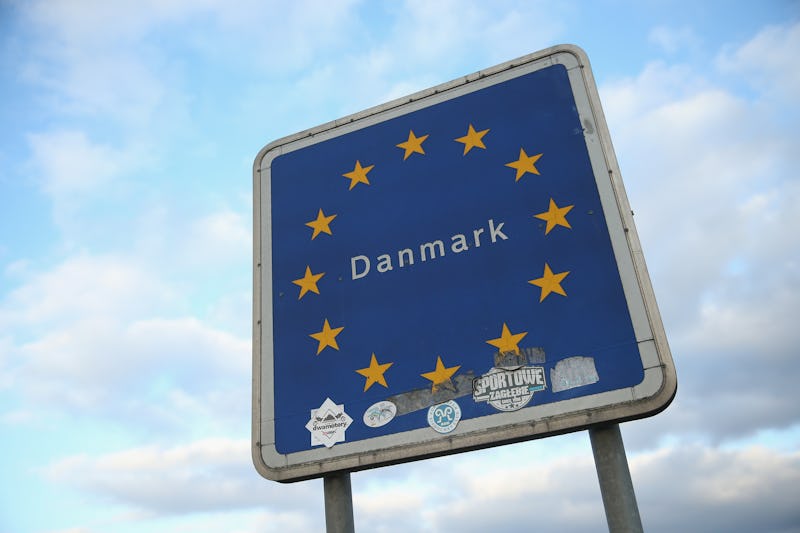 Sean Gallup/Getty Images News/Getty Images
Immigrants seeking asylum in Denmark might reap some scary consequences in the coming years, if the right-leaning coalition government of Denmark has anything to say about it. Denmark's new proposed refugee policy is certainly unusual, and more than a little bit controversial: it suggests the country takes a specific group of rejected asylum seekers and place them on a deserted island. And as you can imagine, human rights advocates are alarmed.
The plan was announced on Friday: The island of Lindholm, which currently houses a facility that researches animals with infectious diseases, would first be "decontaminated," then put to use by 2021. Denmark would send up to 100 rejected asylum seekers who can't return to their home country to the island. The proposal would also include rejected asylum seekers with criminal records.
On Friday, Denmark's immigration minister, Inger Støjberg, wrote on Facebook, "If you are unwanted in Danish society, you should not be a nuisance to ordinary Danes. They are undesirable in Denmark, and they must feel it."
The Danish People's Party reiterated that belief in a tweet, writing, "Expelled, criminal aliens have nothing to do in Denmark. Until we can get rid of them, we now move them out on the island Lindholm in Stege Bay, where they will be obliged to stay at the new exit center at night. And there will be police present around the clock."
In response to this proposed measure, human rights advocates are sounding off. Mads Nygaard, the co-founder of a grassroots refugee-focused organizaiton called Friendly Neighbors, told CNN, "It is a type of modern barbarity that I find deeply repulsive. I have seen one despairing post after another come through today."
To Reuters, United Nations High Commissioner for human rights, Michelle Bachelet, said, "I have serious concerns with this plan and we will monitor it and discuss it ... with the government."
She added, "We've seen the negative impact of such policies of isolation, and [they] should not replicate these policies. Because depriving them of their liberty, isolating them, and stigmatizing them will only increase their vulnerability."
A former immigration minister for Denmark, Birthe Ronn Hornbech, called the whole proposal a "joke." She wrote in a newspaper column, "Nothing will become of this proposal."
Denmark's Parliament will vote on the proposal next month. This measure is only the latest in a series of measures over the last few years intended to dissuade immigrants and refugees from creating homes in the country, including a burqa ban that was implemented in August and the recent cutting of social benefits to that specific group.
In fact, Denmark has passed so many recent anti-immigration measures that The Atlantic labeled it to be "Western Europe's least attractive country for refugees."
If the proposal does receive approval, Lindholm might house up to 100 rejected asylum seekers by 2021. It's not yet clear what the day-to-day setup would be for those people, or whether they would be banished to live there indefinitely. And that point could end up being moot, anyways, if the U.N. decides to intervene.