This Runway Show Highlighted Models With Cerebral Palsy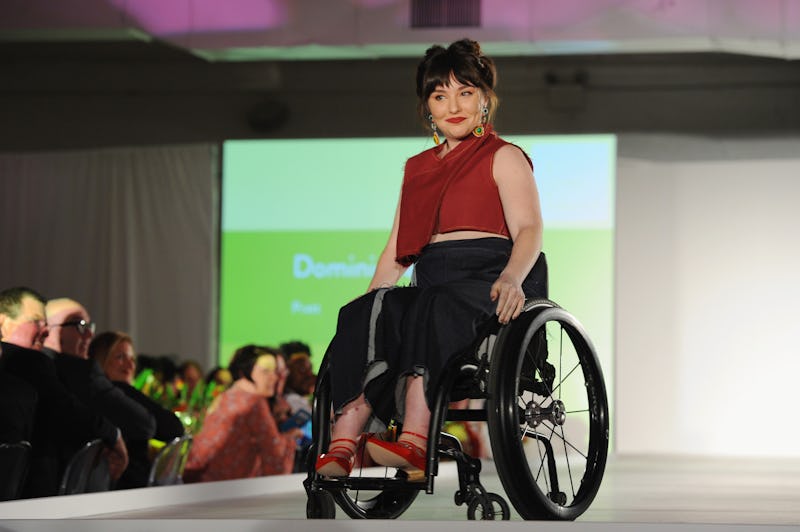 Craig Barritt/Getty Images Entertainment/Getty Images
Despite efforts on the New York and Toyko Fashion Week runways, models with disabilities are the most under-represented group in fashion, according to the Huffington Post. But individual designers are taking the issue into their own hands. On Tuesday, Derek Lam sent 18 models with cerebral palsy down the runway during his Design For Disability Fashion Show, The Cut reported. The designer worked with The Cerebral Palsy Foundation and students from three different schools to help come up with the sartorial creations, which could change the conversation about great design for the entire fashion world.
The fashion industry isn't always known for being inclusive, but thanks to individual designers, more people of different gender and racial identities, as well as body type, are being represented than ever before. Lam teamed up with the Cerebral Palsy Foundation to prove that fashion and function can go hand-in-hand. According to The Cut, the designer worked with students from Parsons School of Design, Pratt Institute, and the Fashion Institute of Technology to explore different aspects of the fashion industry. Lam's conversation with the student designers led to the production of a clothing collection that would be functional and, of course, stylish for the models with disabilities.
"We are talking about very serious things like diversity and gender and empowerment — but I feel like the conversation never really comes up about a large segment of the population, which is those with disabilities," Lam said about the design process, according to The Cut.
Since Lam teamed up with fashion students, there's hope that this functionality and inclusion will be the future of the fashion world. Of course, as Elle reported, designers like Marc Jacobs and Prabal Gurung have been more inclusive by having older models and more women of color on the runway. But, as Lam pointed out, models with disabilities are often left out. In fact, Fashion Spot's often-sourced diversity report doesn't even include a category for disabilities.
"I travel around the U.S. and the world, meeting the clients, sometimes in the dressing rooms, and I felt I was in that same situation with the Design for Disabilities cast," Lam told The Cut. "I would love to see these collections that we're going to show tonight be available in the marketplace. These clothes look terrific for everybody. It's just a universal conversation about great design."
The designs for the show were a mix of athleisure, streetwear, and evening-wear. From the looks of the photos, the models were all beaming as they walked down the runway, and were even high-fiving each other as they passed one another. If that doesn't symbolize a great show, then I don't know what does.